Are Michael & Danielle Together After Bachelor In Paradise?
The couple reached a major milestone during the Nov. 22 Paradise reunion.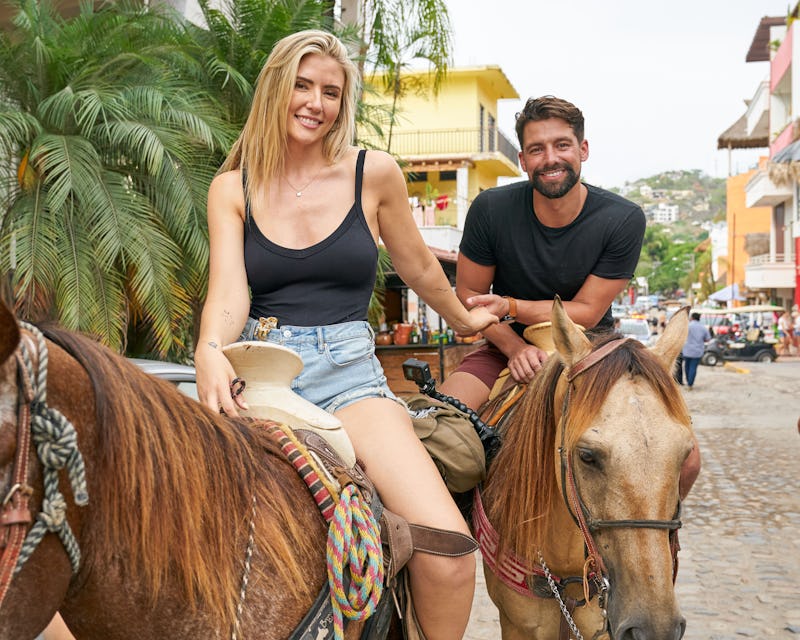 Craig Sjodin/Disney General Entertainment Content/Getty Images
Bachelor in Paradise may be known for its drama, but two contestants have proven that you can find love on the beach, sans chaos: Michael Allio and Danielle Maltby. The newly formed couple took shape all the way back in Week 4, just as it seemed like Michael's time in Paradise had reached its end. Having just broken up with Sierra Jackson, Bachelor Nation's favorite dad had no obvious connections heading into the rose ceremony — until Danielle showed up.
At first, Danielle's arrival was a big surprise, being that she'd been largely absent from the franchise since her appearance on The Bachelor in 2016 and Paradise Season 4 in 2017. However, shortly after the excitement settled, it was clear that she and Michael had found a spark in one another.
After getting together, Michael and Danielle were able to avoid much of the drama that plagued their fellow Paradise contestants — so it wasn't too surprising when they ultimately left the beach together during the show's Nov. 21 episode. Michael told Danielle that his late wife would "be happy it was you," and Danielle said she would be honored to meet his son, James. "I hope you know I'd never try and, like, step in," she said, opening up about her own experience with loss while planning her future with Michael.
Months after filming Paradise, are Michael and Danielle still together? Indeed, they are — and taking major steps in their relationship. During the Nov. 22 Bachelor in Paradise reunion, Michael told Danielle he loved her for the first time, and Danielle announced that she would be moving to Ohio.
They don't live together yet — but they are celebrating the holidays together, they tell Bustle. "James and I are gonna make some pumpkin pie," Danielle says, adding that there's a sneaky benefit to baking dessert with Michael's 6-year-old son. "James will go around, and he'll be like, 'How do you like the pie? You like the pie? Because I helped make it.' No one can tell him no if it sucks."
While much of Bachelor in Paradise Season 8 was focused on love triangles and the casualties of split week, Michael and Danielle sat out the drama, but they did share plenty of memorable moments the camera didn't capture. There was even a special mini-date inspired by a sunset Michael and Danielle watched together. "We were sitting on a day bed and watching the sunset go down," Michael says. "And Danielle was just really quiet. And I was like, what's going on? And she goes, 'I just really never want to forget this moment.'"
Later, Michael set up a time for them to paint the beautiful scene together — and Danielle still has the painting hanging in her living room.
In addition to these unseen moments, there were some hilarious ones, too. "I kept trying to get him to go to the Boom Boom Room, just for the air conditioning," Danielle says.
"Just for the air conditioning," Michael jokes. "Sure."
This article was originally published on