Former GBBO Contestants Say Competing Can Be Expensive
It's all about the price of ingredients.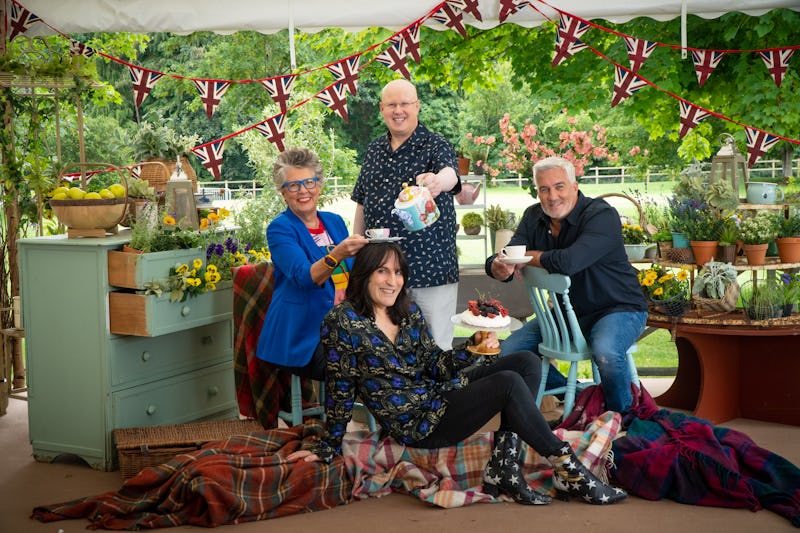 Channel 4
The Great British Bake Off has become an autumnal ritual. As the leaves start to turn golden, and the nights get longer, I can almost hear Paul Hollywood's scathing criticisms of overworked dough cutting through the colder air.
However, for a show that's about to enter its 12th season, the Great British Bake Off tent still holds a lot of mysteries – one of those being, are The Great British Bake Off contestants paid? While I'd accept payment in sweet treats to get close to the gingham altar, past contestants have revealed that it can be quite expensive to take part in the competition.
Sophie Faldo, the 2017 Bake Off winner, previously explained to Metro that contestants have to pay for their own ingredients during the audition process – but are given an "allowance" if they do make it to the tent. Bearing in mind that many contestants admit to practising their bakes multiple times on a weekly basis, that can add up a lot of money spent on flour and eggs.
Frances Quinn, 2013's winner, said the same to Cosmopolitan, adding that despite the allowance "it's still expensive". Sometimes contestants bring their own ingredients to make sure the bake is just right, Quinn explained. "Even bananas," she said. "You need the really ripe ones if you're making a banoffee pie, and if the ones they got in from the online order were green, you have to take it to the next level."
During an interview with the Radio Times in Aug. 2017, former Bake Off presenter Sandi Toksvig commented that it's "not something that gets talked about". She went on to say: "To some of them [the contestants], just buying the ingredients to practise at home has pushed them to the limit in terms of their finances." Not to mention the fact that many of the bakers have to navigate the competition alongside work, studying, and childcare, and they aren't compensated for this time.
But what about the winner? Well, there's no cash prize or pot of gold at the end, just the sense of achievement. Martha Collison reached the quarter-finals in the 2014 series, and told Barrelhouse: "Everyone is so surprised, and thinks there must be some secret cash, but all we really get is a bunch of flowers and a cake stand. But then, you also kind of become a national treasure just by doing it, because everyone in Britain loves the Bake Off so much."
It's what the bakers do after the show has aired that can be lucrative. Contestants like Nadiya Hussain, Liam Charles, Edd Kimber, and Ruby Tandoh have gone on to publish books, appear on podcasts, and host TV shows.
While the contestants aren't given a fee, the judges and presenters are paid pretty handsomely. In fact, they were given a pay rise when the show moved from the BBC to Channel Four. Metro reported that Paul Hollywood signed a three-year contract for £1.2 million following the move, which works out at £400,000 per series. Although Prue Leith's salary has not been confirmed, reports suggest she is netting around £200,000 per series, Metro writes. According to The Sun, Noel received a reported £150,000 pay rise to keep him on the show following Sandi Toksvig's departure. While GBBO's latest presenter Matt Lucas' salary hasn't been reported on.
This article was originally published on