Bachelor In Paradise's Michael Allio & Danielle Maltby Broke Up
The exes confirmed their split with separate statements.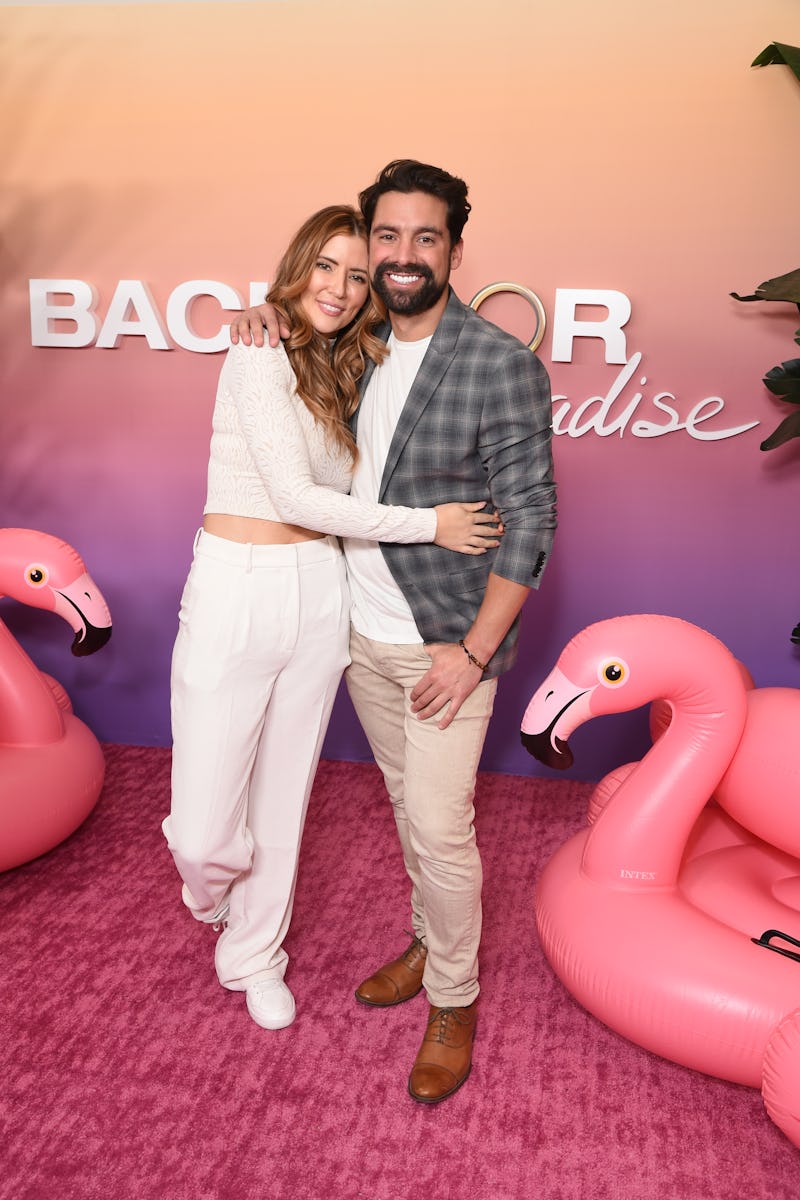 Stewart Cook/Disney General Entertainment Content/Getty Images
During their time on Bachelor in Paradise, Michael Allio and Danielle Maltby quickly became one of the beach's most stable couples. The Season 8 stars bonded over their respective experiences with loss, ultimately deciding to give their relationship a try in the real world. Michael even told Danielle that his late wife, Laura, would "be happy it was you."
In the months after Paradise finished filming, Michael and Danielle spent the holidays together — and, by January, they were making plans for Danielle to move to Ohio to be closer to Michael and his son, James. However, the couple's next relationship update was a sad one: Michael and Danielle broke up. Michael confirmed their separation in the Sept. 18 episode of Jason Tartick's podcast, Trading Secrets.
"It's still incredibly fresh," he said. "I guess I'll just come out with it: We're not together anymore. It's really... it's not what we planned. We both threw a lot into this relationship. And it's really awful when it doesn't work out."
The alum from Katie Thurston's Bachelorette season explained that love was there. It's unclear why Michael and Danielle broke up, but Michael suggested the split had to do with compatibility.
However, days later, Danielle confirmed the breakup on her end — writing on her Sept. 22 Instagram story that she was shocked Michael announced the breakup the way he did. She added that the split "was not a mutual decision arriving at some perception of incompatibilities."
Danielle added that she wished the best for her ex, and "will always have James in [her] heart."
If you've been following Michael and Danielle on social media, you know there's been speculation about a potential breakup for a while now — like after fans noticed missing photos of the couple on Instagram.
Despite the breakup, Danielle was still living in Ohio as of this September. "I've been taking time getting to know this new city of mine," she said in one recent post — writing that she's "celebrating [her] female friendships" in another. In her story, she wrote that she was "succeeding at finding moments of joy in building a new life in this city, regardless of how [she] came to it."
Following the confirmation of Michael and Danielle's breakup, there are no longer any couples from their season of Bachelor in Paradise who are still together. Brandon Jones and Serene Russell ended their engagement earlier this year, while Johnny DePhillipo and Victoria Fuller broke theirs off shortly after leaving the beach, leading to a dramatic confrontation at the Season 8 reunion. As for Season 9, spoilers tease that there may be more engagements on the horizon.
This article was originally published on