The Best Memes & Tweets From The 2023 VMAs, Including Taylor Swift Dancing
Fans reacted to the award show's biggest moments.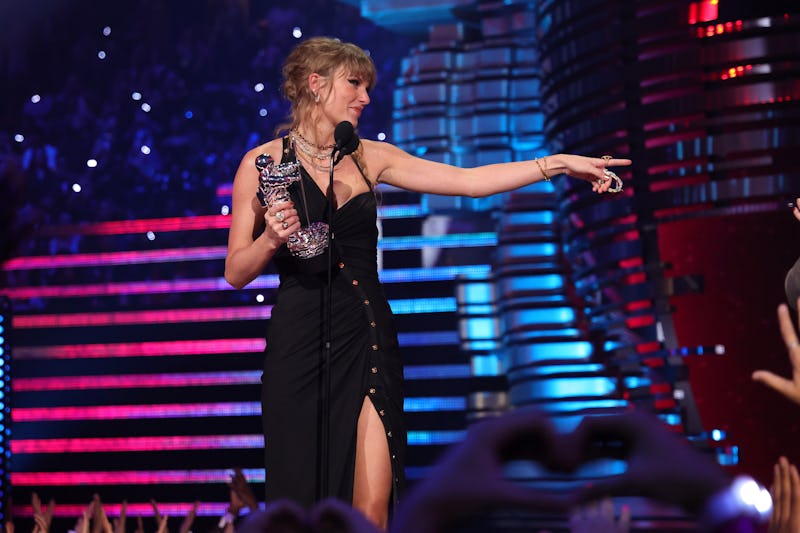 Kevin Mazur/Getty Images Entertainment/Getty Images
After spending weeks predicting who would appear on the red (er, pink) carpet, music fans turned out to the 2023 MTV Video Music Awards on Sept. 12 — and as ever, used memes and tweets to chronicle the chaotic evening. Taylor Swift was the show's most-nominated artist, leading Swifties to hope she'd put on a surprise performance, or at least accept a Moon Person or two. (After her Midnights album reveal at last year's show, there was hype!) And, well, they were half-right: Swift didn't perform, but she did spend a lot of time on stage collecting awards for her work on Midnights.
Similarly, the Beyhive theorized that Beyoncé might stop by mid-Renaissance Tour, which would be a thrill for fans at home who couldn't score tickets — though sadly, Queen Bey was nowhere to be seen.
Alas, you can never really predict what will go down at the VMAs. But per tradition, viewers took to Twitter to react to every musical moment.
Taylor Swift Couldn't Stop Dancing
Swifties (almost) got tired of waiting for Swift to show up at this year's VMAs, wondering if she was ever coming around. Despite receiving a whopping 11 nods — including Artist of the Year, Video of the Year for "Anti-Hero," and Show of the Summer for the phenomenon that is the Eras Tour — Swift nearly seemed to be a no-show. Fans shared their impatience, with some even looking for clues in the background of Selena Gomez's en-route selfie.
After hours of speculation, Swift arrived at the VMAs during the final moments of MTV's pink carpet coverage — and during the show, she jammed out to several of the performances, including Demi Lovato's medley of songs like "Heart Attack" and "Cool for the Summer."
It wasn't just Lovato's music that had Swift dancing all night, of course. The "Bejeweled" hitmaker also moved to Cardi B, Megan Thee Stallion, Shakira, and more throughout the show — as is tradition.
Selena Gomez Appears Concerned
Selena Gomez also had a noteworthy reaction to the evening's music. During Olivia Rodrigo's medley toward the start of the show, Gomez seemed worried about the chaotic, pyrotechnic-filled performance of "vampire" — resulting in a new go-to reaction image.
Gomez also seemed to make her feelings clear when hearing about Chris Brown's nomination for Best R&B.
Diddy's Performance Has Fans Feeling Nostalgic
Between the NSYNC reunion and Shakira's decades-spanning medley, it was a big night for nostalgia. Sean "Diddy" Combs kept the throwback fun going by delivering a collection of his iconic songs — including "Last Night," which he performed alongside Keyshia Cole — before receiving the VMAs Global Icon Award.
Fall Out Boy Rocks Oversized Suit Jackets
Speaking of nostalgia, Fall Out Boy took the VMAs stage for the first time in 16 years — aptly performing their modern rendition of Billy Joel's "We Didn't Start the Fire," which covers the events of the last three decades, including Taylor Swift and Kanye West's infamous VMAs encounter.
Naturally, fans had some thoughts about the band's fashion.
While the band's song might reference a VMAs mishap, Swift finished this year's show on a much more victorious note — winning her fourth Video of the Year Award (this time for "Anti-Hero") and marking the end of another chaotic ceremony. Until next year!