Bindi Irwin's Daughter's Name Is A Moving Tribute To The Crocodile Hunter
Crikey, it's getting emotional in here.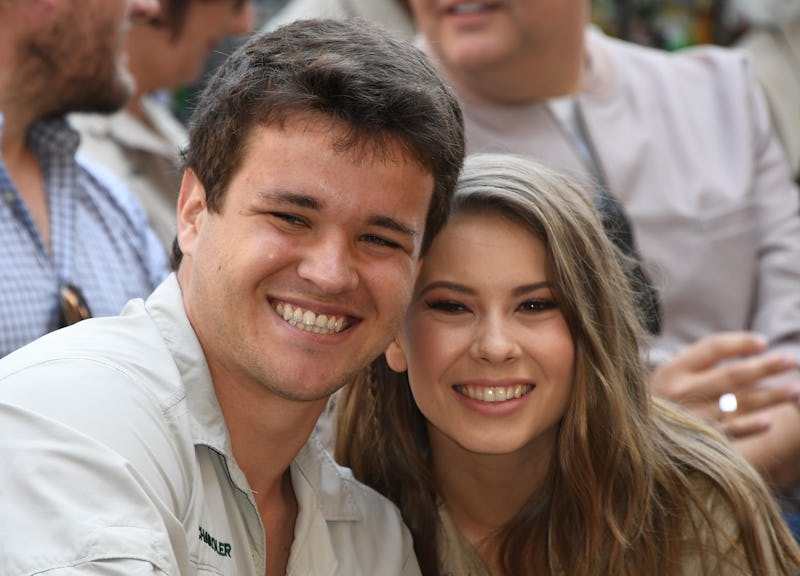 MARK RALSTON/AFP/Getty Images
Exactly a year after marrying her husband, Chandler Powell, in a small, COVID-friendly ceremony at the Australia Zoo, Bindi Irwin gave birth to a baby girl. She revealed the news on Twitter on March 26, and she shared how their daughter's name, Grace Warrior Irwin Powell, is a sweet tribute to several members of her family, including the Crocodile Hunter Steve Irwin.
"Our graceful warrior is the most beautiful light," she wrote in the heartfelt post. "Grace is named after my great-grandmother, and relatives in Chandler's family dating back to the 1700s. Her middle names, Warrior Irwin, are a tribute to my dad and his legacy as the most incredible Wildlife Warrior."
Irwin also posted a photo of herself, Powell, baby Grace, and a cute Australia Zoo onesie and birth announcement from March 25. She previously shared exciting moments from her marriage and pregnancy online, like when she opted for a gender reveal party. But don't worry, hers didn't result in a massive wildfire or involve a controversial pet alligator stunt. Instead, her celebration was accompanied by a giant tortoise, which is so on-brand for the animal-friendly family.
Their daughter choosing "the perfect day to be born" on Irwin and Powell's anniversary is just one of many meaningful parallels in the famous family's life. Just like Bindi's mom, Terri, met Steve at his family's zoo while she was vacationing from the United States, so too did Chandler meet Bindi during his own visit decades later. Now, the entire family works together at the Australia Zoo, fulfilling the Crocodile Hunter and Wildlife Warrior's hopes that his children would carry on his mission of wildlife conservation.
Irwin's family and fans alike took to Twitter to celebrate the happy news (and maybe cry a little). Her brother, Robert, described the new parents as "the most incredible, caring & strong Mum... and the funnest, coolest & kindest Dad." New grandma Terri wrote that "Steve would be beyond proud. Grace is the next generation to continue his mission and message of conservation." Below, fan reactions to the growing Irwin family:
Congrats, Bindi and Chandler!