Blake Abbie Was In A Boys Over Flowers Reboot Before Bling Empire: New York
He is currently the editor-at-large of A Magazine Curated By, a Paris-based fashion publication.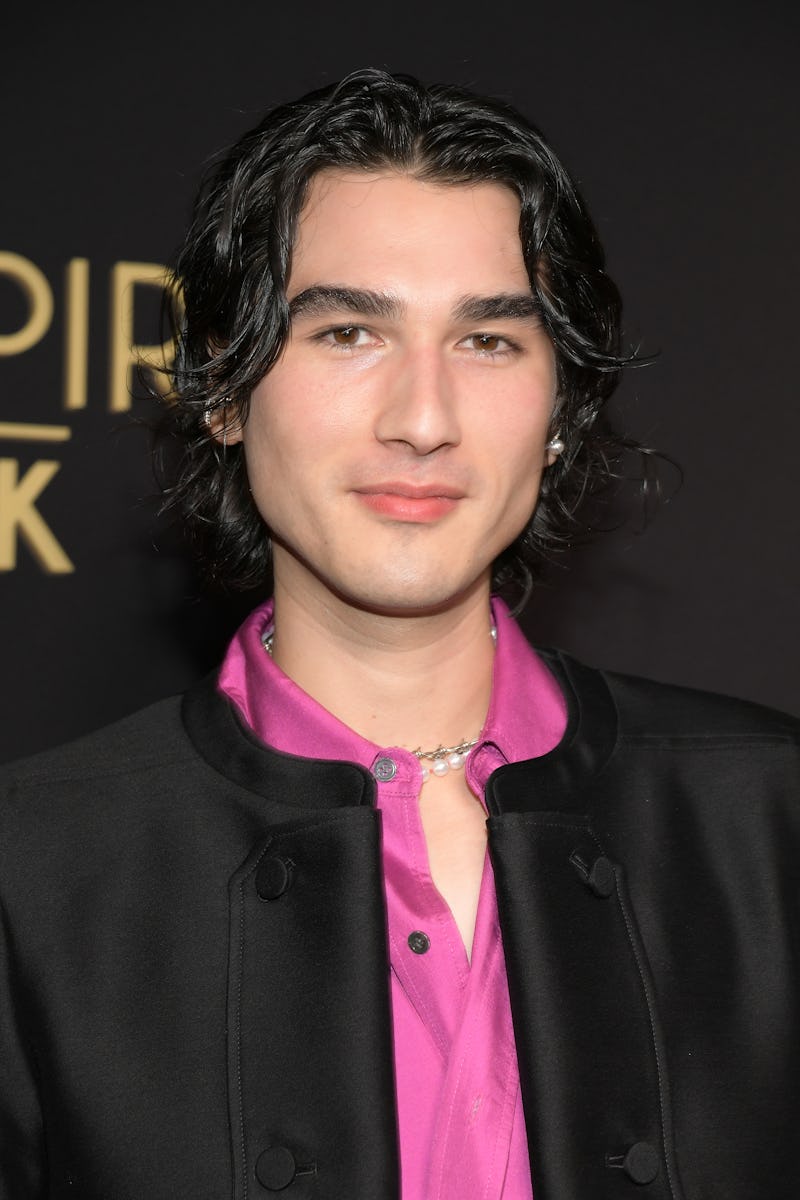 Kristina Bumphrey/Variety/Getty Images
The Netflix spinoff Bling Empire: New York finally dropped on the streaming platform and fans of the original are treated to how New Yorkers do glitz and glamour. Spoiler: it includes shopping sprees, trips to the Bahamas, and the occasional cake fight.
One of the cast members to get to know on the show is Vancouver native Blake Abbie. The half-Chinese, half-Scottish reality star is one of the show's stylish new fixtures who isn't afraid to open up about his own struggles of dealing with loss and what it's like to be queer in a conservative Chinese family.
Though the 32-year-old is new to the reality TV circuit, it's not Abbie's first Netflix gig. He's previously starred in the Chinese reboot of a massively-popular Taiwanese show, among other projects. Here's everything to know about the newest Bling Empire: New York star including his job, net worth, and dating history.
What Is Blake Abbie's Job?
Like several of his castmates, Abbie's work is primarily in fashion, though he's also a classically trained singer with a music degree from the University of British Columbia. He's currently the editor-at-large of A Magazine Curated By, a Paris-based biannual fashion publication, where he says he gets "to express" himself in a way that he "can't do as a banker."
Aside from being a writer and editor, Abbie also occasionally models for adverts and runways. He most recently walked the Peter Do show during New York Fashion Week.
But Abbie is also an actor and his biggest gig to date was starring in the Chinese reboot of Meteor Garden in 2018. The original Taiwanese series, based on the Boys Over Flowers Japanese Manga, came out in 2001 and was an instant success. It even led to several reboots across Asia — Boys Over Flowers (Korea), F4 Thailand: Boys Over Flowers (Thailand), and Hana Yori Dango (Japan). Abbie plays a supporting character Thomas in the Netflix reboot, a musician who woos lead Shen Yue.
Who Is Blake Abbie's Family?
On the show, his family is mentioned quite a bit. His father, Robert, who was from Edinburgh, Scotland, passed away a year prior to filming, and Abbie's grief is something he openly talks about on the show. On his Instagram, Abbie has been open about his father's struggles with kidney disease. "My dad has dialysis treatments twice a week having to leave his facility," he wrote back in May 2020. Sharing how COVID-19 affected their time together, especially during his dad's treatments, he added, "One thing he asks me each time I see him is for a latte and to hold my hand — neither of which I can do."
On Dec. 1, 2020, the day of his father's passing, Abbie wrote a tribute on Instagram. Calling his dad "one of the happiest, jolliest souls," he said, "These past eight months has afforded us time to enjoy each other's company, reminisce and learn to love the present ... His happy ritual was a simple cup of coffee and a newspaper. And in his last couple weeks, we were so fortunate to be able to do that together everyday."
He also shared a key lesson from his dad. "If there is anything that my dad taught me, it would be to cherish what you have and to not let anything get in the way of your everyday happiness."
Meanwhile, his mom, June, who hails from Hangzhou, China, appears on the show and in a separate episode, can be seen comforting Abbie through his grief on a video call.
What Is Blake Abbie's Net Worth?
While it's not clear what his net worth is, Lifestyle Asia pegs the range between $3 million and $5 million. Netflix, however, lists his family's net worth on the show as $20 million.
Abbie has been bagging more and more projects recently, including a billboard in New York's Chinatown for the brand Grailed so it's likely his net worth will balloon — especially after the show's success.
What Is Blake Abbie's Dating History?
Not much is known about Abbie's dating history but he does talk extensively on BE:NY about what he wants his family to look like. As the eldest of the cousins and the only boy, Abbie says there's pressure to continue the family's name, adding that his grandmother always asks when he's getting married or having children.
Abbie, who identifies as queer, even opens up to his mom on the show about the pressure he feels to have kids and the guilt for not having one while his father was still alive. Over dim sum, he tells her, "Maybe I'll have a kid by myself, maybe I'll have a kid with someone." He continues, "I want to stay open to see who that person could be. It could be a man, woman, trans person, non-binary. I just want to be able to find someone that I love and care for that is reciprocal that cares for me. I just don't know what my family's gonna look like."
In one of the sweeter moments of the show, his mom assuages his concerns and reassures him that "it's all good." "The kid will have eyes, nose, mouth, right?" she asks, adding, "A healthy baby is more important than 'look like.' Don't feel pressure or stress. Whoever you date, it's all good." It's the most important that you have to be happy."