Every Time Blue Ivy Carter Stole The Show At Beyoncé's Renaissance Tour
The Beyhive meets the Ivy League.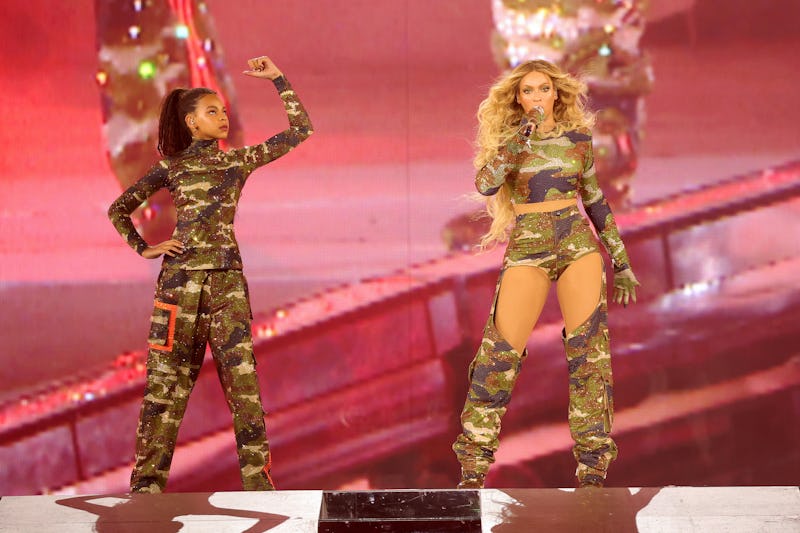 Kevin Mazur/WireImage/Getty Images
Before she even appeared on the Renaissance World Tour stage, the crowd at the AT&T Stadium in Arlington, Texas, began to roar; electricity pulsed through the stadium as fans awaited her arrival, craning their necks to get a better view. No, we're not talking about Beyoncé, who took to the stage for nearly three hours, but her daughter, Blue Ivy Carter.
Since May, Blue Ivy — the eldest of Beyoncé and Jay-Z's three children — has delighted audiences by popping up midway through select shows and dancing to her mom's performances of "My Power" and "Black Parade." Her brief cameos have taken the world by storm, igniting a viral TikTok dance trend and kickstarting a new dedicated fandom, the Ivy League. She even has some people, like Gabrielle Union's daughter Kaavia, thinking that the Beyoncé show is a "Blue Ivy concert."
To date, the young star appeared at more than 15 Renaissance stops and even has been added to the tour's credits as a dancer. Naturally, she's always dressed to the nines during her cameos, with her costumes often echoing her mom's style for that show. At the AT&T Stadium, for instance, both mother and daughter wore shiny silver ensembles.
From those sparkly new outfits to her amazing dance moves, it's been quite a ride. Ahead, all the times Blue Ivy Carter stole the show during the Renaissance tour.
Blue Ivy's Tour Debut In Paris
On May 26, Blue Ivy made her Renaissance stage debut, just two weeks after the tour kicked off in Sweden. Her appearance at the concert in Paris, France, made international headlines, as most expected Beyoncé's daughter to only be watching the show — not onstage dancing to high-energy choreography for two songs.
Blue Ivy Becomes A Tour Fixture In London
At first, many fans thought that Blue Ivy's Paris cameo was a one-off moment — but she proved everyone wrong when she made her second appearance just a couple of days later during the first night of Beyoncé's five-show run in London on May 29. By then, Blue Ivy was already starting to go viral on TikTok, and she even helped boost the popularity of the song "My Power" by 293% globally on Spotify.
The Blue Ivy Fans Show Support In Spain & Germany
As Beyoncé's eldest continued to make cameos, the Beyhive swarmed to show their support for her. On June 8, an X (formerly Twitter) user shared a video of Blue Ivy reacting to a fan's sign at the Barcelona stop. A week later in Cologne, Germany, fans waved blue-colored balloons during Blue Ivy's portion of the show.
Blue Ivy Gains Confidence Onstage In Amsterdam & Frankfurt
As the European leg of the tour went on, fans noticed that Blue Ivy appeared to be growing more confident with each appearance. One fan commented on a video of her at the June 24 concert in Frankfurt, Germany, saying: "And that was how Blue took the Queen Bee title 🙌🏾."
(As pictured above, Blue Ivy sometimes makes a heart-shaped hand signal at the end of her performance, before leaving the stage.)
Blue Ivy Levels Up Her Tour Style In New Jersey
As the Renaissance tour started its North American leg, Blue Ivy made appearances in Philadelphia, Chicago, and Detroit — where Beyoncé joined the crowd chanting Blue's name. The mom-and-daughter duo continued to share more tender interactions and major style moments, especially at the concert in East Rutherford, New Jersey, where they wore custom matching jerseys.
Blue Ivy's "Hard Work" Dominates The Atlanta Stage
By the time Beyoncé's Atlanta shows took place in August, Blue Ivy already had months under her belt as a tour dancer, and it showed. Even Destiny Child's Kelly Rowland said she was "very proud" of the 11-year-old. "She works very freaking hard, period. But how could she not, you know? She sees her mother in action and she sees her father in action and how they apply everything, hard work to everything that they do," Rowland told E!.
Blue Ivy Makes Her Canada Debut In Vancouver
While the North American leg of the tour started in Toronto, Blue Ivy didn't perform onstage in Canada until the Sept. 11 show in Vancouver. Her first Canadian performance earned a standing ovation — which, as you can see in a fan's TikTok video, caught her by surprise.
Blue Ivy's Outfit Gets The Internet Talking In Seattle
Beyoncé and Blue Ivy wore custom matching outfits again in Seattle, this time courtesy of Telfar. The sparkly tracksuits blew the Beyhive and Ivy League away, and caused many to wonder if it will be as hard to snag a Telfar tracksuit as it is to buy one of the brand's viral tote bags.
Blue Ivy's Reaction To Fans In Dallas
In September, Queen Bey took her tour back to her home state of Texas, stopping in Dallas and Houston. While it wasn't too surprising that Blue Ivy showed up for this pair of special shows, it was a shock to her to see how much love the crowds gave her. One fan video from her performance at the AT&T Stadium showed the dancer reacting in surprise to the crowd's cheers after taking off her earpieces. Almost four months into the Renaissance tour — and with just a few stops left until it wraps — it's a delight to see that Blue Ivy is still overwhelmed by the love fans have for her.