Bre & Chelsea's Selling Sunset Feud Has Twitter Divided
"She's not wrong about how she feels, but it's not her place to keep telling the girl her 'relationship' is nonsensical," wrote one user.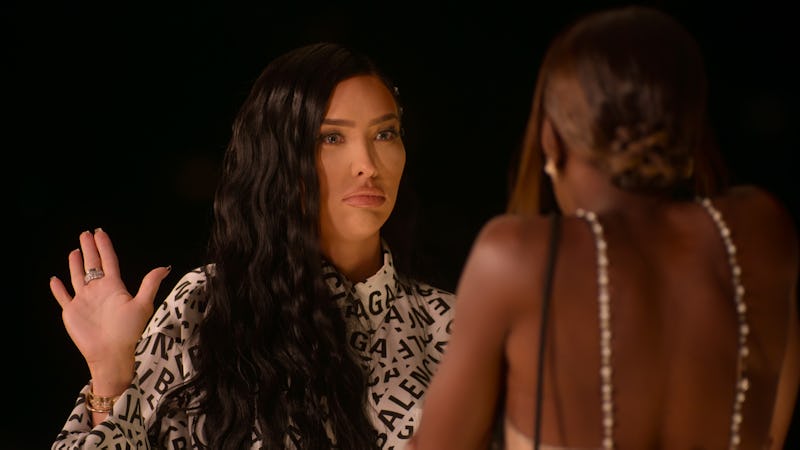 Netflix
It wouldn't be Selling Sunset without some personal drama between all the beautiful home showings — and in Season 6, Bre Tiesi and Chelsea Lazkani's feud provided plenty of it. It all started shortly after Bre's arrival at The Oppenheim Group: when Chelsea told Bre not to be discouraged if it took some time for her to generate sales, only for Bre to assure her that she did $20 million in her first year.
Bre was also upset that former peers from her modeling days were at Chelsea's broker's open, suggesting Chelsea was trying to "dig skeletons." Chelsea, for her part, was "flabbergasted" that Bre was invited to join the firm without selling a house first like Chelsea had to. But the biggest point of contention between the women revolved around Bre's relationship with Nick Cannon. Bre and the father of 12 welcomed a child, Legendary Love, shortly before Selling Sunset Season 6 started filming. Chelsea had questions about their arrangement, which Bre likened to an open relationship in which she and her child see Nick "every morning" and "every night."
"How are you seeing him every morning if he's seeing other people?" Chelsea asked Bre at one point, later saying she thought the situation was "a bit unfair to the kids." In a moment at the office without Bre, Chelsea also wondered whether Nick was a "master manipulator."
While the women hashed things out in the season finale, they didn't end on great terms. Chelsea called herself "too freaking conventional or traditional" to understand Bre's family, while Bre said Chelsea's repeated discussion of the topic "makes it seem like more of an issue than just not agreeing."
Viewers responded to the feud on Twitter, with several praising Chelsea for her skepticism about Bre's lifestyle — and for questioning Bre's swift entry into The Oppenheim Group.
While many viewers supported Chelsea's viewpoints, though, they didn't necessarily think she had to keep raising the issue.
So, where do Bre and Chelsea stand today? While fans will have to wait until Season 7 to see their feud play out further, Bre recently shed some light on their relationship — and spoiler alert, they're not close. "I stand nowhere with Chelsea except very far away from her," Bre recently told People, saying Chelsea's behavior went "a little too far." However, she did wish her fellow agent the best.
In a separate interview with Entertainment Tonight, Bre suggested that Chelsea, perhaps, "didn't have a proper storyline, so she needed [Bre]" to be more involved in the season.