The Kendrick Lamar Song Kris Bowers Would Play At His Bridgerton Ball
The Queen Charlotte composer explains how he created a more intimate sound for the Netflix prequel series.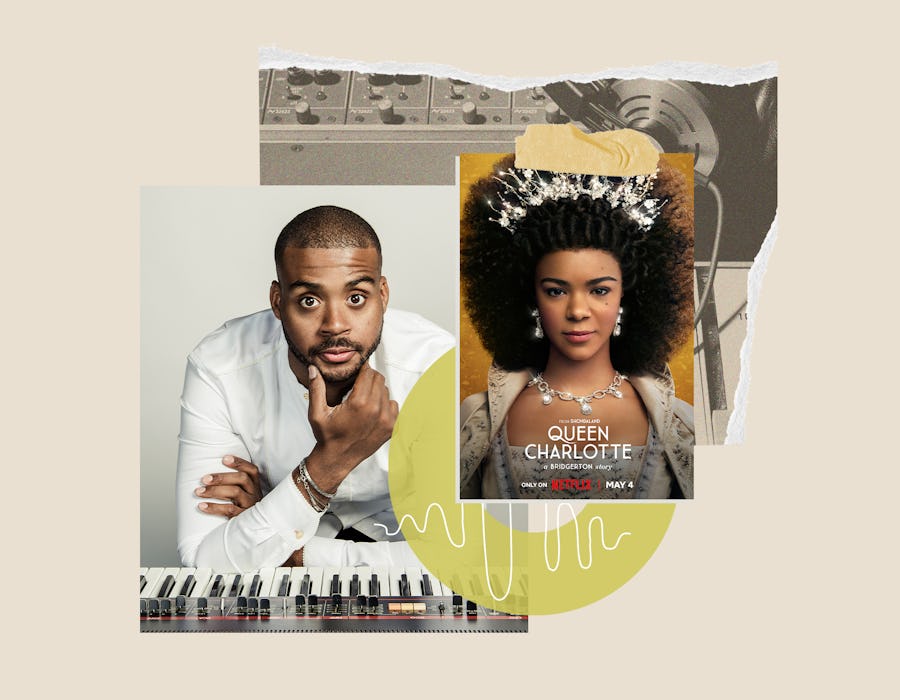 If composer Kris Bowers fell into the world of Bridgerton — an alternate universe of early 19th-century London where high society mingles and falls in love to the classical covers of modern pop hits — one of the first songs he'd like to hear at his own ball would be Kendrick Lamar and Baby Keem's "Family Ties." But when it comes to the song he'd actually like to dance to, that's, as Bridgerton gossip Lady Whistledown would say, an entirely different choice indeed. "It probably be an Al Green song or something that feels a little bit more old-school soul," Bowers tells Bustle.
If Bridgerton's romances are the heart of the Netflix series, the music is its soul. The show made a splash not only for its steamy sex scenes soundtracked to instrumental covers of pop songs like Taylor Swift's "Wildest Dreams," but for its whimsical and tender score that ultimately made viewers fall even more in love with the Bridgerton family and their romantic conquests. No one understands that more than Bowers, who has scored the first two seasons and now its prequel series, Queen Charlotte: A Bridgerton Story.
Bowers, who started playing piano at age 4, enjoys the idea of expanding people's musical tastes by introducing them to classical takes on today's biggest hits. Growing up, the first album he bought himself was a box set of Duke Ellington's greatest hits. "It wasn't just about his piano playing," he says. "It was how he created these worlds with the big band and orchestra." After studying jazz performance at Juilliard, Bowers branched out into composing film and TV scores, notably for projects like Dear White People, Ava DuVernay's When They See Us, and Best Picture winner Green Book before landing Bridgerton.
Now with Queen Charlotte, Bowers, 34, is exploring a new side of the Bridgerton universe. The fictitious prequel takes viewers back 56 years to the tumultuous early days of Queen Charlotte and King George III's marriage, resulting in a show just as romantic but more intimate and moodier than the main series. "A lot of it is starting with how these [characters] make me feel," Bowers says. "With Charlotte, I wanted her theme to have this edge and rebellious nature that she has."
Below, Bowers discusses his musical idols, Bridgerton Easter eggs, and the unexpected way he likes to compose.
On Queen Charlotte
When you were thinking about creating Charlotte's theme, what kind of instruments came to mind?
The first thing that came to mind is the forte piano, which has a very subtly different sound [than traditional piano]. I thought it would be fun to play with, and era-wise, it was a way to tie it more into that time period. [The real-life Queen Charlotte] was a harpsichord player, and I thought about using a harpsichord, but it has such a unique sound to it that I didn't want to go that far. Forte piano is a nice middle ground between harpsichord and piano.
How did you and music supervisor Alexandra Patsavas work together to create the sound of Queen Charlotte?
She and I worked a lot on having a couple of moments where the score is a bit more like a song. There are a couple of pieces, like [the track "A Feeling I've Never Been"] when [Charlotte and George] get married. Those lyrics are inspired by a Black poet from that time period, and the music itself is inspired by Joseph Bologne Chevalier de Saint-Georges, a Black composer from that time period.
On His Musical Idols
Who was your musical idol growing up?
Herbie Hancock would probably be one of my biggest idols because he was an incredibly talented jazz pianist, but he also was the first Black composer to win an Oscar for Best Score for Round Midnight. For him to go from being a jazz musician to [film scoring] to being at the MTV Music Video Awards — he was my favorite for how versatile and highly regarded he was in different genres.
Which artists are influencing you and your work these days?
John Williams is always the person I go to, because he's a master at his craft when it comes to not only orchestration but how he tells stories through film music. He's the best at reiterating his themes in ways where it's very subliminal, that you're hearing this theme that clearly has to do with something that you're seeing or maybe even not seeing, but it's not really obvious.
What's your favorite John Williams score?
Jurassic Park is always the one that comes to mind. [But] E.T. might be my favorite.
On Composing In The Dark
Where's your favorite place to compose?
Usually my studio. I designed it to feel very cozy. I have a window that has a blackout shade, and the room is black, so it's usually a pitch-black environment. It makes me feel like it's the middle of the night all the time, which I really love. So I'd say either here or my grand piano in my living room. Oftentimes, there's nothing that can really replace playing that instrument.
Why does it need to look like nighttime when you're composing?
It's helpful when I can shut off my phone, even during the day, and the environment makes me feel like it's the middle of the night because it just feels like time is a bit suspended. When the windows are open, and I see the light of day changing, it has the feeling of time running out or like I'm constantly aware of what time it is.
On Bridgerton Easter Eggs
Which Bridgerton theme do you love the most?
The Lady Whistledown theme is definitely one of my favorites. I keep hearing my friends saying, "It slaps." I really still love Simon and Daphne's theme from Season 1, and the love theme for Queen Charlotte is up there as well.
Are there any musical easter eggs that Bridgerton fans should keep like an ear out for when watching Queen Charlotte?
If you look at Episode 1, when there's the printing press printing out the Lady Whistledown pamphlets, there's a little hint of her theme there. It happens one or two other times.
On Never Getting Too Comfortable
Was there a moment when you knew you were going to be a musician?
Yeah, I felt that since I was a kid. Then, when I was applying to college, I was like, Well, I'm obviously going to a conservatory, and my parents were like, "Wait, you should go to a regular school — have a backup plan to do something else, just in case." I was like, "I'm not doing anything else. I'm going to be a musician."
Was there a moment when you felt you made it?
I always still have the feeling of, "This might be my last project ever" kind of thing. We just went to a premiere last night, and my wife was telling me that my dad was like, "I guess maybe this means that he's gonna be OK — that he's kind of made it, essentially. And she's like, "Yeah, I think he's gonna be fine." I definitely feel appreciative for the projects I'm working on and feel like I've made it in that way, in terms of what I'm having the privilege of working on, but I never get that comfortable.
This interview was edited and condensed for clarity.