Everything To Know About The New Bridgerton Prequel Book, Queen Charlotte
Readers, it's time to mark your calendars.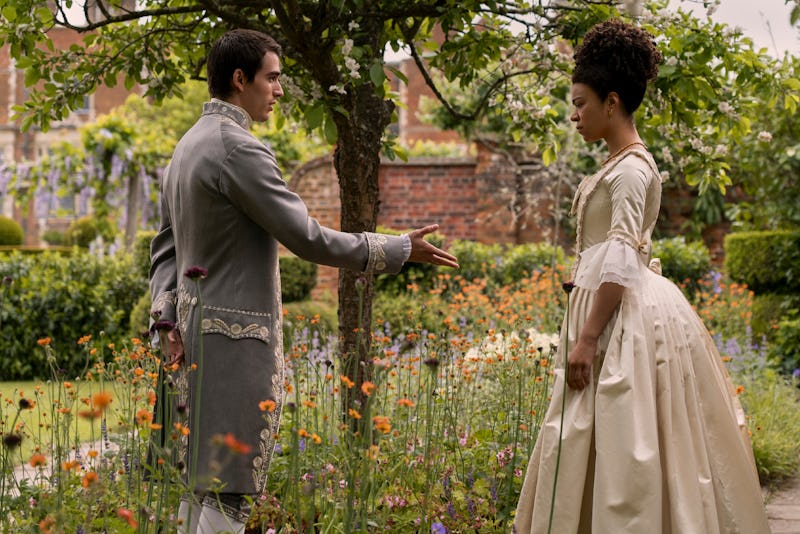 Liam Daniel/Netflix
If you have already consumed all of the Bridgerton episodes, along with the Julia Quinn books, and are still hankering for more action, then here's something to add to your wish list: the upcoming spinoff novel Queen Charlotte. Shonda Rhimes, executive producer of the hit Netflix show, and Julia Quinn, the author of the book series upon which Bridgerton is based, have co-written a prequel novel set within the lavish Bridgerton universe — and it's coming soon.
Queen Charlotte will essentially be an adaptation of the upcoming Bridgerton spinoff series of the same name. As confirmed by Netflix, this prequel will delve into a young Queen Charlotte's origins and her love story with King George. The show's writers added a dramatised version of the real-life Queen Charlotte to the TV series that is not seen in the original novels. Played by Golda Rosheuvel, the character quickly became a fan favourite. The young Queen Charlotte is portrayed by India Amarteifio.
When announcing the spinoff series in 2021, Netflix's head of global TV, Bela Bajaria, told Variety, "Many viewers had never known the story of Queen Charlotte before Bridgerton brought her into the world, and I'm thrilled this new series will further expand her story."
Here's everything else to know about Queen Charlotte, from its release date to plot details.
Queen Charlotte Release Date
Bridgerton's social media accounts revealed the Queen Charlotte book cover and U.S. release date on Feb. 16. The novel comes out on May 9, just days after the spinoff's Netflix debut on May 4. "Prepare yourselves for the love story that shook the monarchy," the Instagram post teased.
Queen Charlotte Inspiration And History
The writers may well draw more inspiration from history in this work. Queen Charlotte was a real figure who ruled during the Regency era from 1761 to 1818, and was married to George III, with whom she had 15 children. Most intriguing of all, she may have been Britain's first Black monarch — a point still debated over by historians and researchers.
In a statement, Rhimes said: "Queen Charlotte has been such a moving character to write, and now having the opportunity to work with Julia to adapt this story into a book is such an exciting opportunity. I can't wait for fans of this universe to read the story of a character that has resonated so deeply with our audience."
Queen Charlotte Plot
Details about the book are now available on publisher HarperCollins' website, and they're intriguing:
In 1761, on a sunny day in September, a King and Queen met for the very first time. They were married within hours.
Born a German Princess, Charlotte of Mecklenburg-Strelitz was beautiful, headstrong, and fiercely intelligent… not precisely the attributes the British Court had been seeking in a spouse for the young King George III. But her fire and independence were exactly what she needed, because George had secrets… secrets with the potential to shake the very foundations of the monarchy.
Thrust into her new role as a royal, Charlotte must learn to navigate the intricate politics of the court… all the while guarding her heart, because she is falling in love with the King, even as he pushes her away. Above all she must learn to rule, and to understand that she has been given the power to remake society. She must fight—for herself, for her husband, and for all her new subjects who look to her for guidance and grace. For she will never be just Charlotte again. She must instead fulfill her destiny… as Queen.
May is going to be a good time to be a Bridgerton fan.
Additional reporting by Stephanie Topacio Long.
This article was originally published on