Britney Spears Shared An Update About The "Hard" Process Of Writing Her Memoir
"It's actually healing and therapeutic."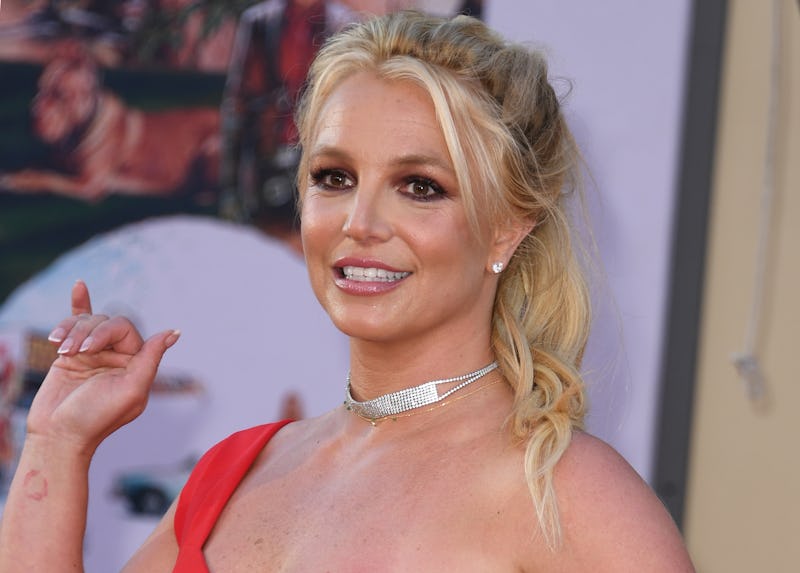 VALERIE MACON/AFP/Getty Images
Britney Spears has had a monumental 12 months. At the end of last year, she won the legal battle to end the 13-year conservatorship implemented by her father, Jamie Spears. In addition to this, she got engaged to her long-term partner Sam Asghari, and celebrated turning 40. Now, it looks like the singer will finally be able to share her story, as she is writing a memoir.
As per Sky News, the "Toxic" hitmaker confirmed via Instagram on April 5 that she has now started the process of writing her tell-all memoir. "I'm writing a book at the moment, and it's actually healing and therapeutic," Spears told her fans. "It's also hard bringing up past events in my life... I've never been able to express openly."
The singer continued: "I can only imagine that I do sound childish, but I was extremely young when those events took place... and addressing it now, I'm sure it seems irrelevant to most. I'm completely aware of that, but instead of using my heart, I'm using the intellectual approach."
Spears offered no further details surrounding the much-anticipated book, but her supportive fiancé Asghari did confirm that he will be "buying the first copy."
The "Me Against The Music" singer previously hinted that her writing is underway when she posted an Instagram picture of an old-fashioned typewriter. Addressing her loyal 40.2 million followers, Spears teased: "Shall I start at the beginning?"
The judge's decision to terminate Spears' conservatorship in November 2021, which she's lived under since 2008, was a long time coming, but really gained traction over the past year, with the release of the New York Times documentary, Framing Britney Spears, once again amping up the years-long #FreeBritney movement. The Pop Princess was finally able to speak out in June last year and hire her own lawyer, which cleared a path for removing her father as her conservator, and Spears has been enjoying her freedom since.
However, in recent months the 40-year-old singer has called out her family for not supporting her throughout the 13-year conservatorship that had her estranged father, Jamie Spears, control nearly every aspect of her life. Spears also called out her family for the "awful" things they did to her over the course of her career, much of which she revealed in a detailed post on her Instagram, explaining that she wouldn't be doing music anymore to get back at them. "People have no idea the awful things that were done to me personally," Spears wrote in the post.
"Not doing my music anymore is my way of saying 'F*ck You' in a sense when it only actually benefits my family by ignoring my real work," Spears continued. "It's like I've subconsciously let them win."
With Spears downing tools on music for the time being, it looks like the "Piece of Me" singer will have plenty of time to get the word count in on a memoir. Her sister, Jamie Lynn Spears, who appeared singing remixes to Spears' songs in a Britney Spears Tribute at the 2017 Radio Disney Music Awards, was recently promoting her own memoir, Things I Should Have Said.
It isn't the first time Spears has hinted that she wants to get into the world of publishing. In October, 2021, the singer announced on Instagram she was in the process of writing a murder novel, about a girl who is murdered and "gets stuck in limbo because of trauma and pain and she doesn't know how to cross over to the world she use to know."
This article was originally published on