Chris Pratt & Katherine Schwarzenegger's Relationship Is Terminator-Approved
The couple recently welcomed a second daughter to their growing family.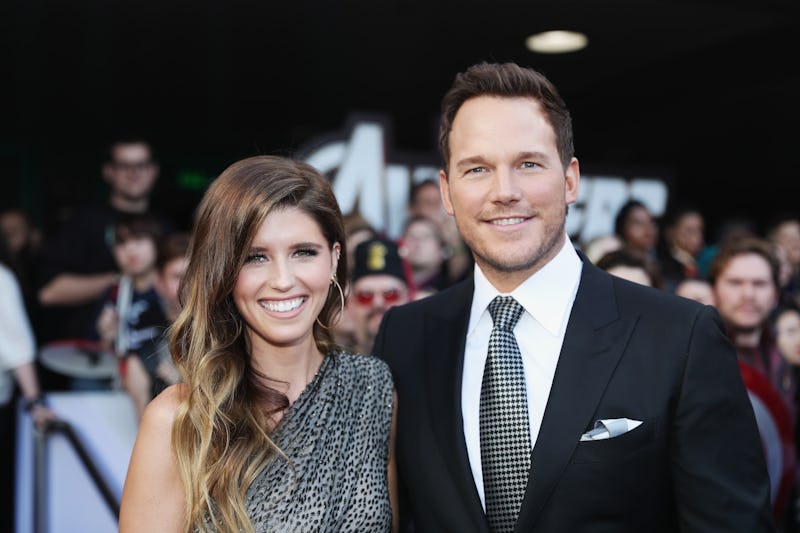 Rich Polk/Getty Images Entertainment/Getty Images
In just a few years, Chris Pratt and Katherine Schwarzenegger have gone from strangers to married parents to two young girls. Considering the couple's been in a seemingly whirlwind romance, you might be wondering about their relationship timeline.
The two stars were first seen together in June 2018, and when the following January rolled around, they were engaged. By the time they reached their one-year anniversary together, they were already married. That may seem fast, but sometimes people in love just know that it's right!
Since becoming husband and wife in June 2019, Pratt and Schwarzenegger have welcomed both Lyla Maria and Eloise Christina to their growing brood. While she was a first-time mom, Pratt already shared a son, Jack, with ex-wife Anna Faris, so now he's a dad to three young ones.
As summer 2022 begins, the married couple is celebrating the birth of their youngest daughter, while Pratt is busying promoting his latest film, Jurassic World: Dominion, which hit theaters just days after he became a dad once more.
Take a look at all the major milestones Pratt and Schwarzenegger have been through in the past four years, and get ready for many more, as these two seem like they are head over heels in love.
June 2018: First Public Outing
According to People, Pratt and Schwarzenegger were first linked in June 2018. The publication reported that they had a lovely date on Father's Day, as they were reportedly all smiles during their picnic outing.
August 2018: Dating Continues
A couple of months after they were first spotted together, Pratt and Schwarzenegger once again went on a low-key date. As the Daily Mail noted, the couple biked around Santa Monica and Venice Beach together in August 2018, which showed that things were moving right along for the pair.
October 2018: Halloween Family Fun
On Halloween 2018, Pratt and Faris showed off just how much they've nailed their co-parenting relationship. According to TMZ, the Marvel star, alongside Schwarzenegger, and the Mom actor, with her husband Michael Barrett, all went trick-or-treating together with the ex couple's son, Jack, which is a major move for both new pairs.
November 2018: Double Date With The Arnold
In November, the couple made another major relationship move as they dined with Schwarzenegger's famous father, Arnold Schwarzenegger, and his girlfriend Heather Milligan, in November 2018, according to Us Weekly.
December 2018: Instagram Official
While Pratt and Scharzenegger have reportedly been dating since around June 2018, they didn't become Instagram official until December. On Dec. 13, the former Parks and Recreation star wrote a lovely note on the social media site in honor of his then-girlfriend's birthday, writing, in part, "I've cherished our time together. Thrilled God put you in my life."
January 2019: The Engagement
Pratt announced his engagement to Schwarzenegger in January of 2019, sharing a sweet Instagram photo that put her ring on full display. "Sweet Katherine, so happy you said yes! I'm thrilled to be marrying you," he wrote. "Proud to live boldly in faith with you. Here we go!"
April 2019: Red Carpet Debut
The low-key couple made a splash at their first major red carpet debut in April 2019, celebrating the premiere of Avengers: Endgame. It would prove to be a rare occasion for the two, who choose to keep their relationship out of the Hollywood spotlight.
June 2019: The Wedding
The duo opted for a relatively short engagement, getting married just six months after announcing their intention to wed. According to reports, they married in Montecito, California, in front of their families and friends, including Pratt's son Jack.
Similar to their engagement announcement, Pratt shared the news with fans on Instagram. "We became husband and wife in front of God, our families and those we love. It was intimate, moving and emotional," he wrote in part, sharing a photo of the bride and groom on June 9, one day after they tied the knot.
April 2020: A Baby On The Way
In April of the following year, reports broke that Pratt and Schwarzenegger were expecting their first child together. Though they didn't announce the news publicly, Pratt had previously gushed about the idea of having a family with Schwarzenegger, telling E! in February, "She's, God willing, going to be a great mom one day... She's a great stepmom." Though the two kept her pregnancy relatively quiet, Pratt and Schwarzenegger did make a few references to the baby on social media. In August, Pratt wrote on his Instagram story that his wife was "ready to pop."
August 2020: Katherine Schwarzenegger Gives Birth
In August, Pratt and Schwarzenegger welcomed their first child together, Lyla Maria Schwarzenegger Pratt. Their daughter's name seems to be, in part, a tribute to Schwarzenegger's mother, Maria Shriver, as well as her maiden name. The duo shared a photo on their respective Instagrams of their three hands together, announcing the news. "We couldn't be happier," Pratt wrote in his caption. "Both mom and baby are doing great. We are extremely blessed."
November & December 2020: Talking About Their Newborn
Throughout the last months of 2020, both mom and dad talked quite a bit about raising their new addition Lyla, who had been born just a few months prior. Schwarzenegger shared some sweet thoughts at Christmastime, saying, "I couldn't be more thrilled and grateful to have my little Lyla Maria in my life." She also admitted that she is "obsessed" with putting Lyla's name on everything, and just like every new mom, she now had experiences with sleep deprivation.
The couple also ventured out into the world, taking Lyla to the beach, sharing a video of their child's first Christmas Eve, and Pratt wished his wife a happy birthday on December 13, calling her "a great mom, a great step-mom, a great wife, daughter, sister and friend."
February 2021: Valentine's Day
If it's Valentine's Day, Pratt and Schwarzenegger are going to put their love on display for their followers to see. He posted a photo of his wife and daughter on the beach, saying, "Thanks for EVERYTHING you've given us. I love you so much." She kept things even simpler, writing, "♥️Happy 💞 Valentine's 💋 Day 💓my 💘 valentine 💖"
May 2021: Talking About One Another On Daytime TV
In May 2021, both Pratt and Schwarzenegger took turns talking about one another on different daytime TV talk shows.
Schwarzenegger appeared on The Drew Barrymore Show to promote her new book, and when asked about her famous husband, she responded, "We both knew right away that this is where our relationship was headed. We clicked very quickly." She then went on to talk about becoming a mom to daughter Lyla, commenting, "It's the most fun role and experience that I've ever had and I love absolutely every single minute of it. It's been such a joy, she's perfect."
A few days later, Pratt went on The Ellen DeGeneres Show, and after making a joke about his wife breastfeeding (which he sarcastically admitted she would "love" that he mentioned), he commended her on giving birth in the middle of a pandemic. "She handled it so well, she never missed a beat. She's my hero," Pratt praised. He went on to add that "she's a fantastic woman. I'm a lucky man."
June 2021: Chris And Katherine Both Gush
June 2021 was full of very public displays of love and affection from both Pratt and Schwarzenegger. First, he took part in a Q&A with fans via Instagram Stories (via Just Jared), and when someone asked what he loved about his wife, he had a difficult time selecting just one thing. "Her smile, her patience, her fortitude. Her devotion, as a mother, as a wife. Her faith. Her laugh, even at inappropriate times, like at a funeral or something. It's pretty contagious," he wrote, pointing out that he was saying all that just one day before their two-year anniversary.
Later that month, Pratt spoke to People, talking about the quality time he spends with daughter Lyla. "The 20 minutes before I go to work is like our special time, and we sit out on this little chair or this little couch thing on the balcony, in front of the fireplace and there's this little heater, and we have our time together," the actor commented, calling his child a "wiggle worm."
For her part, Schwarzenegger paid tribute to her hubby on Father's Day on Instagram. She uploaded a picture of Pratt wearing a t-shirt that reads "Girl Dad" and captioned the cute snap by saying, "Watching you as a father has been one of the greatest joys and watching you become a girl dad to Lyla Maria has melted my heart! I've fallen in love with you all over again."
June also happens to be when Chris' birthday and the couple's anniversary falls, so of course they were very loving online on those special days.
November 2021: His "Controversial" Tribute
On November 3, Pratt posted a sweet photo on Instagram with his wife and captioned it with an even sweeter (and funny) message about how wonderful his partner is and how much he loves her. He started the caption by saying, "Guys. For real. Look how she's looking at me! I mean. Find you somebody that looks at you like that!!"
He went on to add, "She's given me an amazing life, a gorgeous healthy daughter, she chews so loudly that sometimes i put in my ear buds to drown it out, but that's love! She helps me with everything. In return, periodically, I open a jar of pickles. That's the trade. Her heart is pure and it belongs to me. My greatest treasure right next to my Ken Griffey Jr Upper Deck Rookie card. Which if you know, you know is saying a lot. It's her birthday in about 6 weeks. So if I don't get her anything, I'll tell her to look back on this post. Love you honey. ❤️❤️"
While many saw the upload as a lovely tribute, some found fault in it. On her podcast, Busy Philipps took issue with bits later in the caption, such as when Pratt wrote, "She's given me an amazing life, a gorgeous healthy daughter…" The former talk show host stated, "Either like you're the dumbest motherf*cker on Earth, or you're a real righteous *ssh*l*," as it seemed like he was showing preference for his "healthy" daughter over his son with ex Anna Faris, who has had some health issues.
As Philipps complained, Schwarzenegger's mother (and Pratt's mother-in-law) Maria Shriver stood up for him, writing, "I want to remind you today what a good man you are what a great father you are to jack and lyla what a great husband you are to katherine what a great son in law you are to me and what a great sense of humor you have!!" in the comments on Instagram.
December 2021: Another Baby On The Way
Multiple sources confirmed to People in December 2021 that Pratt and Schwarzenegger's family was going to expand sometime soon. At the time, it wasn't revealed that they were expecting another daughter, and it's unclear if they knew the gender of the child before it was born.
The same month, Pratt wished his wife (and mother-to-be) a happy birthday on Instagram, saying, in part, "I simply can't imagine how lost I'd be without you."
February 2022: Several Valentine's Day Dates
Throughout the month of February 2022, Pratt and Schwarzenegger were spotted spending time together on dates. They even went on two on Valentine's Day alone, going out for both brunch and lunch. She also wished him a happy Valentine's online.
April 2022: The Home Edit
On April 1, 2022, Netflix released the entirety of season two of its reality show Get Organized with The Home Edit, which sees Clea Shearer and Joanna Teplin redo rooms for celebrities. Pratt and Schwarzenegger appear in the third episode, and they get to watch as their garage changed completely. Schwarzenegger seemed especially thrilled to be a part of the program, as she promoted the series on Instagram, saying, "After watching season 1, I fell in love with Clea and Joanna. Having them organize my home was absolutely amazing!"
May 2022: A Second Baby Joins The Family
On May 22, 2022, both Pratt and Schwarzenegger took to their Instagrams to announce the birth of their second child together. The pair posted the same image, which revealed their daughter's name to be Eloise Christina Schwarzenegger Pratt. They finished the upload's caption by saying, "Mama and baby are doing well. We feel beyond blessed and grateful. Love, Katherine and Chris." Eloise had been born the day before, on May 21.
June 2022: Jurassic World Premiere
On June 6, Pratt took to the red carpet (which was actually black) in Los Angeles for the premiere of Jurassic World Dominion. While he posed for pictures, the star of the sixth film in the dino franchise spoke with journalists. During an interview with E!, he praised his wife and her role as a mother, saying, "Katherine just has the most amazing maternal instincts. She just really knows what to do. I'll follow her lead."
Shortly after the exciting premiere, the married couple took turns wishing one another happy anniversary on Instagram. Pratt called his partner "strong, gorgeous, smart, lovely, organized, tough, kind, compassionate," while she said on her post, "I love you more every day and feel so lucky to live life with you."
This article was originally published on