Citadel Season 2 Will Be Part Of An International Franchise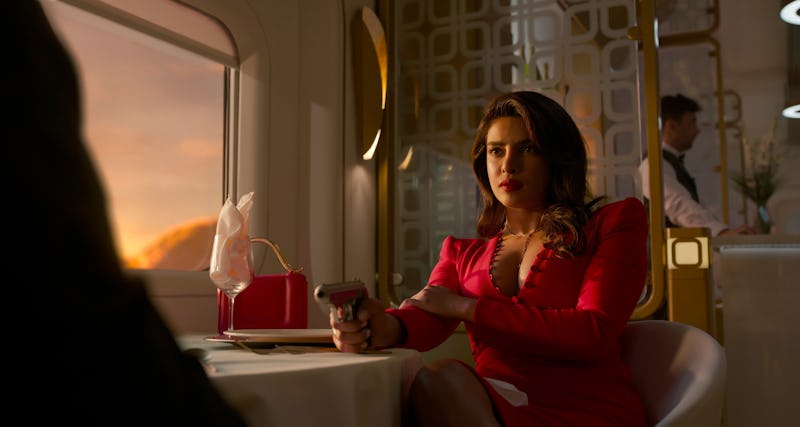 Prime Video
Months after Prime Video's The Rings of Power was declared the most expensive TV series ever made, the streamer is continuing the costly trend with Citadel. According to The Hollywood Reporter, the show's first season reportedly cost more than $200 million to make — which, the outlet points out, would earn it the distinction of being the second-most expensive TV series in history.
The spy thriller follows Mason Kane (Richard Madden) and Nadia Sinh (Priyanka Chopra Jonas), agents from the global spy agency Citadel who reunite to stop a dangerous syndicate. According to a May 25 press release from Prime Video, their quest drew the second-largest international audience of any series in the streamer's history. So perhaps it's no surprise that there will be a Citadel Season 2.
And that's not all: Citadel will also include installments set in Mexico, Italy, and India. The extreme franchise-building makes sense when you consider Joe and Anthony Russo of Marvel Cinematic Universe fame serve as executive producers on the series. In fact, they're using their MCU experience to guide the future of Citadel.
"While there is a really high concept, a clever concept, at work here, it's like when we did the Marvel films, it's the same thing," Anthony Russo told Collider of the team's creative approach to Citadel. "You're learning as you go, you're beating ideas as you go." Similarly, Joe told the outlet that the brothers would incorporate fan feedback on future Citadel installments, as they did with the MCU. "We certainly made adjustments to Avengers: Endgame after Avengers: Infinity War came out because you want to be organic and fluid and iterative so that you just keep telling the best and most interesting story," he said.
Here's everything to know about Citadel Season 2.
Citadel Season 2 Cast
While it might be a while before the Citadel Season 2 cast is formally announced, here's a recap of everyone who starred in Season 1: Richard Madden as Mason Kane, Priyanka Chopra Jonas as Nadia Sinh, Stanley Tucci as Bernard Orlick, Lesley Manville as Dahlia Archer, Osy Ikhile as Carter Spence, Ashleigh Cummings as Abby Conroy, Roland Møller as Anders Silje and Davik Silje, and Caoilinn Springall as Hendrix Conroy.
Citadel Season 2 Potential Premiere Date
According to The Hollywood Reporter, the first season of Citadel wrapped filming in December 2021 but reportedly underwent "expensive reshoots" before its April 2023 premiere — so it's hard to know what a filming timeline might look like for Citadel Season 2. But another action series on the streamer, Jack Ryan, is due to air its next season just six months after its predecessor. So perhaps there's hope for Citadel Season 2 to be similarly speedy?
This post will be updated with the trailer, release date, and additional plot details as more information on Citadel Season 2 becomes available.