Are Brandon & Serene Still Together After Bachelor In Paradise?
Here's what the fan-favorite couple is up to today.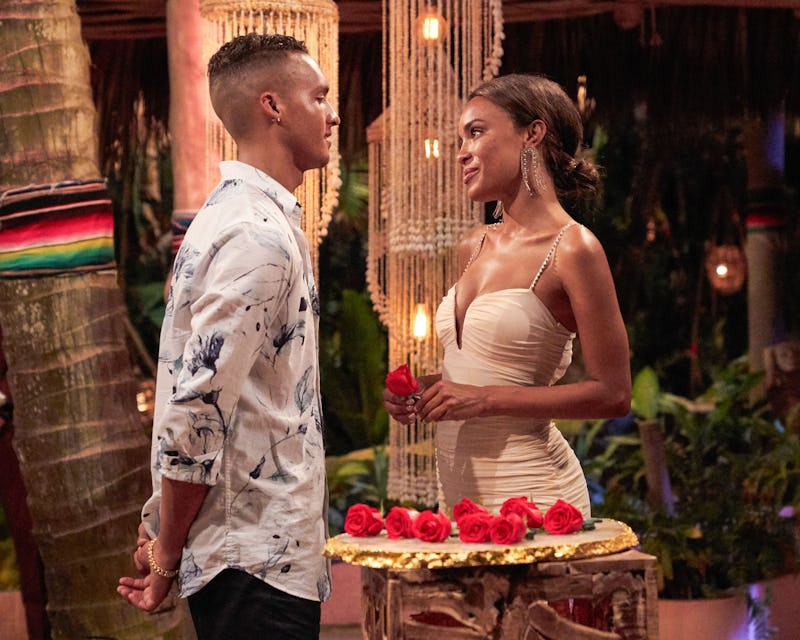 Craig Sjodin/Disney General Entertainment Content/Getty Images
During their time on Bachelor in Paradise Season 8, Serene Russell and Brandon Jones quickly became one of the most beloved relationships on the show — and the franchise as a whole. Of course, if you're an avid fan, you might have seen that coming. People were already shipping the couple once Serene was eliminated from Clayton Echard's Bachelor season in February 2022.
Serene herself was pretty into the idea, too. "I really wanna see Brandon from Michelle's season," she said, eyeing potential prospects for the beach. "I mean, if Brandon doesn't come down the stairs today, I will be a little disappointed."
Fortunately, neither Serene nor fans were disappointed. Brandon did show up — instantly noticing that she was "absolutely, insanely beautiful." Their connection only strengthened from there, and by the time the show's dreaded split week rolled around, they were pretty much the only couple not worried about each other exploring new romantic interests.
To no one's surprise, Brandon and Serene got engaged during the Bachelor in Paradise finale. "I feel like we have two hearts, cut from the same cloth, and I've never felt more seen or understood in my entire life," Serene told Brandon during their emotional proposal. "In you, I've found my best friend, my missing puzzle piece, and my soulmate."
Brandon was equally emotional: "You are this everlasting spark that has hit me so hard, and I have come to the beautiful realization that from the moment I saw you, my happily ever after could have never started until I started a life with you."
Though they opted not to get married on the beach (despite Jesse Palmer offering his services as an officiant), Brandon and Serene are looking ahead at their wedding. "We want to get married in 2024," Brandon tells Bustle. "We're figuring out the season, the time of year ... of course, she's been on Pinterest pinning everything."
"The algorithm knows me well," Serene says.
But before the wedding comes their first holiday together as a couple. Just a couple of days before the holiday, they shared over Zoom that they're looking forward to spending Thanksgiving with Serene's family in Oklahoma City. The couple is also celebrating another major milestone in their relationship; they just moved into an apartment together in San Diego.
Now, they're feeling excited about being a couple in public — starting with the simple things. "We're going to take a walk together, be in the street together, go grab a pizza or something together," Brandon says.
While viewers didn't get to see every moment of his and Serene's journey, Brandon says there is one funny moment that sticks with him. "She goes ham with the sunscreen," he says, "and so it's like, all up in my mouth, it's in my nose, and I can still taste it to this day."
This article was originally published on