The Daisy Jones & The Six Book Ending Was Foreshadowed With A Sneaky Clue
The new TV adaptation is working toward a big twist — here's how it went down in Taylor Jenkins Reid's 2019 novel.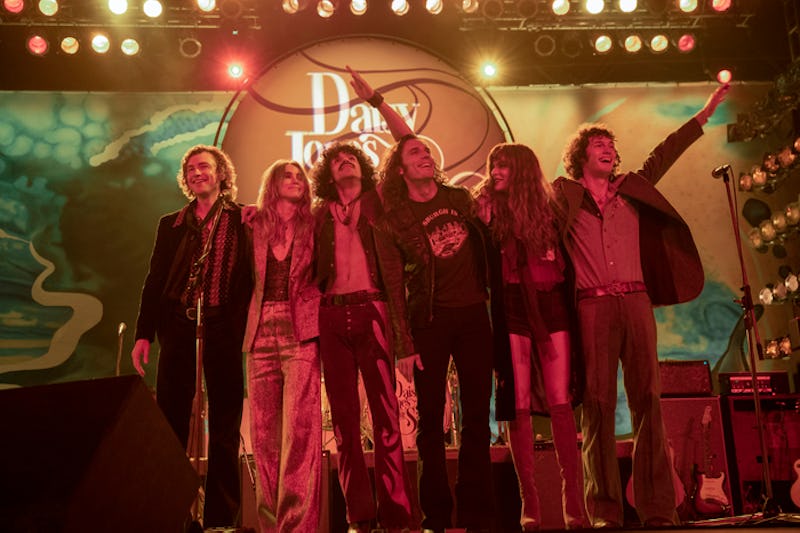 Lacey Terrell/Prime Video
The highly anticipated Prime Video adaptation of Daisy Jones & The Six is finally here. The first three episodes of the series, which is based on Taylor Jenkins Reid's 2019 novel of the same name, premiered on March 2 — and the rest of the season will drop in weekly batches.
Can't wait that long to find out what happens to Billy, Daisy, and the band? As long as you don't mind spoiling the twists and turns (and there are some big ones), you can read up on the Daisy Jones & The Six book ending and plot summary to see how closely the series follows along. Of course, spoilers ahead for Daisy Jones & The Six.
In many ways, the Daisy Jones book and series tend to stick to the same beats (pun intended). After the success of their collaboration, "Honeycomb," Daisy Jones was invited to work on the band's upcoming album, Aurora. However, the process of writing, recording, and preparing for the tour was a time of major conflict. Daisy and Billy clashed before realizing they were into each other and nearly kissed at their producer, Teddy's, house. In a major case of the unreliable narrator trope, both Daisy and Billy said they were the one to end the moment.
Elsewhere, Karen and Graham were secretly hooking up — and when Karen found out she was pregnant, she was firm that she didn't want to be a mom. Graham, however, wanted her to think about it. Karen ultimately got an abortion anyway but waited to tell Graham. (More on that later.)
Everything comes to a head at the group's Chicago concert on July 12, 1979. At the hotel after the concert, Camila approached Daisy for a private talk. She said she knew Billy and Daisy loved each other, but that Billy cared about his family — they shared daughters Julia, Maria, and Susana — and she'd never let him leave. It's at this point that the author/interviewer compiling this fictional book-within-a-book inserts herself into the story, revealing to readers that she is Billy and Camila's daughter, Julia, and she actually remembers this conversation.
It's a gut punch of a twist! But it was actually foreshadowed way earlier in the book. In a quote where Billy is talking about meeting Camila for the first time, his transcript reads, "I'd been infatuated before, called it love. But when I met [Camila], it was something different altogether."
The use of brackets around her name indicates that Billy said something else, but the writer opted to substitute whatever it was with "Camila" for clarity. Because we later learn that Julia is Billy and Camila's daughter — and the bandmates were instructed, per Daisy, to use real names only — it seems that Billy probably slipped up and said something like "mom" or "your mother."
In any case, the band ended that night. After her conversation with Camila, Daisy flew home. She left a note for her bandmates, telling them she was out. However, Camila's request wasn't the only factor that led to the breakup. Billy was simultaneously facing his own crisis with sobriety, and decided to choose his family over music, telling the band he couldn't keep touring.
Karen had just told Graham she had an abortion, and he felt betrayed — screaming at her to the point that they had to be pulled apart backstage. They both realized that night they couldn't play together anymore.
Tragically, it's revealed that Camila was diagnosed with lupus and died of heart failure in 2012. However, the book ends on a hopeful note: shortly before her passing, she told her daughters to have Billy call Daisy when she was gone.
"Tell your father I said at the very least, the two of them owe me a song," wrote her letter to the girls — signaling her knowledge of Billy and Daisy's complicated feelings for each other, and her desire that they reunite.