Danielle Cabral From RHONJ Is No Stranger To Reality TV
Teresa Giudice's pal once appeared in MTV's True Life: I'm a Staten Island Girl.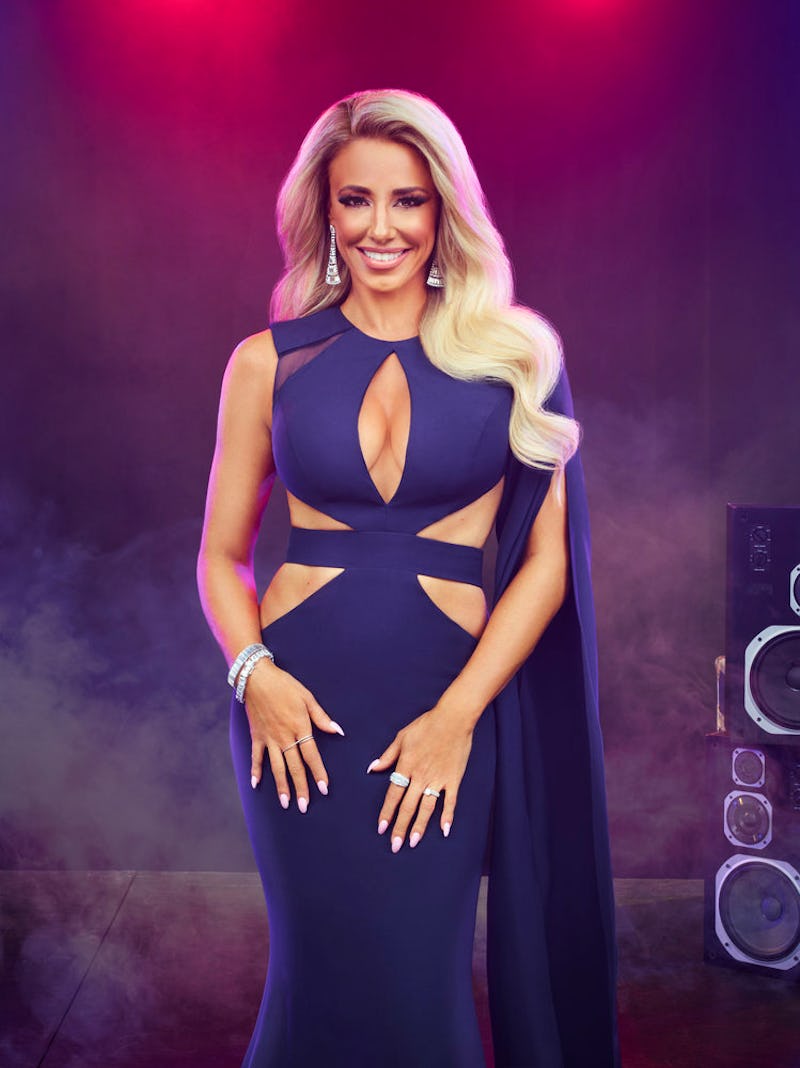 Andrew Eccles/Bravo
Upon joining The Real Housewives of New Jersey Season 13, new cast member Danielle Cabral quickly found herself in the middle of a family feud. As teased in the RHONJ trailer, the 37-year-old Staten Island native was front and center when Jennifer Aydin dropped her bombshell claim that Melissa Gorga cheated on her husband, Joe Gorga. Though Danielle is good friends with Joe's estranged sister, Teresa Giudice, she was still "upset" to hear the accusations — but not for the reason you might think.
"I was like, 'Dang!' You don't want to know certain things because then when you know certain things, you're involved in certain things and it just puts you in those situations you just wish you were never involved in," she recently explained to Page Six, noting that the nature of the rumor itself wasn't what caught her off guard. "I think that's what my realization was. It wasn't like, 'Oh my God.' It was like, 'Oh sh*t, now I'm involved.'"
Danielle claimed that she "tried to be [a] peacemaker in so many ways" between the sisters-in-law this season but was unsuccessful. In the end, she believes that Teresa will be "vindicated" once fans see the ongoing Gorga-Giudice feud play out on the Bravo reality show. "I can't wait for this season to air because that is the No. 1 question," she said of the family drama. "I cannot wait for . . . that narrative to come out and for you guys to see what really happened. Because everybody's got it wrong."
As you wait to see the story unfold on RHONJ Season 13, here's everything else to know about Danielle.
Danielle Cabral's Husband & Family
Danielle's Season 13 tagline — "I may be over-the-top, but I'd rather be bougie than basic" — represents more than just her inaugural RHONJ storyline. Noting that she "loves to be extra," the new Housewife branded herself as the "Boujie Mama" after she and her husband of 10 years, Nathan "Nate" Cabral, welcomed their two children, Dominic, 8, and Valentina, 5. Though she wasn't born and raised in New Jersey, Danielle moved to the Garden State after marrying Nate, who is the owner of Flash Security Integrators, a provider of personal and business security systems, in 2012.
Danielle Cabral's Job
On LinkedIn, Danielle describes her career as a "TV Host / Actress / Social Media Personality." After joining RHONJ, she reflected on how she previously was an unpaid intern at NBC, Bravo's parent company, in the press and public relations department when she was a junior in college in 2006. "I wanted so badly to be an entertainment publicist," she wrote on Instagram. The same year, she made her big entrance into the entertainment industry when she appeared in MTV's True Life: I'm a Staten Island Girl, documenting her dream of becoming an actor. "I was very pleased with how I came across," Danielle, whose maiden name is DiPietro, told Emme Magazine in a June 2011 post-show update. "How I acted on the show is exactly how I am. It was definitely a true portrayal of my life. No pun intended! I want to cringe at the hair choices I made, but that's about it!"
In the same interview from more than a decade ago, she also offered advice to women who want to go on reality shows: "If you want to act a certain way and be portrayed in that light, that's fine. BUT remember, you are going to be on television for millions of people to pass judgement on you. Once it's recorded, it's set in stone FOREVER! You can never go back and change it! What you say and how you act defines the person people view you as. Unfortunately, now-a-days showing no level of class, idiocracy and immaturity can actually make you a millionaire!"
Danielle went on to host multiple shows for MTV, and, in 2014, she starred in an 8-episode DIY Network series, Family Under Construction, which showcased renovations to her and Nate's New Jersey home. She also created "an eccentric clothing company for young children" called Boujie Kidz in 2018, before launching her own production company, Relatable Productions, in 2022. Her Instagram bio even predicts that she'll be an Emmy winner in the future.
Danielle Cabral's Instagram
Also on Instagram, Danielle documents her family fun, in addition to spreading awareness for various philanthropic endeavors. She describes herself as being "extremely passionate about advocating and supporting foundations that are close to her heart," such as Sunrise Day Camp, a free summer camp for children with cancer and their siblings. Meanwhile, Danielle also touts her skills as a social media influencer, writing that she is recognized as the "go-to funny mom/voice for so many parents on social media," when she posts reviews, along with other sponsored content.