Did Anastasia Have A Boyfriend During The Bachelor? The Women Tell All Drama, Explained
She challenged the implication that she was "sleeping around."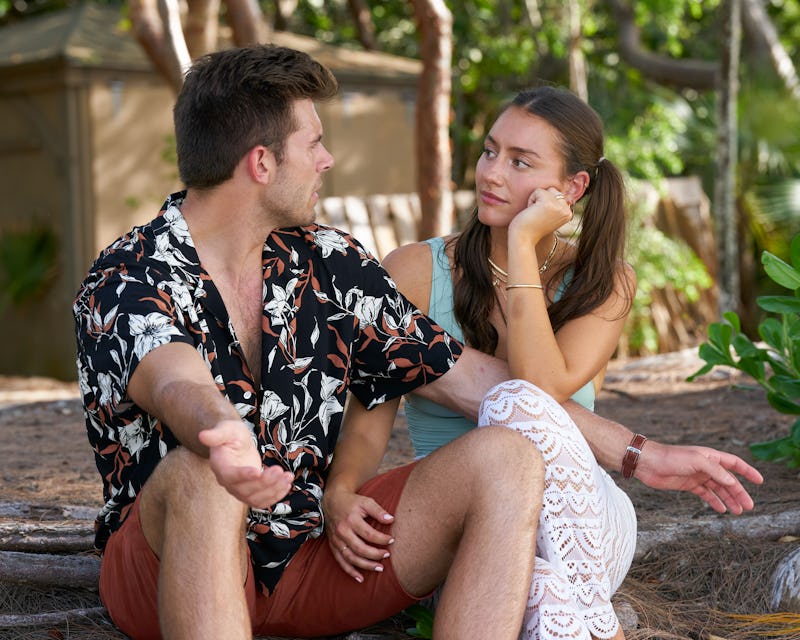 ABC/Craig Sjodin
During her time on Zach Shallcross' season of The Bachelor, Anastasia Keramidas faced her share of drama. Specifically, she faced one of the worst accusations you can hurl at a Bachelor contestant: that she was, perhaps, not there for the right reasons. Back in The Bahamas, Zach got word that Anastasia was talking about her Instagram following with the other women — and while she explained she was genuinely there for Zach, he didn't take any chances and sent her home.
But alas, that wasn't the last rumor Anastasia would field from her fellow contestants. During the March 14 Women Tell All special, Cat Wong claimed that Anastasia had a boyfriend while she was on the show. "You called him in The Bahamas when you got your phone back," Cat said, adding that she was referring to "the guy who had [Anastasia's] dog on his Instagram."
Cat said she wasn't sure if he was her boyfriend or someone "you were f*cking," but Cat claimed she had "receipts" that Anastasia was involved with someone — adding that this alleged mystery man watched her dog while she was filming.
Anastasia said her mom was actually dogsitting, though. The content marketing manager also challenged the implication that she was "sleeping around."
"No offense, but like — all of us have," she said.
She then set the record straight about her relationship, or lack thereof. "No, I did not have a boyfriend," she said. "I still don't have a boyfriend. I never dated that person. I can show you the receipts of when those photos were taken. They were taken the week before I came here, when I was at my friend's wedding, and he was there. Because he lives in Seattle."
Cat doubled down on the claims, though — alongside Victoria Jameson, who said Anastasia told the guy she was going on The Bachelor as "a business opportunity."
Anastasia did share a collection of photos with her dog in Seattle in September, her last post before Bachelor filming began. But there's no sign of a mystery beau in any of them.
There is a dog, though! The adorable pup has made several appearances on Anastasia's Instagram and is named Old Bay (yes, like the seasoning, Anastasia revealed in a blog).
As Anastasia said during Women Tell All, she doesn't currently have a boyfriend — but definitely seems to be a proud pup parent, dogsitting drama aside.