Does Zach Shallcross Get Engaged On The Bachelor?
Here's everything to know.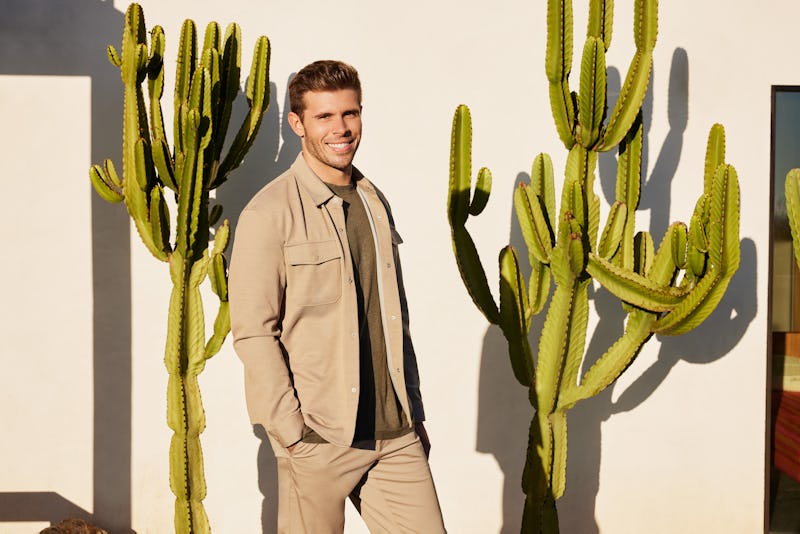 ABC/Nino Muñoz
Zach Shallcross' Bachelor season is almost over, which means it's time to start wondering about who gets that coveted Neil Lane engagement ring at the end of all this — if anyone does at all.
That last bit might seem obvious because, of course, a traditional Bachelor journey is supposed to end in an engagement... right? But then again, the last few seasons of The Bachelor haven't necessarily followed that roadmap. Neither Matt James nor Clayton Echard got engaged by their respective season finales. So it's a fair thing to wonder: does Zach actually get engaged on The Bachelor?
There are a few ways to answer that question, of course. Do you want to know if Zach had a generally successful Bachelor journey, or do you want the specifics of who he ended up with? If the former, Zach himself has the spoiler-free version of events for you. "I'll tell you this: I found love, absolutely," he told Extra in a recent interview. "Now, I can't go into what that looks like. But I did find love."
Zach also wrote in a November Instagram post (fresh after filming wrapped) that we'd be following his "journey to true, forever love," which is certainly a good sign.
Some early rumors zeroed in on Ariel Frenkel seemingly wearing an engagement ring in a social media post. However, Ariel was sent home during the March 20 Fantasy Suites episode, so it's clear that was just speculation. That leaves us with two women who could potentially get Zach's ring: Kaity Biggar and Gabi Elnicki. During the penultimate week, Zach reneged on his "no sex" rule and was intimate with Gabi — which he revealed to Kaity, much to her chagrin. "I honestly, just like, could have went without hearing that," she said.
Zach's decision to tell Kaity hurt Gabi, too, who said she "thought [she] would be a lot happier" at the final rose ceremony, adding that it felt like she had a Scarlet Letter "A" on her chest. "He's, like, only making eye contact with Kaity, when I feel like I've just been kind of put through the ringer here," she said.
The promo for Zach's Bachelor finale teases that Zach has a long way to go in repairing things with both women. But if you crave a little more detail, there are reports about whether Zach gets engaged on The Bachelor (and to whom). But of course, spoilers ahead!
Several spoiler accounts report that, indeed, Zach gets engaged at the end of the season. The go-to source for most Bachelor Nation fans is Reality Steve, who reports that Zach gets engaged to Kaity. So, maybe that museum overnight was a sign of good things to come!
But there's a twist. @bachelorwhatever on Instagram also provided spoilers about Zach's season. They generally track with what Reality Steve has said, except for one major difference: they reported in November that Zach gets engaged to Gabi, instead of Kaity.
Obviously, it remains to be seen which of the spoilers are right and wrong. But perhaps they are both right in different ways? Zach did offer a somewhat vague answer about his outcome on the show. While that's standard practice for fielding spoiler-y questions on The Bachelor, it could also be a way of subtly acknowledging a post-proposal twist. There's definitely precedent for that — think Peter Weber and Hannah Ann Sluss, for example.
This article was originally published on