Everything To Know About Marvel's Echo Series On Disney+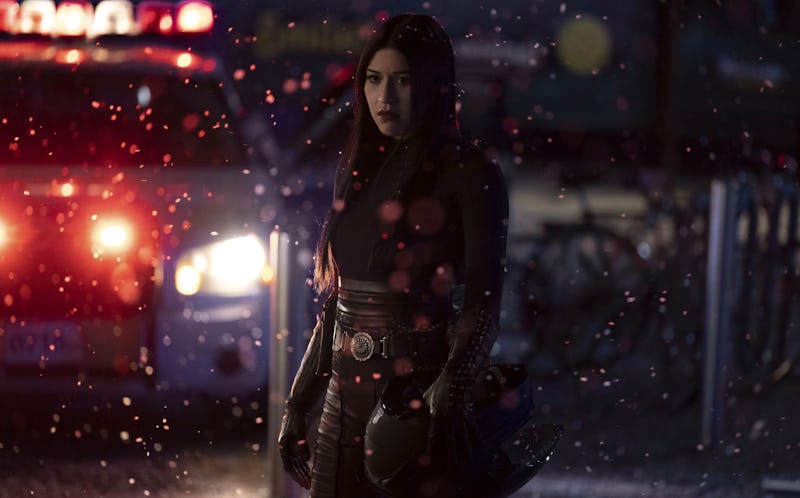 Chuck Zlotnick/Marvel Studios
Though Hawkeye's six-episode run ended relatively happily for Clint and Kate, one character's holiday looked to be a little gloomier. Fresh off fatal confrontations with Kazi and (apparently) Kingpin, Maya Lopez is all alone. Granted her found family was pretty horrible and caused the death of her dad, but that has to be rough. Fortunately, this won't be the last viewers see of the powerful fighter. The new Echo series on Disney+ will follow up on Maya and give her a chance to explore her identity now that she's no longer on Wilson Fisk's payroll.
Though specifics on the Echo Disney+ series are sparse, the streamer seems to have big plans for the new entry. For starters, the show was announced during Disney+ Day on November 12 — before Hawkeye even premiered, so the green light is based on something bigger than fan reaction alone (not that there wasn't plenty of that). And given the character's connections to other Marvel mainstays, of which Kingpin was just the beginning, the series could tie into the greater Marvel Cinematic Universe in a fun way.
Here is everything you should know about the Echo series, cast, and plot, so far.
Echo Series Cast
Alaqua Cox will return as the titular fighter, alongside new cast members in unspecified roles: Chaske Spencer, Tantoo Cardinal, Devery Jacobs, Cody Lightning, Graham Greene, and Zahn McClarnon.
Last summer, The Hollywood Reporter announced that Charlie Cox will be joining the cast of the show, alongside Vincent D'Onofrio, reprising their roles as Daredevil and The Kingpin, respectively. Both Cox and D'Onofrio have made recent cameos in the MCU, including Spiderman: No Way Home for Cox and Hawkeye for D'Onofrio.
The announcement goes on to say that Cox's character will be seeking out an ally as a subplot on Echo, who is speculated to be Krysten Ritter's Jessica Jones, the titular character from the Marvel show that ended in 2019. Ritter's reprisal of Jones is still unconfirmed, but given Marvel Studios' intention to further incorporate on-the-outskirts Netflix faves into the main MCU lore, her appearance wouldn't be unexpected.
Echo Series Release Date
Marvel finally announced when to expect the Echo release date: Nov. 29. Unlike other Disney+ Marvel series, all episodes of Echo will premiere on the same day.
Echo Series Plot
Wondering what to expect from Echo? For starters, there seems to be a change of scenery ahead. According to the official Marvel synopsis:
The origin story of Echo revisits Maya Lopez, whose ruthless behavior in New York City catches up with her in her hometown. She must face her past, reconnect with her Native American roots and embrace the meaning of family and community if she ever hopes to move forward.
The comics provide plenty of possible storylines which could come into play at some point in Echo's story. Maya has a relationship with Matt Murdock before she finds out he's Daredevil — the vigilante she believes is responsible for killing her dad. Just like in Hawkeye, she re-aims her anger at Fisk once she realizes his role in the murder.
Speaking of which, Fisk is probably still alive. In Daredevil No. 15, Maya shoots her shady "uncle" in the face, but he's later shown to have survived the confrontation (he's good at that). Later on, Maya works with the Avengers, Moon Knight, and more, so there's definitely room for more team-ups in Echo.
This post will be updated as more information on Echo becomes available.
This article was originally published on