Emily In Paris' Lucien Laviscount Just Addressed Alfie's Future In S4
Team Gabriel fans will want to hear this.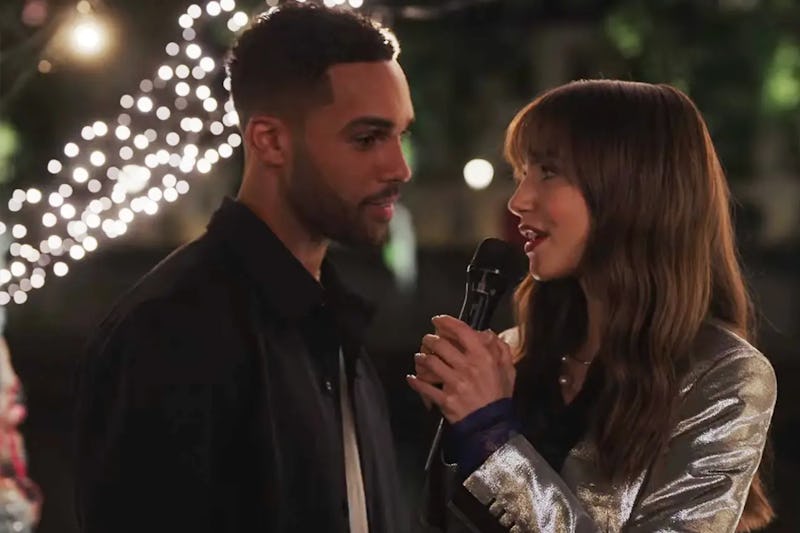 Netflix
Whether you find yourself on Team Alfie or Team Gabriel, neither camp can imagine Emily Cooper strutting through the romantic French capital without as much as an accidental meet up with her oh-so-gorgeous British ex-boyfriend. Ever since his entry in Emily In Paris Season 2, Alfie, played by Lucien Laviscount, emerged as a popular fan favourite. However at the end of Season 3, we seen (spoiler alert) the inevitable love triangle grind to a halt as Alfie walked away from Emily.
As fans wonder whether Laviscount will return to the Netflix show for Season 4 and what the British banker's future would be, the actor spoke to E! News at the 2023 Vanity Fair Oscars after-party about his beloved role. "I don't know if I'm back. Talk to Darren [Star]," the 30-year-old said, mentioning the show's creator. Whether Alfie returns or not, Laviscount added that he wants "Emily to be happy." Saccharine as it is, previously the actor confessed he would love to continue on the show.
"It would be great to come back. But honestly, I think I've had a really, really incredible two seasons on this show. It's been really special," Laviscount said at the Season 3 premiere. "She might have to pull something out of the bag to get the main man back," he continued.
The actor also garnered attention for his daring after-party look. He switched up the regular tuxedo in favour of an all-black Dolce & Gabbana velvet waistcoat, matching corset and black velvet wide legged pants. Laviscount completed the look with a sparkly silver statement necklace and opera gloves, just long enough to leave his upper arms bare and on-display. A great look to remind us what we may be missing out on in Season 4 of Emily In Paris.