Kenan Thompson Pointed Out A Super True Detail About Friends In His Emmys Monologue
"Ever see Living Single? I think you might like it."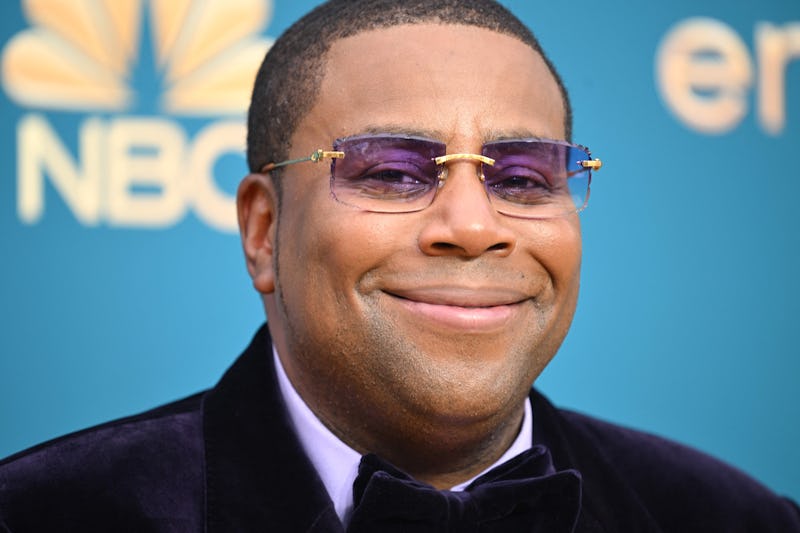 ROBYN BECK/AFP/Getty Images
With his 2022 Emmys monologue, host Kenan Thompson kicked off an evening that would celebrate one of the busiest years in TV yet. (Per Collider, more than 550 original series that aired on cable and streaming services in 2021.) And as Thompson pointed out, TV these days isn't just plentiful — it's central to our modern lives. "TV is all we have," Thompson said. "From Netflix and chill, to Paramount+ and eating dinner alone."
The host came out wearing a tux and matching top hat, so it was only a matter of time before he host launched into a musical number. Thompson took viewers on a trip through TV history with a medley of iconic TV theme songs, including "I'll Be There For You" from Friends. "Ever see Living Single? I think you might like it," Thompson joked at the end, referencing Friends' lack of diversity — especially when compared with Living Single, the Queen Latifah-led FOX sitcom that's often referred to as the "blueprint" for Friends and shows like it.
The Brady Bunch was the next series to get the musical treatment — and the show's original cast was actually there to celebrate the honor. Law & Order, Stranger Things, and Game of Thrones were also feted during the monologue-turned-montage.
After slipping back into standard host attire, Thompson continued his monologue in a more traditional comedy format, and delivered a self-deprecating joke. "Most of you know me from Saturday Night Live," he began. "Some of you may know me from my NBC sitcom Kenan ... just not enough of you to keep us from getting canceled. But that's OK."
The host also took time to shout out some of the evening's buzziest nominees, quipping, "Stranger Things was hard to watch because it's so scary. Squid Game was hard to watch because it's so violent. And Yellowjackets was hard to watch because it's on Showtime."
Given Thompson's extensive experience with live TV, he seems like an obvious choice for Emmys host — but ahead of the Sept. 12 show, Thompson told getting the call The New York Post that it was "a total surprise" when he got the call. "[It was] a little shocking because it's a grand-scale call and if you turn it down then you think, 'When are they gonna call back' and what does that look like?" he said. "I didn't want that, so it was like, 'I guess I have to do it!'" And do it he did.