27 Years Ago, A Groundbreaking Friends Episode Was Banned From Airing
It went on to become a ratings hit.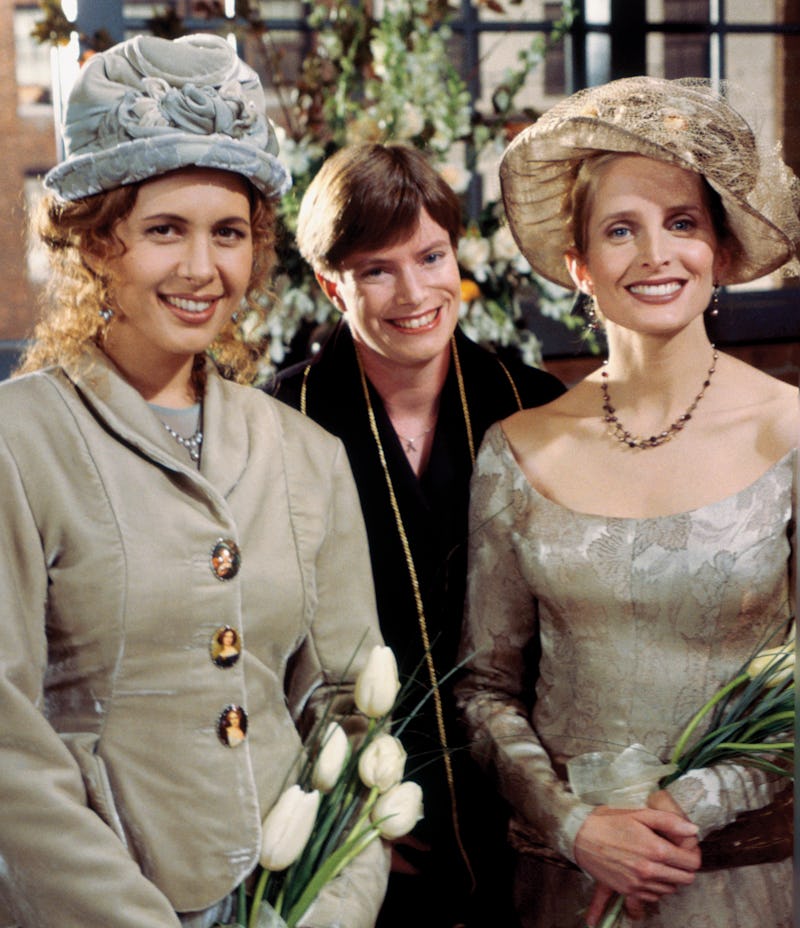 Paul Drinkwater/NBCU Photo Bank/NBCUniversal via Getty Images via Getty Images
Although Friends is considered one of the most beloved sitcoms of all time, a groundbreaking 1996 episode was banned upon its original broadcast. Titled "The One with the Lesbian Wedding," it centers on the marriage between Ross' ex-wife Carol (Jane Sibbett) and her bride-to-be, Susan (Jessica Hecht). The Season 2 episode was banned from airing on some U.S. network affiliates — this was almost two decades before the U.S. Supreme Court declared gay marriage legal in all 50 states.
In a filmed 2016 interview with The Hollywood Reporter, co-creator Marta Kauffman said that NBC had anticipated a wave of backlash after the episode's initial broadcast. "Everybody was up in arms," Kauffman said. "NBC put 104 operators on for fear of getting a million phone calls. They got two."
Not only did it receive minimal viewer complaints, but it became a ratings success, attracting 31.6 million viewers. "It was the first lesbian wedding to ever be shown on TV, [and] it all worked out as we got so much press because they blocked it," Sibbett said during a 2017 appearance on the UK daytime show Lorraine. "We won awards for that. It was nothing to do with us, but we won a GLAAD Award, so it was remarkable."
"The One with the Lesbian Wedding" wasn't the only censored Friends episode. In 1998, for example, Season 4's "The One with the Free Porn" was reportedly restricted in the United Kingdom due to its subject matter. In the episode, as the title suggests, Joey and Chandler stumble upon a channel showing free porn and become obsessed with it. Of course, nothing explicit was ever shown, but the glimpses (and sounds) of the characters' new favorite channel were obviously more risqué than most Friends episodes.
Friends censorship has happened even more recently, too. Last year, Reuters reported that Friends fans in China were unhappy to find references to Carol's sexuality or Joey's trip to a strip club had been removed from local streaming sites. So even though the sitcom is an international hit, it might look a little different depending on where (and when) you watch your favorite episodes.