Everything To Know About FUBAR Season 2
Netflix renewed the Arnold Schwarzenegger action series.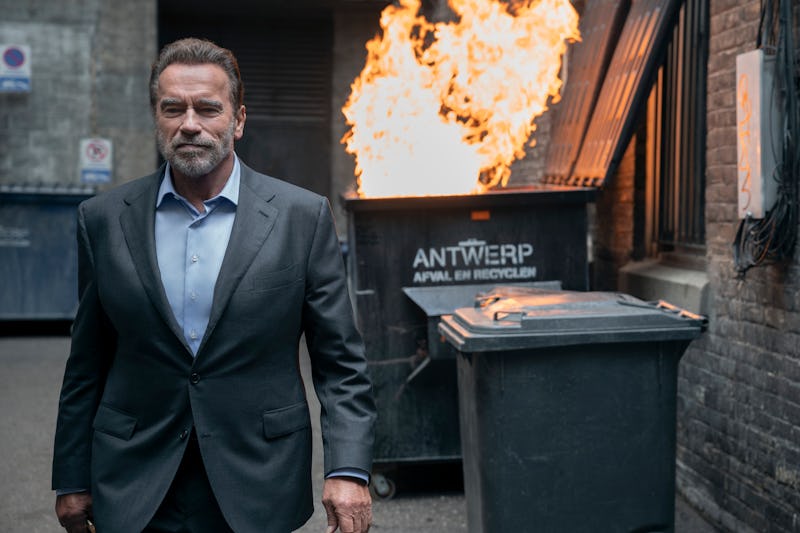 Christos Kalohoridis/Netflix
While Arnold Schwarzenegger's new Netflix series, FUBAR, marks the action hero's first major TV project, the father-daughter spy adventure might feel familiar. In a recent interview with The Hollywood Reporter, the actor said executive producer David Ellison was inspired by Schwarzenegger's popular 1994 spy film, True Lies. "I said, 'It has to be something where I can use all my aspects and talents,'" Schwarzenegger recalled of signing on. "'It has to be fun. It has to be action-packed. It has to be sweet. And we shouldn't try to get around my age — let's play my age.'"
From the start, there were several positive signs pointing in the direction of a FUBAR Season 2. For example, the streamer recently appointed Schwarzenegger Netflix's Chief Action Officer, which doesn't sound like a real job but does show the company's excitement to be working with him.
And while Schwarzenegger is more well known for his work on the silver screen, compared to its television counterpart, in a recent interview with the Toronto Sun, he said he was "really, really happy" to step into the medium. "I think that the opportunities to do a TV series were not really available back in the '80s and '90s like they are now," he said. "Now, this is becoming the big new idea, the big new thing."
Fortunately, he'll get to continue that big new thing soon: FUBAR was renewed by Netflix on June 17. "Sequel's in the bag," Schwarzenegger wrote on Instagram, thanking fans and sharing his excitement to return to the FUBAR family.
Here's everything to know about FUBAR Season 2 so far.
FUBAR Season 2 Plot
If you've already breezed through the show, you know that FUBAR Season 2 is set up in the final moments of Season 1. Spoilers ahead!
After Boro's death, Luke, Emma, & Co. learn that their identities have been compromised, which leads Luke to declare that they're "totally FUBAR" (aka, f*cked up beyond all recognition). With the whole crew in the van together, it seems their next stop will have to be somewhere they can start fresh with new identities.
FUBAR Season 2 Cast
Minus Gabriel Luna as Boro, you can likely expect the FUBAR Season 2 cast to bring everyone back: Schwarzenegger as Luke, Monica Barbaro as Emma, Fabiana Udenio as Tally, Jay Baruchel as Carter, Fortune Feimster as Roo, Travis Van Winkle as Aldon, Milan Carter as Barry, Aparna Brielle as Tina, and Andy Buckley as Donnie.
FUBAR Season 2 Potential Premiere Date
As Barbaro told the Toronto Sun, filming on FUBAR took place in the summer of 2022. The show premiered a year later. Since FUBAR Season 2 got the go-ahead from Netflix so quickly, it seems that a summer 2024 release date is possible.
This post will be updated with the trailer, release date, and additional plot details as more information on FUBAR Season 2 becomes available.
This article was originally published on