Gia Kim Wishes She Had XO, Kitty Growing Up
The actor makes her TV debut in Netflix's To All the Boys spinoff series.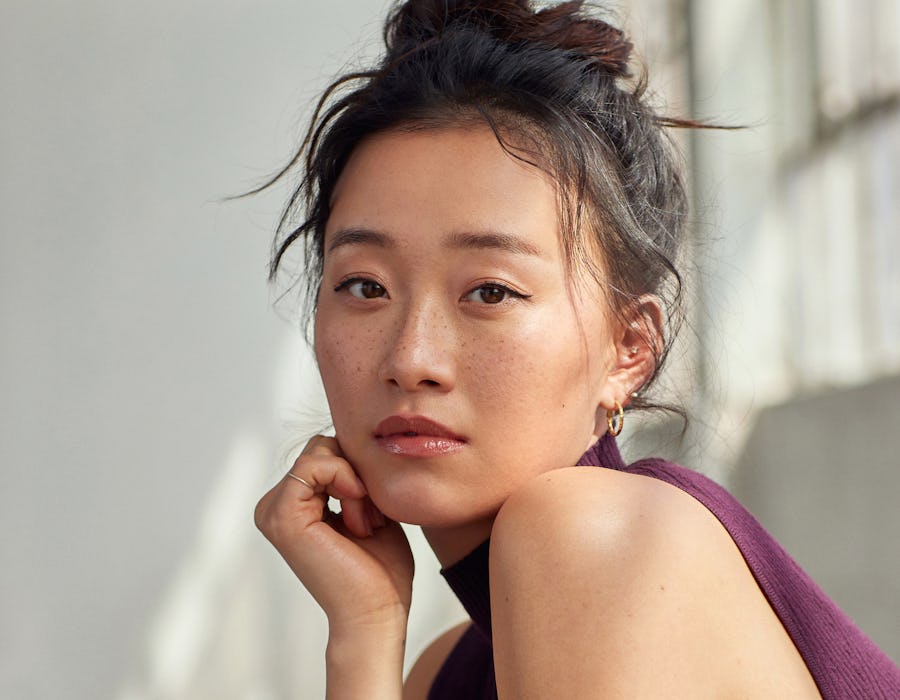 Emily Sandifer
Gia Kim describes the lead-up to her television debut as "a melting pot of every emotion," which itself is an apt descriptor of the setting — high school — of her new show, XO, Kitty. "It's that thing of being exciting and nervous and also having anxiety all at the same time," she tells Bustle from her studio apartment in Los Angeles.
Her 10-episode Netflix show, a spinoff of the To All The Boys franchise, focuses on the Song Covey family's youngest daughter, Kitty (played by Anna Cathcart), as she attends a Seoul boarding school. The series pits Kitty against Kim's character, Yuri, a closeted, popular teenager.
"I had never seen a character like [Yuri] before, a gay Asian queen-bee type," says Kim, 30, who grew up in South Korea and China and eventually landed in LA to train at the Art of Acting Studio in 2021. "Even if it wasn't me, I would have been just happy to see this character come to life regardless."
She first saw the casting call for Yuri in November 2021, sent in her audition tape, and after doing chemistry reads with Cathcart and actor Minyeong Choi (Dae), Kim finally got a "cheeky" call from her manager. "He was like, 'Hey, remember that audition you did?' And he was talking about another audition I did after XO Kitty. 'They want to see you for a second tape, but I told them that you're not available because you're gonna be filming XO Kitty,'" the actor recalls. "I just broke down in tears."
Kim hopes the diverse representation brought forth by Yuri, Kitty, and their classmates helps to normalize LGBTQ+ identities. "It's something that I wish I had seen more of when I was growing up," she says.
Below, Kim talks about working with her brother, shipping XO, Kitty couples, and her favorite manifestation ritual.
Congrats on your TV debut! What kind of challenges did you face as a newcomer?
I got diagnosed with COVID the day before I was supposed to go on set. My schedule got pushed back by another two weeks, which meant I was shooting all of my scenes in like three days for the first block. It felt like three days of boot camp, [because] I realized you just have to learn as you do it, like blocking. Don't stand here, because you're gonna get blocked by the light.
How did you juggle Yuri's emotional journey with learning all those technical things?
When I got diagnosed with COVID, I had to quarantine myself. At first, I was frustrated, but then I was like, this is happening for a reason. I am going to take this time to go back to the character development process.
[Yuri] looks like she has everything on the outside, but she feels horrible inside because she can never truly be herself. When you're a teenager, you're so impressionable [and] vulnerable, and at the same time, you feel like you have to be something for other people because you have expectations to satisfy. I was trying to dive into that. I connected with her [through] the basic human need to be loved for who I am.
I didn't realize your brother Sang Heon Lee is also in XO, Kitty and plays Min Ho. What was it like working with him?
It was surreal. I'm still trying to process [it]. We didn't have that many scenes together. It was good because it was [like having] another familiar face during the whole thing. For both of us, it was our first big TV project, so it was good to have that [feeling of], we're going into this together.
Do you have any favorite memories from the set?
All the cast members were just lovely people. We were all staying in one hotel, so we would have random cookouts [in each other's rooms]. There were a lot of birthdays during the time of the production. I threw together a surprise birthday thing for my brother. We all snuck out into his room before he came in, and then we were like, surprise!
That sounds so fun! The season ends with a ton of love triangles and twists. What do you think of a romance between Kitty and Yuri?
It would be really endearing. But then also, I don't want to leave out [Yuri's] girlfriend, Juliana. But it's like one of those classic rom-com storylines of a "nemesis turned into best friend turned into lovers" type of situation, so I can definitely see why some people might ship their relationship.
What's next for you? Do you have any upcoming projects?
I am auditioning for other things and manifesting being busy with work this year, manifesting Season 2 of XO, Kitty, and maybe a movie as well.
What are your manifestation rituals?
My favorite one is that I journal a lot. I've been journaling since I was in high school. I usually write down things that I want, and then I forget about it. Later, when I go back to it, I'm like, Oh, sh*t, all these things came true.
This interview was edited and condensed for clarity.