The Golden Bachelor Viewers Are Heartbroken About That Post-Credits Dedication
One contestant shared an emotional story during her first meeting with Gerry.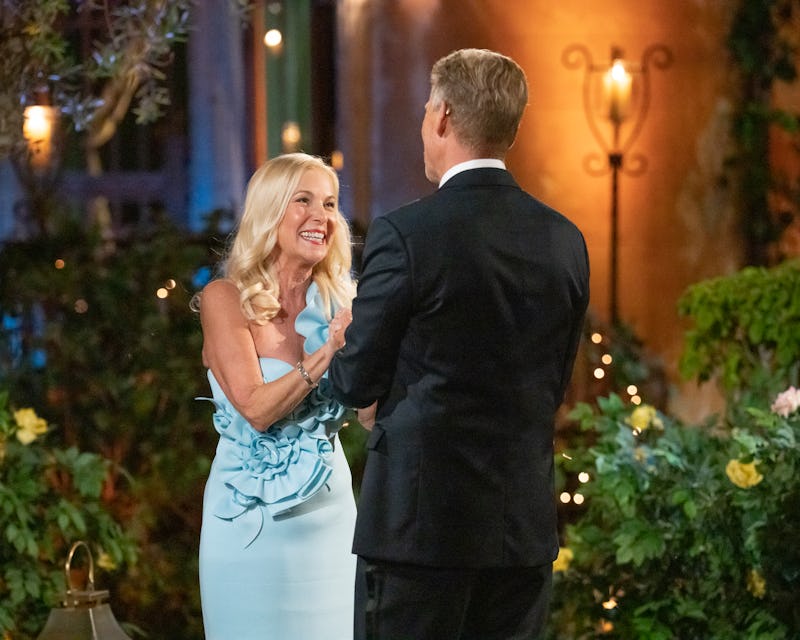 Craig Sjodin/Disney General Entertainment Content/Getty Images
On Sept. 28, Gerry Turner made history as the Bachelor franchise's first "golden" lead. At the start of The Golden Bachelor premiere, the 71-year-old grandfather reflected on the circumstances that led to him being on the show — namely, the passing of his wife and high school sweetheart, Toni.
"No one's ever going to replace Toni," he said tearfully to cameras. "But I yearn for the second chance in life to fall in love again. The person who can lay down beside you at night, not have to say anything, and you feel it. That's love. That's what I want."
To that end, Gerry arrived at Bachelor Mansion and followed in the footsteps of the men who've come before him.
That isn't to say he had a roadmap. "If I give myself a retroactive piece of advice, it would be to give myself over to the process right from the very beginning," Gerry recently told Bustle. "The loss of some of the personal privileges is actually a good thing. Don't fight it, and embrace it right from the beginning. It makes life a lot easier."
The evening hit all the traditional Bachelor beats, from chaotic limo arrivals to contestants worrying they didn't get enough one-on-one time with Gerry.
But it stood out enough for several viewers to voice their admiration for the franchise's newest title. "WHY DID THEY WAIT SO LONG FOR THIS!?" one fan wondered, adding that it surpassed other seasons and spinoffs. User @cass-a-frass wrote that they didn't even watch the original Bachelor series but were "delighted" by the new show. "I'm team everyone I think????? How can he choose???"
For several viewers, perhaps the most emotional moment of the evening happened in the final seconds, when a post-credits card dedicated the season to the memory of Roberta Zaktzer.
Contestant Ellen Goltzer had mentioned Zaktzer upon her limo arrival, shouting, "Roberta, we made it!" As she explained to Gerry, Zaktzer was her best friend of 60 years, and they were avid Bachelor Nation fans. Zaktzer had cancer, Ellen explained, and encouraged her friend to sign up for the show. "We collectively made this decision that, 'You have to do this,'" she said.
Ellen and Gerry instantly clicked, and she called it "the best day of [her] life in so long." She later said it was "amazing" that Zaktzer would get to watch along. "Roberta, he's a hunk!"
Sadly, Zaktzer's dedication confirms that she won't get watch the seasonal unfold, and fans are understandably heartbroken. "Rest in peace," wrote @Bachelor_Banter. "I love how beautifully her friend honored her." Viewer @Maddie_Jones515 was shocked, too: "You mean to tell me that Roberta never even got to watch this?!!?"
As Ellen noted on Instagram, "True friendship is forever."
Fans also praised the group of women on Gerry's season, with user @sophimari13 calling it "a whole episode ... with women being kind and respectful to one another." Another viewer called for 20 more men to join the show, "because every single lady here is perfect and deserves love."
This is The Golden Bachelor, though, so Gerry will ultimately narrow the pool to one. Faith Martin won the first impression rose, having wooed Gerry on the guitar — which, @Panda_Hat_Girl said, was the "first time a contestant didn't make me cringe when they picked up a guitar."
The premiere ended with a peek at drama to come. (If you can't wait that long, these Golden Bachelor spoilers suggest a few coming surprises.)