Emma Thompson Celebrates Sensuality In Good Luck To You, Leo Grande
The film sees a widow learning about the art of making love, actually.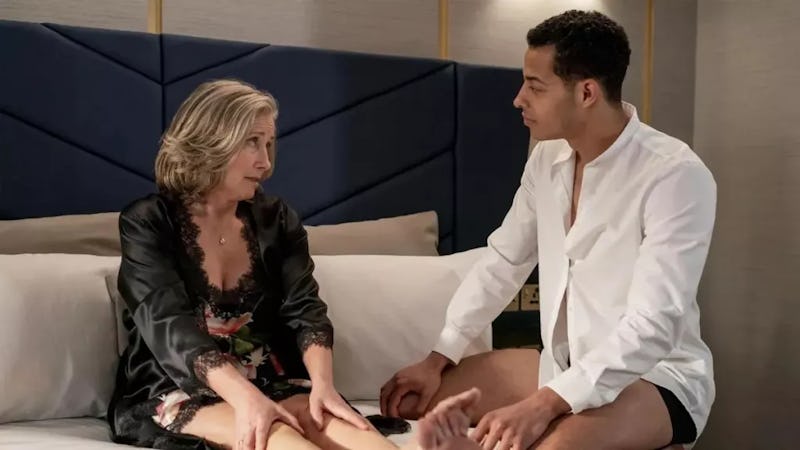 Lionsgate UK
Dame Emma Thompson has already got an impressive amount of impactful roles to her name, and her new film is set to add yet another notch to the belt. Written by comedian Katy Brand, Good Luck To You, Leo Grande will see the Love Actually actor play a widowed teacher who, in an attempt to experience an orgasm for the very first time, turns to a young male escort for help. The 62-year-old actress will be seen going "entirely nude" in the forthcoming comedy as she takes the chance to celebrate female sensuality at all ages. So, here's everything to know so far about Good Luck To You, Leo Grande.
Good Luck To You, Leo Grande Plot
Directed by Sophie Hyde, the film follows Nancy Stokes, a retired widow on the lookout for some excitement and romance in the wake of a rather dull marriage. This leads her to an attractive and much younger sex worker called Leo Grande, who she hopes will help her experience an evening of pleasure and self-discovery. As the pair connect, it becomes clear that both Nancy and Leo struggle with their own paths in life, with the latter finding it difficult to bond with his own family due to his career as a male escort.
Opening up about the film's themes in a Q&A chat, Thompson stated that the film is "unlike anything" she has ever done before. "I had never seen anything like this before. The first thing that struck me was its sheer originality," Thompson said of the film. "Then what struck me next was the real necessity of this film — the way that we talk about pleasure or shame — I didn't realise how thirsty I was for a story like this until it came along."
Good Luck To You, Leo Grande Cast
Thompson stars as the leading character opposite Peaky Blinders star Daryl McCormack, who plays the title role of Leo Grande. Due to the fact a lot of the movie focuses on the pair's interactions together, there are only three other listed cast members. Harry Potter and the Half-Blood Prince star Isabella Laughland portrays a waitress called Becky, while Charlotte Ware and Carina Lopes also star as waitresses.
Good Luck To You, Leo Grande Release Date & Trailer
The trailer for Good Luck To You, Leo Grande, sees the pair meet in an anonymous hotel room. Nancy is clearly surprised to discover that Leo looks every bit as good as his picture. Leo is quick to try and calm her nerves about getting intimate with someone other than her deceased husband, who happens to be the only man she's ever had sex with. "You're the only adventure I've ever had," Nancy declares, as the pair start to open up in ways they don't expect.
Fans won't have to wait too long because the film hits UK cinemas on Jun. 17.