Grey's Anatomy Star Alexis Floyd Breaks Down Season 19's Chaotic Finale
From Teddy's fate to #Lumone, there's much to unpack!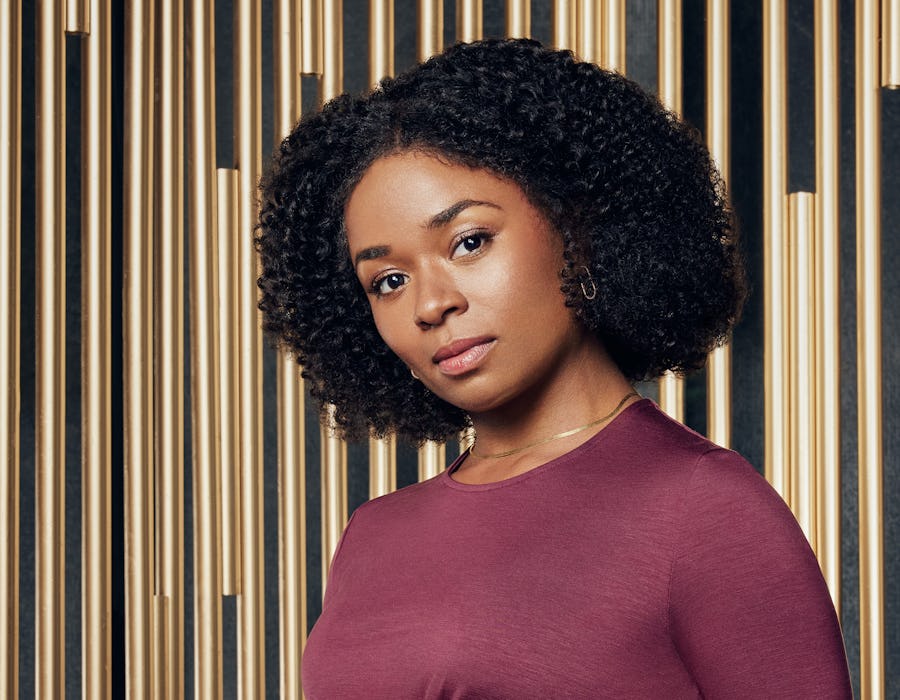 ABC/Nino Muñoz
Spoilers ahead for the Grey's Anatomy Season 19 finale. Weddings on Grey's Anatomy rarely go as planned, so when it came time for Simone's big day in the Season 19 finale, fans were right to predict that she might not make it down the aisle. What they didn't anticipate was the episode's cliffhanger: After Simone chooses fellow intern Lucas over her fiancé, Trey, the new couple is tested by a medical emergency when they're tasked with saving Sam Sutton after his surgeon, Dr. Teddy Altman, collapses in the operating room.
It's a big moment for Simone and the character's real-life counterpart, Alexis Floyd. The actor, who first worked with creator Shonda Rhimes on Inventing Anna, collaborated with Rhimes and the show's writers to develop her Grey's character. "I was blessed to say that I met Simone on the very early side," the actor tells Bustle over Zoom. It allowed the writers to mold the character to her a bit. "You can't ask for more than that," she says.
When it came to preparing for intense arcs, like the two-parter finale, Floyd found ways to decompress — like taking an impromptu, long-weekend getaway to Hawai'i with fellow "New York transplants" Midori Francis and Niko Terho. "The interns are a family, without question," Floyd says. "We wanted to give ourselves a little treat, and sort of preemptively celebrate what we've done together."
Below, Floyd talks about Shondaland, the cliffhanger, and her hopes for Grey's Anatomy Season 20.
People are calling the finale "classic Grey's," and it does have it all: the drama, the romance, the cliffhanger. Were you a fan of the show before being cast?
I actually wasn't allowed to watch it [growing up, but] I would at a friend's house. I would pop in and out of the arcs. But when I got the job, I was moving from New York to LA, and while I was packing my house, I binged the first five-and-a-half seasons and really fell in love. I would be watching [at] 10 o'clock, like, OK, last episode. And then suddenly it's 4 a.m.
Were there scenes from early seasons that you felt pressure living up to, like moments between Meredith and Derek?
Absolutely. That first scene of the entire series really struck me. [Ellen Pompeo and Patrick Dempsey] are such strong performers. There's something cosmic about the two of them.
And your character's love interest is Derek's nephew. When you were watching the earlier scenes, did you notice their similarities?
One hundred percent. Even in the way that he moves through the hospital. There's so much [in] how he relates to Amelia, it's so well done. I hope we see more of that family dynamic.
We don't see what happens at the end of Simone's wedding. It cuts to her in the hospital with her wedding dress. Was there anything that was trimmed from the episode, like maybe Simone saying goodbye to Trey?
No, which I love. [The writers] kept that moment in the imagination of the audience. [But] as an actor, that's something I built for myself — the getaway car of it all — so that when I walk into the hospital to see Lucas, there's a lot of energy. At some point, Simone took the ring off, and that's a big deal.
Then we have that cliffhanger with Sam on the table, and Teddy being resuscitated on the floor. What is the atmosphere like on set?
There's a plethora of Grey's medical crises, but each one feels different — who's in the room, on the table, your relationship to [them, and] your experience dealing with this kind of medical catastrophe. My favorite thing is to layer those relationships. Operating alongside this man who I finally let my heart be with, and it's going so very wrong, and the chief is on the floor — those layers are what make the scene so exciting.
The doctors we have in the writing room and on staff are incredibly helpful, so you always feel a sense of support.
The finale leaves things up in the air, from Lucas and Simone's relationship status to the patients in the OR. What do you want to explore in Season 20?
I truly don't know anything, but I think we've started to unpack something really interesting, [which] has to do with wellness in the residency program. [There's a] tension between being a medical professional and yet being so underfed, underpaid, under-slept, and just under-nurtured and nourished. That's a bigger conversation about, How can we take better care of our health care workers?
This interview has been edited and condensed for clarity.