Hailey Bieber Addressed That Viral Met Gala Moment, Her Marriage, & Selena Gomez
"No one ever should be spoken to in the manner that I've seen," Gomez said the day after Bieber's interview.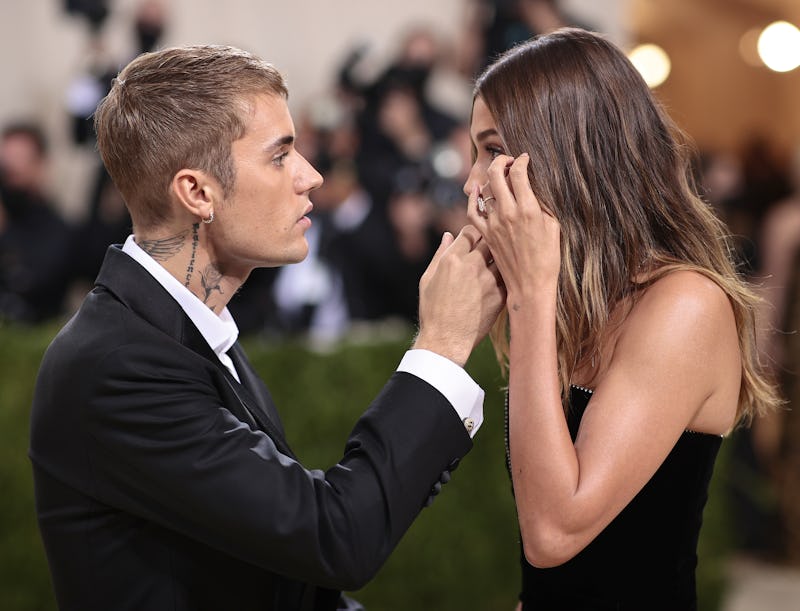 Dimitrios Kambouris/Getty Images Entertainment
For the first time ever, Hailey Bieber has addressed the controversy surrounding her marriage to global pop star Justin Bieber during the Sept. 28 episode of the Call Her Daddy podcast. In the episode, Hailey opened up to host Alex Cooper about the difficulties of being married to someone with Justin's enormous public following. "How has being married to someone with that level of fame impacted your identity?" Cooper asked. Hailey pauses before saying, "Where do I start?"
Speaking in the episode, Hailey also touched upon the viral TikTok video that captured her putting on sunglasses while walking the 2021 Met Gala red carpet after a "Selena, Selena, Selena" chant broke out in front of her, showing the crowd's allegiance to her husband's ex-girlfriend Selena Gomez. In the video, Justin is by her side and can be seen wiping her eyes and mouthing "don't cry, don't cry" and telling her he loves her.
"I could hear everyone screaming," Hailey recalled of the incident. "I was really surprised. I could kind of hear it, but I didn't know if that was really going on until I saw the video after." Addressing rumours that she had become emotional on the Met Gala red carpet, Hailey also clarified that those reports were "not true."
"It wasn't making me cry. Although it's a very disrespectful thing to do towards anybody, I felt like I had something in my eye. That just goes to show how out of context things can be seen," she added. As for the sunglasses, the model also explained that they were "just part of my look."
Gomez seemed to respond to Hailey's interview in a TikTok Live shared Sept. 29 promoting her makeup line Rare Beauty, reminding fans of the impact of their words. She appeared to call the chant "vile and disgusting." "No one ever should be spoken to in the manner that I've seen and all I have to say is it's incredibly ironic that I would release something that is all about kind words 'cause that's exactly what I want," she said.
Adding: "That's it. If you support Rare, I cannot thank you enough, but know that you are also representing what it means and that is words matter. Truly matter. So it's coming from me, and I just want all of you to know that I hope that you understand that this is much bigger than anything else. I'm really grateful to all of you for hearing me out, so have a wonderful rest of your day, and I appreciate all the love. Thank you."
Hailey married Justin in September 2018 soon after the singer called it quits with Selena. The Biebers had dated from December 2015 to January 2016 before breaking up and then reconciling again in June 2018. Some "Jelena" fans blamed Hailey for her husband's public breakup with Selena, whose relationship with Justin lasted intermittently between 2010 until 2018, and have taken to online and IRL harassment of the model.
During the Sept. 28 Call Her Daddy episode, host Cooper asked Hailey if she was "ever with Justin romantically" at the same time as Selena, to which the model promptly responded, "No, not one time." She continued, "It's not my character to mess with someone's relationship — I would just never do that. I was raised better than that. I'm not interested in doing that and I never was."
Although making clear that she and Justin were not together during his and Selena's relationship, Hailey admitted that she understands "how it looks from the outside." Touching upon Justin and Selena's eventual breakup, she added, "I know for a fact it was the right thing for them to close that door ... It closed a chapter and I think it was the best thing that could have happened for him to move on."
Hailey spoke directly to the Selena fans who have participated in online harassment near the end of the episode, acknowledging that while she understands they're not going to become her fans overnight, there is still an expectation for "mutual respect" — especially because "it's all respect, it's all love" between the two women IRL. "You're not obligated to like me. But I believe that no matter what, there can always be mutual respect between people," Hailey said. "To me that means you don't have to say anything." She ended by reminding the fans that behind the screen is a real person with real emotions. "Know that what you say can have impact."
Hailey's episode of Call Her Daddy is available to stream on Spotify.
This article was originally published on