Hannah Ann Sluss Got Engaged To Jake Funk 3 Years After The Bachelor
Did you hear the subtle message in her TikTok announcing her engagement?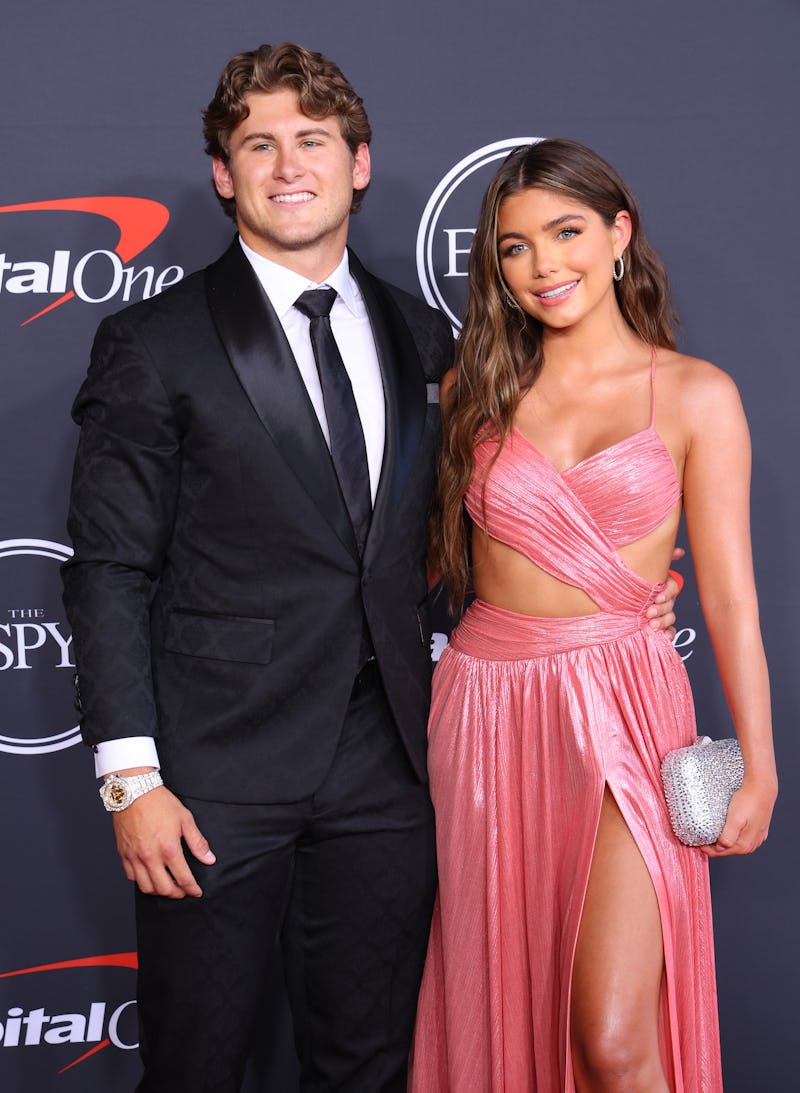 Leon Bennett/Getty Images Entertainment/Getty Images
Hannah Ann Sluss is engaged, three years after her Bachelor run ended in chaos. To recap: she technically won Peter Weber's final rose, but he shared too late that he still had feelings for another woman — leaving Hannah Ann "completely blindsided," as she explained during After the Final Rose. "Word of advice? If you want to be with a woman, you need to become a real man," she told him.
Fortunately, it didn't take long for Hannah Ann to find a different happy ending off the show. In a Jan. 25 TikTok, the model-turned-influencer shared that she was engaged to Colts running back Jake Funk. The proposal happened on a beach, with a candle-lit dinner and the message "She said yes!" projected on a coastal rock. Hannah Ann set the video to an audio of Adele's "Love in the Dark," accompanied by a fitting quote from Netflix's Sex Education: "One day, you're gonna meet someone who appreciates you for who you are," it says.
The quote definitely applies to Hannah Ann's own romantic journey after breaking up with Peter, of course. During a 2020 appearance on the Your Favorite Thing podcast, Hannah Ann said she wanted to date someone who was "the opposite" of her Bachelor beau. "I want him to be, like, very manly," she said, with "no messing around."
Several members of Bachelor Nation commented their well wishes on Hannah Ann's post — including Kelley Flanagan, who is now dating Peter.
"So happy for you!! Congrats, congrats, congrats!! ❤️❤️❤️," Kelley wrote. While it may seem somewhat awkward coming from Hannah Ann's ex's current girlfriend (a Bachelor tongue-twister), there's no bad blood between the pair. In fact, Hannah Ann voiced her support for their relationship in 2020. "I wish them nothing but the best, truly," she told Us Weekly, explaining that she was in a "really good place" with Kelley. "I love love and I just want everyone to find love and I know my time will come."
And that, it did. Hannah Ann and Jake's engagement annoucement comes nearly a year after they first went public with their relationship — and they got serious quickly, she told Us Weekly. "After a few short weeks, I met his parents and then he met my parents, and our parents are really close friends now, which is really neat," she said. "But it's just truly, like, a meant-to-be situation and we're both very happy."