How Hijack Became Summer's Surprise Sleeper Hit
Idris Elba's new thriller is making history for Apple TV+.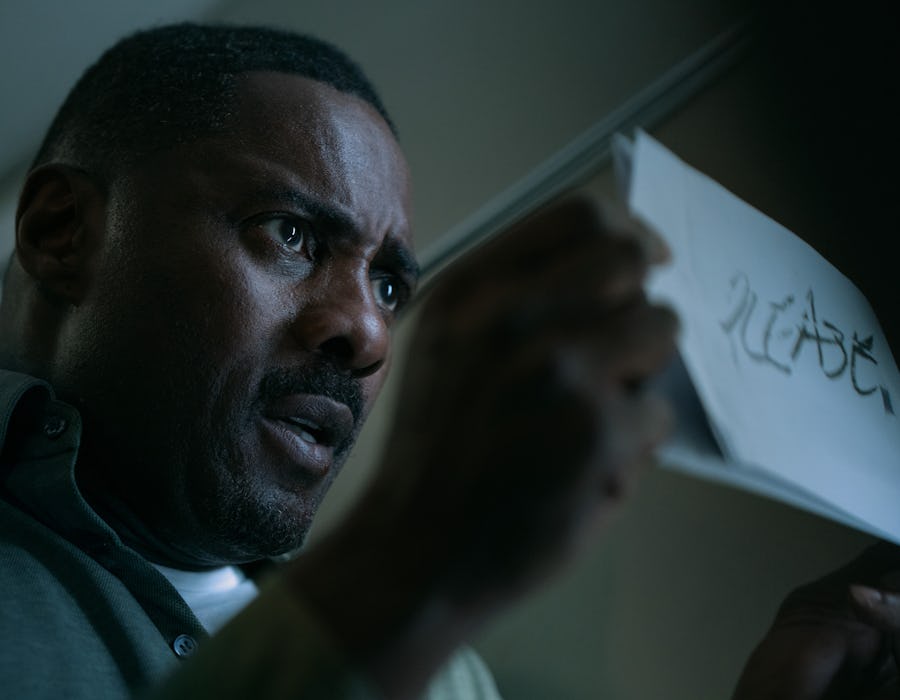 Apple TV+
What TV shows will define the summer of 2023? I entered the season sure of my personal must-watches — And Just Like That... and The Summer I Turned Pretty. Both dropped their sophomore seasons and seemed like natural picks for the fun, crowd-pleasing vibe that summer viewing calls for. And they delivered, generating countless theories and a weekly love triangle discourse.
But all the while, a surprise hit was waiting in the wings: Apple TV+'s Hijack. The thriller stars Idris Elba as Sam Nelson, a corporate negotiator whose skills are put to the test when a mysterious group commandeers his Dubai-to-London flight. The action unfolds in real time, making it a harrowing 7-hour journey for passengers and viewers alike.
As someone who writes about TV, it's a little awkward to admit that Hijack, uh, flew under my radar. But I'm not alone. Clara, a 30-year-old account manager in Atlanta, tells Bustle she hadn't seen any marketing for Hijack until her parents urged her to watch it — by which point the weekly series was already halfway through its run. "I got completely sucked in," she says, adding that she quickly texted her friends that they had to tune in.
Cachie, 34, stumbled upon the series herself and watched it after all seven episodes were out. But in the month since Hijack's Aug. 2 finale, she says more than 20 people have recommended the series. "I was like, you're late! I saw it a long time ago," the Miami-based nurse recalls.
That impressive word-of-mouth tracks with viewership numbers. In the week surrounding Hijack's finale, it clocked 357 million minutes of viewing, per Nielsen, and was No. 8 of the top 10 most-streamed original titles in America. As The Hollywood Reporter points out, Hijack is only the second Apple TV+ title to reach that kind of audience (the first being Ted Lasso). (Despite the show's success, a Season 2 has yet to be announced.)
So, what made Hijack the sleeper hit of the summer?
Obviously, there's the Idris Elba of it all. "I don't know if it would have worked as well off the bat if he didn't have so much instant charisma," says BDG's Director of Editorial Operations, Sam, 31, who started Hijack from a friend's suggestion.
Elba — who also executive produces — hoped Hijack would spread like this. "I want this to be a water-cooler moment," he told The Hollywood Reporter in June. "I just wanted it to be fun like 'Did you see that sh*t? That sh*t was very well done.'"
Indeed, the show's high-concept premise makes it easy to disseminate. As co-creator George Kay told Vanity Fair, the idea came to him while taking public transportation and wondering how his fellow passengers would react if an emergency arose. So while there are myriad twists that viewers discover in real time, Hijack's central conceit is relatable, word-of-mouth candy.
A common theme in Hijack reviews is that it's a good time — if not a super serious one. GQ said it "helped usher in the reign of mid-TV" and broke down some of the show's pressing plot holes. Meanwhile, The Hollywood Reporter called it "no-frills fun," while The Guardian labeled it "beautifully daft" in a four-star review.
And hey, in 1994, Roger Ebert called Speed "gloriously silly" in his review, and I religiously watch that every time it's on TV (which is a lot), so it's good to see the passenger thriller genre is still thriving.