Everything To Know About House Of The Dragon Season 2
Freddie Fox and Gayle Rankin are among the newly added castmembers.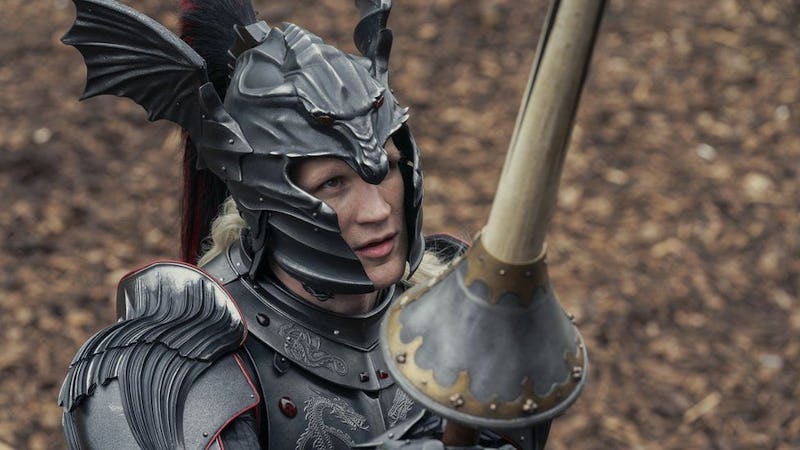 HBO
Spoilers ahead for the House of the Dragon season finale. Fans have been theorizing about every moment from the Game of Thrones prequel, House Of The Dragon — even now, long after that climactic finale. Based on George R.R. Martin's book Fire & Blood, the fantasy series takes viewers back over two centuries, showcasing the civil war between the Targaryen family. It boasts an impressive cast including Matt Smith, who plays Prince Daemon Targaryen, and Emma D'Arcy, who plays Princess Rhaenyra Targaryen. Now that you've watched the finale, when will House of the Dragon Season 2 come out?
If you're already looking ahead, you're not alone. "We are beyond proud of what the entire House Of The Dragon team has accomplished with Season 1," the executive vice president of HBO Programming, Francesca Orsi, said of the show's renewal on Aug. 26. "Our phenomenal cast and crew undertook a massive challenge and exceeded all expectations, delivering a show that has already established itself as must-see-TV... We couldn't be more excited to continue bringing to life the epic saga of House Targaryen with Season 2."
Per Variety, House Of The Dragon's renewal news arrived after the Season 1 debut episode broke HBO's record for the largest premiere audience of all time, attracting almost 10 million viewers across all platforms.
Here's everything we know about House of the Dragon Season 2 so far.
House Of The Dragon Season 2 Cast
This is a Game of Thrones spinoff, of course, so character deaths tend to be pretty frequent. Unless we see him in flashback, Paddy Considine won't be returning as King Viserys in Season 2. The same goes for Elliot Grihault, who played Lucerys, who was killed in the Season 1 finale.
Most of the House of the Dragon cast, however, will return for the upcoming installment. This includes Smith, D'Arcy, Olivia Cooke, Steve Touissant, Eve Best, and Fabien Frankel, who plays Criston Cole. The actor recently told RadioTimes.com about his potential Season 2 knowledge.
"If I'm honest, I went to the pub with Miguel [Sapochnik, the co-showrunner] two months ago. He teased me some things," the actor explained. "He told me that I should hang out with one person in particular and I'm not going to say who that is, obviously, but he did say: 'I want you and this person to spend some time together and get to know each other.' So, yeah, I'm excited to do that."
You can also expect to see more of the next generation of Targaryens in Season 2, including Tom Glynn-Carney as Aegon and Ewan Mitchell as his brother, Aemond. On April 11, Entertainment Weekly reported the return of Sonoya Mizuno and Mysaria, too, confirming that she didn't die during Season 1's attack.
HBO announced on April 24 that actors Simon Russell Beale, Freddie Fox, Gayle Rankin, and Abubakar Salim are among Season 2's new cast members. Per Deadline, Beale will play Lord Larys' great-uncle, Ser Simon Strong; Fox will play Alicent's brother, Ser Gwayne Hightower; Rankin will play healer Alys Rivers; Salim will play a Velaryon sailor, Alyn of Hull.
House Of The Dragon Season 2 Plot
House of the Dragon Season 2 will continue adapting Fire & Blood now that the Dance of the Dragons has officially begun. However, expect more time jumps — because there's a lot of material to cover. "I think we have a fairly good plan laid out ... There's 170 years of history in front of us, so you have to figure out, at what point do you do lower the curtain on this particular story? We've always had a good sense of that," Season 2 showrunner Ryan Condal told Collider.
Condal has also promised that viewers will be introduced to "five new dragons" in the second season but didn't give any clues as to who these dragons may be or belong to.
House Of The Dragon Season 2 Potential Release Date
On April 11, HBO announced that House of the Dragon Season 2 had begun production.
Season 1 also started filming in spring (April 2021, per ComicBook.com) and wrapped the following February. So a release date for House of the Dragon Season 2 seems to be sometime in 2024, which HBO and HBO Max content CEO Casey Bloys has confirmed will likely be the case, per Variety.
This post will be updated with the trailer, release date, and additional plot details as more information on House of the Dragon Season 2 becomes available.
This article was originally published on