Here's How You Can Watch The Grammys 2023 In The UK
With Harry Styles and Lizzo among the performers, you don't want to miss out.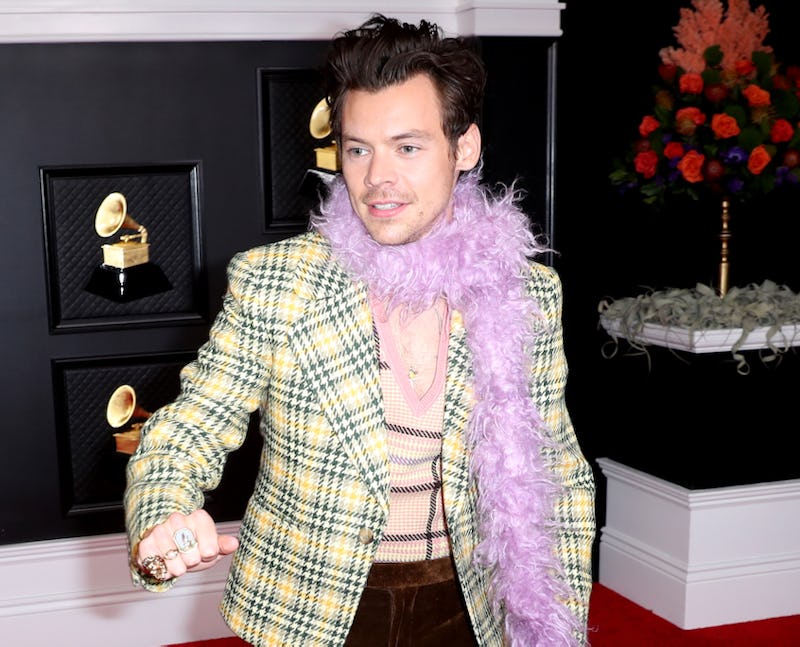 Getty Images/Jay L. Clendenin
Grammys weekend is upon us. The Annual Grammy Awards — aka music's biggest night of the year — is set to stun once again with another round of electrifying live performances, future meme fodder, and celebrations for notable winners and their work.
Families across the U.S. are already getting the popcorn ready for their viewing parties, but there's no reason why UK viewers should miss out on the fun. You, too, can catch the huge yearly musical hype along with everyone else. Presented by the Recording Academy, the 65th Annual Grammy Awards Ceremony will take place at the Los Angeles Convention Center, on Sunday, Feb. 5, with an accompanying telecast at the Crypto.com Arena. As ever, UK viewers should expect to pull a late night, as this means the festivities start at 1 a.m on Monday, Feb. 6 for us. Just get some espresso martinis ready — it'll be worth staying up.
The Grammys will once again be broadcast exclusively by CBS in the US, which unfortunately means it will not be televised on UK channels. US viewers can also stream the event on demand via Paramount+, and while the platform is indeed available on this side of the pond, there have been no announcements on whether the ceremony will be shown on the UK version.
But UK viewers can watch the Grammys live on live.GRAMMY.com or on the Recording Academy's YouTube channel. The official Grammys stream will feature a multi-screen livestream that viewers can control, where you can watch and replay performances, speeches, red carpet entrances, and behind-the-scenes backstage moments.
Of course, if you just want to know the highlights, then you'll be able to get updates of all the headlines and winners by following #Grammys on Facebook, Twitter, and Instagram.
As well as getting to see which nominees will take home the awards for Album of the Year, Song of the Year, and Best New Artist, there will also be performances from the likes of Bad Bunny, Mary J. Blige, Harry Styles, Sam Smith, Lizzo, and plenty more.
This year, there will also be five brand-new award categories, including Songwriter of the Year (Non-Classical), Best Score Soundtrack for Video Games And Other Interactive Media, Best Alternative Music Performance, as well as a new Special Merit Award given for Best Song For Social Change.
The excellent Trevor Noah will be hosting the Grammys, as he has done for the previous two years. We'll also be getting an excitingly eclectic mix for presenters this season, with Cardi B, Olivia Rodrigo, Dwayne Johnson, Viola Davis, and the First Lady Jill Biden, among others, taking to the stage to announce award winners.
This article was originally published on