Everything To Know About Indian Matchmaking Season 4
The show's third season just hit Netflix. Will there be a fourth?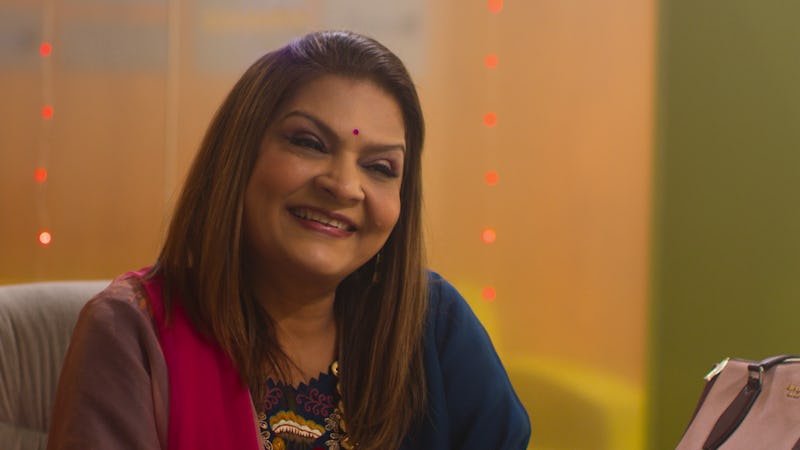 Netflix
Mumbai's Sima Taparia is back in Indian Matchmaking Season 3, which hit Netflix on April 21. In the new batch of episodes, the matchmaker continues to connect single millennials looking for love, with her client list taking her from London and New Delhi to Miami and New York.
It's not yet clear if Netflix will greenlight an Indian Matchmaking Season 4. The series has been criticized for colorism and casteism in the past, but that hasn't stopped viewers from flocking to the series. As creator Smriti Mundhra explained to Today.com in 2022, the show is successful because it "engages with topics" that people usually avoid discussing. "Some of it is cringey. Some of the things we do and say and believe and have internalized over generations are cringey," she said. "It's difficult to face those topics of conversations; it's difficult to see that reflected back at you."
Mundhra added that viewers also "inhaled" the show because at the end of the day, it's "wildly entertaining." And even though the show might "cause fights," she said it also brings families together. "When it happens on a TV show everyone is watching and literally multiple generations, whole families are watching ... it gives an opportunity to talk about it," she said. "I think that's what keeps people engaged."
Here's everything else we know so far about a fourth season.
Indian Matchmaking Season 4 Premiere Date
While the series initially took a two-year hiatus after Season 1 debuted in July 2020, subsequent seasons have aired about a year apart. If Season 4 follows the same trend, it's possible that a fourth season could debut some time in spring 2024.
Indian Matchmaking Season 4 Cast
Just like prior seasons, a fourth season would likely bring in some of Taparia's new clients, while also following the stories of some recurring cast members. For example, Aparna Shewakramani and Nadia Jagessar returned after first appearing Season 1, as did Viral Joshi and Shital Patel, who were first introduced in Season 2. The latest season followed up on some of their stories, while also introducing London-based Priya Ashra, teacher Bobby Seagull, and Rushali Rai, the model who was set up with prior Indian Matchmaking star Pradhyuman Maloo in Season 1. ("He seemed to be a jolly good guy, but the spark wasn't there," she said in Season 3.)
Though none of the couples from Season 1 stayed together, Taparia told Today.com that her success rate isn't really the point of the show. "If the destiny is there, if the couple is aligned together, then it happens. But my way is just to show them the biodata and to match them, that's all," she explained.
Taparia added that each season only films for about five months at a time, which naturally limits how many marriage proposals are captured on-camera. She insists that the show is just about the reality of matchmaking — and how it might not always be as glamorous as people would like to believe. "It is not magic; it's not a magic wand. This is the process of matchmaking. In real life, I work for two years for one client and still they're not getting married," she said. "Why? Everything is destiny," she said.
This post will be updated as more Indian Matchmaking Season 4 details become available.