Empire Of Light Is A Love Letter To Sam Mendes' "Heroic" Mother
The writer and director entrusted Olivia Colman with the complex lead role.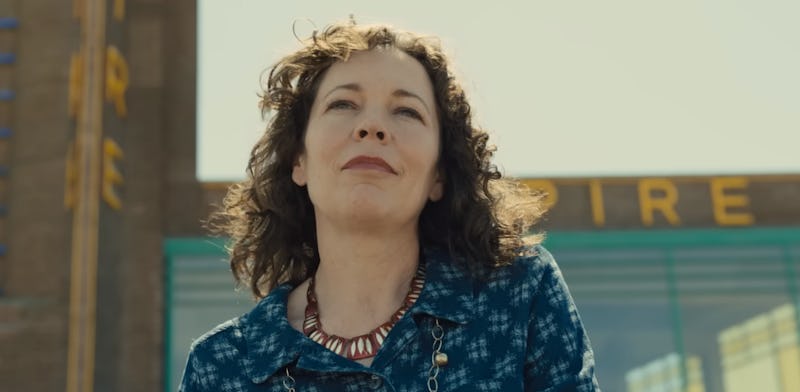 Searchlight Pictures
UK cinema-goers are now able to enjoy award-winning actor Olivia Colman in her latest work, Empire Of Light. Written and directed by Sam Mendes, the film is set in the early '80s and introduces us to cinema manager Hilary Small (Colman), who suffers with mental illness. She becomes attracted to the new Black British employee Stephen (Michael Ward), and the plot follows how they deal with Hilary's mental health challenges and the racism they encounter. But is Empire Of Light based on a true story?
This project was the first attempt at script-writing for Mendes, who has previously directed many acclaimed films including American Beauty and Revolutionary Road. While the plot is an original work, Mendes revealed in an interview with The Guardian that the character of Hilary was heavily based on his own mother, Valerie.
Hilary is on a prescription of lithium medication, taking time off work due to her severe mood swings, and later in the film is readmitted to a psychiatric hospital. Valerie, meanwhile, divorced Mendes' father when he was three, and single-handedly brought up her son in a male-dominated environment while dealing with mental health issues.
Mendes recalled, "Even as a child, I could see that my mother, when she was medicated or controlled, was being manipulated, mostly by men. Coming off the medication allowed her finally to tell them the truth. I did feel that was heroic." Because of his mother's mental illness, he had to take on the role of a caretaker at times, including watching her like a hawk. "Every little shift: a change of scent, of clothing, of hair, of makeup can mean huge things."
Colman, who took inspiration from Stephen Fry's documentary The Secret Of The Manic Depressive for her performance, was thankful she had Mendes on hand to help her with the role. "It all came from a very personal experience so we had the best person on set every day to go to ask," she told Sky News. "He would talk about watching his beloved mummy become powerful, become eloquent, become incredible, and then just tip over and then go into the decline, and he calls her heroic. So, although it was a hell of a journey to play, I did have this incredible sort of fount of knowledge in front of me at all times."
Toby Jones, who plays the cinema projectionist Norman, and has known Mendes since his early teenage years in Oxford, also addressed Valerie's influence on Empire Of Light. "You are very aware the film is informed by autobiography, and alert to the sensitivities of that. There's a fragility in certain scenes that you have to honour," he explained.