Gerard Butler Insisted On Adding This Pivotal Scene To Plane
But is the action film based on a true story?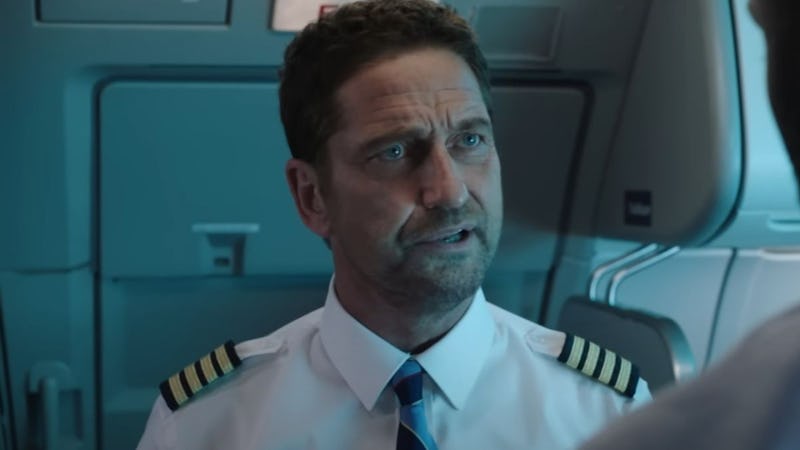 Lionsgate
There are some actors who carry a likeable quality and are rarely the subject of internet vitriol. Some of these special names include Keanu Reeves, Betty White, James McAvoy, Michelle Yeoh, and Gerard Butler — and the latter can be found on the big screen right now in his new action movie Plane. The plot follows pilot Brodie Torrance (Butler) whose plane gets struck by lightning and is forced to land suddenly in a Filipino island that is unfortunately the headquarters of a militant organisation.
With all communication systems down and guerrilla forces trying to take the foreigners hostage, it is up to Torrance, captured convict Louis Gaspare (played by Mike Colter), and eager co-pilot Samuel Dele (Yoson An) to get the plane's crew and passengers rescued. Which begs the question: is Plane based on a true story?
The answer is no. While there are references to real-life cases of missing planes in the film, this story was very much made up. According to Deadline, the story was conceptualised as an original pitch from British novelist Charles Cumming — then named The Plane — which was acquired by the production company MadRiver Pictures in 2016 to be developed into a film. Described as "Captain Phillips meets Flight Plan", the action thriller has been changed slightly for the big screen — the original story was actually supposed to see the commercial flight crashing in hostile territory in the Middle East, per ScreenDaily.
The screenplay for Plane was eventually written by Cumming and J.P. Davis. Cumming is certainly no stranger to thrilling plot lines; he has penned 11 spy novels including the Alec Milius and Thomas Kell series. This is also not his first go at script writing, having written "How To Catch A Russian Spy" for StudioCanal. Interestingly, he was even approached by the British Secret Intelligence Service (MI6) in 1995, but chose not to work with them.
In an interview with RadioTimes.com, Butler revealed he had made his own mark on the movie's script, fighting to keep what he felt was a key scene from being cut. [Spoiler alert!] "That's actually a moment that I had put in the script — watching something brutal happening to the passengers by the rebels," he revealed, making reference to the moment Captain Brodie watches two of his passengers getting killed, before the rest are kidnapped. "And I had a big fight for that scene because the studio said, 'No, he's the hero. He can't watch this happen. He would have to go and do something about it.'"
Plane is now showing in UK cinemas.