Izzy From Love Is Blind Season 5 Was Engaged Before
He explained why past relationships didn't work out before joining the pods.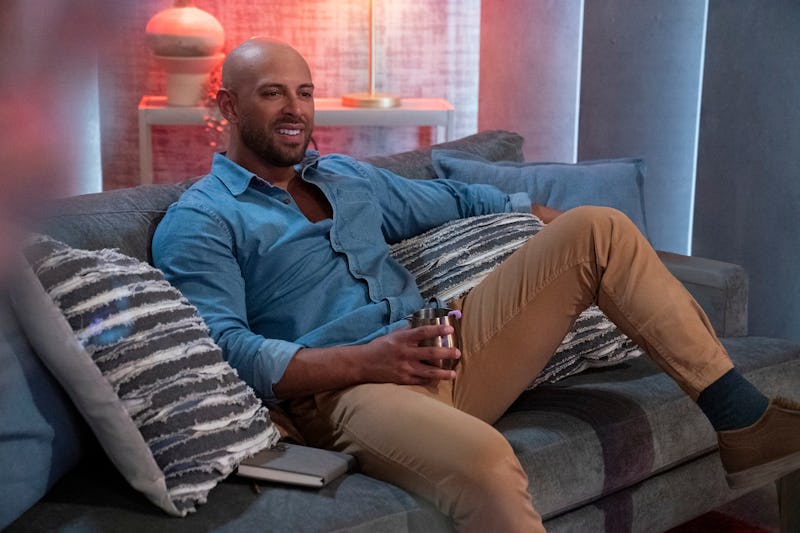 Monty Brinton/Netflix
As with most of the singles on Love Is Blind, Izzy Zapata has been through the modern, real-world dating scene: going on a whopping two to three dates weekly for more than a year pre-pods, he revealed in his Season 5 bio. Izzy also said in the season's first-look teaser that he was previously engaged. But it seems that dating and relationship experience has helped Izzy narrow down what, exactly, he's looking for in a partner. After past relationships were "not on the same page emotionally," he hopes to find "open-minded, good communicator" who loves him "unconditionally," he shared in his bio. He also mentions his preference for a blonde woman who likes going to the gym and playing beach volleyball.
So, will he find her? To find out, fans will have to watch the latest chapter week to week (all culminating in the Oct. 13 finale). In the meantime, here's everything to know about Izzy from Love Is Blind Season 5.
Izzy's Job
According to Izzy's Love Is Blind bio, the 31-year-old works in sales.
Izzy's Instagram
Izzy's Instagram is filled with snaps from outings with friends, golf, and travel adventures — though it's not clear if a significant other is accompanying him on his recent post-pods trips. As is typical with Love Is Blind contestants, you won't find any clues or spoilers about Izzy's current relationship status just yet.
Izzy's Past Relationship & Family
As Izzy revealed in the first Love Is Blind teaser, he was previously engaged before looking for love in the pods. This prompted pod partner Johnie Maraist to share that she, too, had been in a serious relationship before — a marriage, in fact. "If me and you can potentially get married, you're not gonna hold anything back from me, and I'm not gonna hold anything back from you," Izzy said, assuaging any doubts.
Izzy's past relationship doesn't seem to be represented on his social media accounts — but he has made it clear he's a dog dad.
Because of Izzy's familiar last name, you might think Izzy is related to another Love Is Blind contestant: Season 2's Mallory Zapata. However, there's no indication that the two are related, and Mallory doesn't seem to follow Izzy on Instagram. (Izzy does follow Mallory... but he also follows a lot of other Love Is Blind alums, too.) It's most likely just another coincidence, à la Matt and Cole Barnett from Season 1 and Season 3, respectively.