15 Years Ago, Jennifer Aniston Had A Wild Cameo On 30 Rock
The guest role earned her an Emmy nomination.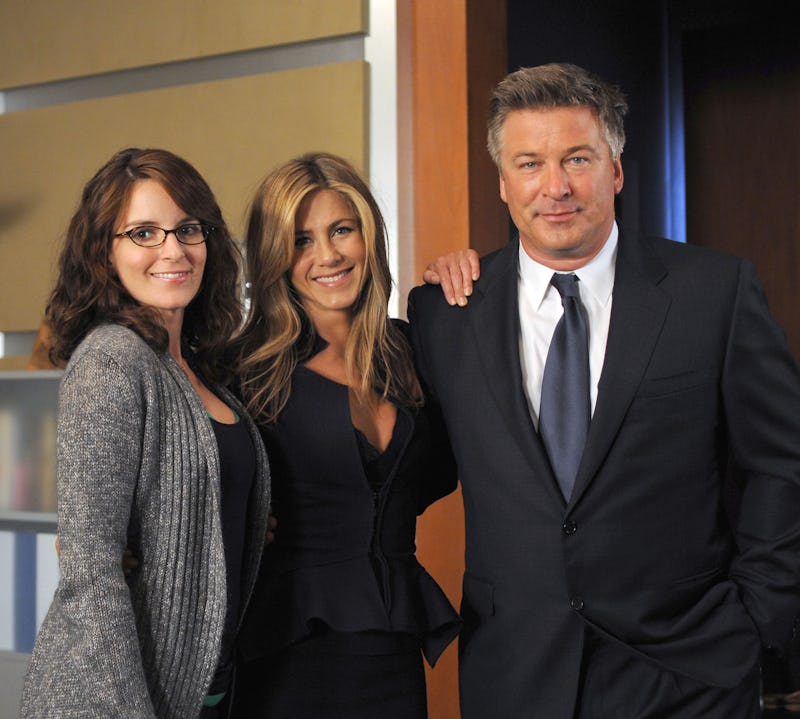 NBC/NBCUniversal/Getty Images
Jennifer Aniston will forever be known as Rachel Green, but that doesn't mean fans don't enjoy seeing her outside her element in other sitcoms. In 2008, four years after Friends concluded, Aniston appeared on NBC's 30 Rock. The episode, titled "The One With The Cast Of Night Court," featured Aniston as Claire Harper, the unpredictable ex-roommate of Liz Lemon (Tina Fey).
Chaos ensues when Liz's boss Jack Donaghy (Alec Baldwin) meets — and subsequently falls for — "Crazy Claire." She crashes a formal event for General Electric that Jack hosts, threatens to take her life in front of a crowd, and sleeps with Jack (multiple times). Not long into their rollercoaster of a fling, Claire becomes bored with an obsessed Jack and dumps him.
Aniston's performance of the Fatal Attraction-esque stalker Claire in the episode was so good, she earned a Primetime Emmy Award nomination for Outstanding Guest Actress in a Comedy Series.
Even more, she had an amazing experience on set. "OK, where do I begin? I just had the time of my life," the actor said in 2008 ahead of the episode's premiere. "They were just fantastic, welcoming me in with open arms. They were just so good at what they do." She also praised her fellow co-stars on the series. "That cast is stellar and Alec Baldwin, Tina Fey — what a great group of people."
Years after the episode premiered, fans still talk about her character. "The people who say Jennifer Aniston can't act clearly haven't seen 30 Rock 3.3," one fan tweeted. "Jennifer Aniston's guest appearance on 30 Rock should have been turned into a spin-off," another said. "Jennifer Aniston? Yes I remember her from her from her one episode arc as Liz's crazy friend Claire in 30 Rock," a third joked.
Aniston's 30 Rock cameo comes six years after Baldwin appeared on Friends. In the Season 8 episodes, "The One With The Tea Leaves" and "The One In Massapequa," Baldwin was one of Phoebe's boyfriends, the overly positive Parker. Throughout the course of the episodes, Phoebe (Lisa Kudrow) becomes overwhelmed by Parker's upbeat attitude and eventually breaks up with him. This time around, Baldwin's presence is more overwhelming than Aniston, making her eventual 30 Rock appearance even more of a full-circle moment.