Jennifer Coolidge Fans Were Robbed Of An "Iconic" Cut White Lotus Scene
"She went off on this tangent that wasn't in the script."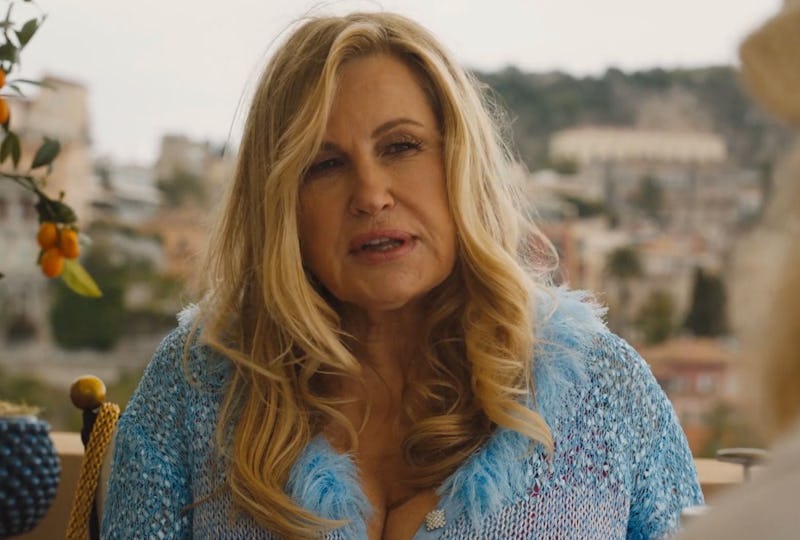 HBO
Ever since her epic role as a haplessly clumsy nail tech in 2001's Legally Blonde, actor Jennifer Coolidge has occupied a place in our hearts, and we're so glad to see her being appreciated so much lately. From sweeping gongs at the Emmys, Golden Globes, Critics' Choice Awards, and Screen Actors' Guild Awards, to doing a fantastically campy sci-fi photoshoot as a tribute to old-school Japanese tokusatsu cinema, it is truly Coolidge's time to shine. But as it turns out, fans should have had another scene from her winning performance in The White Lotus to add to our meme folders — only it ended up being cut.
Speaking to E! News at the 29th Screen Actors Guild Awards, Coolidge's co-star Haley Lu Richardson, who plays Portia in The White Lotus, was asked to share her "number one Jennifer Coolidge story." The 27-year-old actor replied that her favourite moment was actually from a scene that never made it into the final cut of the show. "But it was iconic and it was just so cool that I got to see something iconic that she did that no one else will get to see."
Richardson described the ad libbed moment: "It was at this scene at breakfast where she's like, 'Do you think Greg is cheating on me?' She went off on this tangent that wasn't in the script where she was, 'Do you? Do you?' Looking around at everyone having breakfast, just screaming 'Do you?'" Richardson also revealed it was a moment that became a thing even within the series' cast members. "The rest of the time we were filming, we were all just saying, 'Do you?'"
Coolidge's chaotic character Tanya McQuoid has given us some legendary quotes ("These gays, they're trying to murder me!") and is a firm fan favourite. Sadly, Season 2 of the show was Tanya's last, as (spoiler alert) the final episode saw her failing to orchestrate a quick getaway and instead tumbling off a yacht to her death. However, The White Lotus has been renewed for Season 3, which will likely hit our screens late this year or early 2024.