Johnie From Love Is Blind Season 5 Was Married Before
Now, she knows exactly what she's looking for.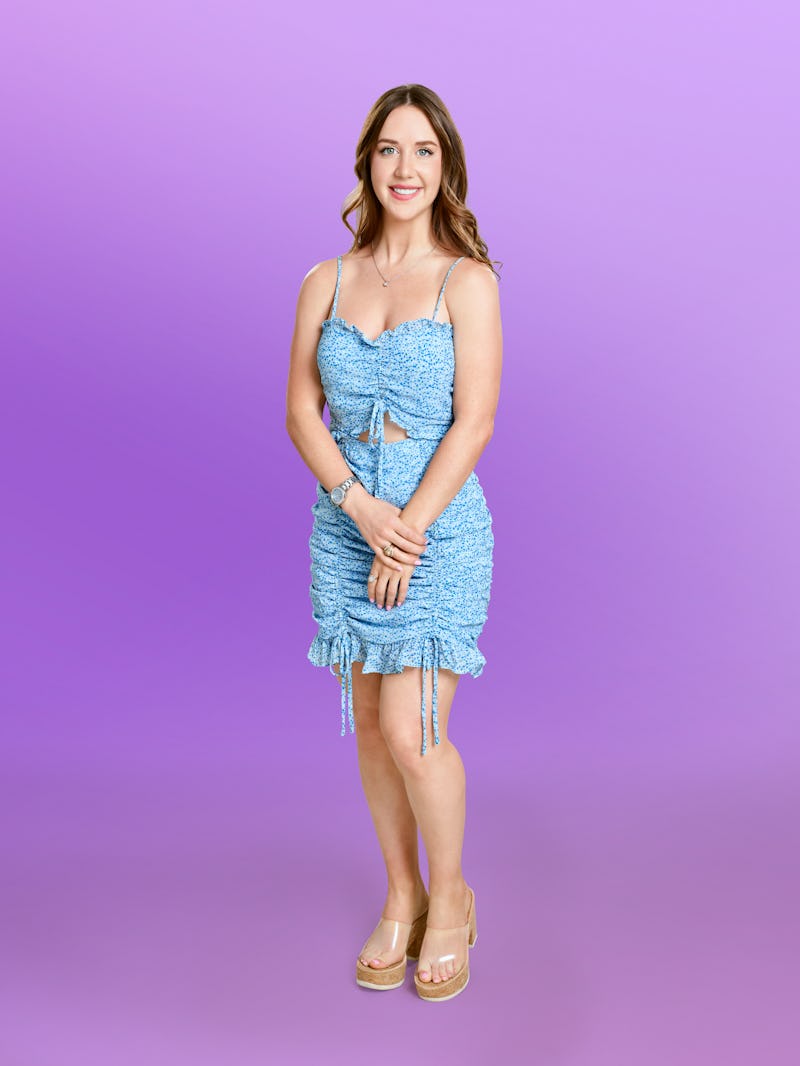 Monty Brinton/Netflix
For most of the intrepid singles entering the pods each season, Love Is Blind will be the first time they ever walk down the aisle and (maybe) say, "I do." But that isn't always the case: Cole Barnett from Season 3, for example, revealed in the pods that he was previously married — sharing that he "learned a lot from that experience," and was more ready to be a husband and father as a result.
In Season 5, there's another contestant who has been married before: Johnie Maraist. Her previous relationship status was one of the first twists of the new season, and was actually dropped in a first-look teaser months before the official premiere date.
"I haven't told anyone else here this, but I've actually been married once before," she says in the brief clip. Her partner in the next pod isn't deterred, though. "If me and you can potentially get married, you're not gonna hold anything back from me, and I'm not gonna hold anything back from you," he says.
"I love you," Johnie replies, clearly feeling his energy.
In a confessional, Johnie further explains why her past marriage is a difficult part of her story. "My mom says, like, 'Maybe you're not meant to be in a relationship,'" she recalls, tearfully. "I'm definitely not a perfect person, but I know I deserve love."
So, will she find it? As fans wait to see how Johnie and co.'s Love Is Blind journey plays out, here's everything to know about the Season 5 star and her previous relationship.
Johnie's Job
According to Johnie's official Love Is Blind bio, she works as a lawyer and has enjoyed "tremendous success in her career." She graduated in 2018 from the University of Houston, and the State Bar of Texas has her listed as working for Latham & Watkins LLP.
Over on Instagram (more on that in a bit), she adds that she's a certified personal trainer to boot. A true multi-hyphenate!
Johnie's Instagram
On social media, Johnie regularly shares photos of her travels: from San Francisco to an Alaskan cruise. When she's not celebrating loved ones on their major life milestones, Johnie tends to post solo photos with feel-good captions.
That isn't necessarily a clue about her Love Is Blind fate, of course — after all, contestants know by this point to scrub social media of any potential clues revealing their outcome on the show.
Johnie's Marriage History
Just like Johnie's Instagram doesn't give away her Love Is Blind journey, it also doesn't reveal much about her previous marriage. However, in the Season 5 trailer, Johnie hints that it wasn't the best relationship. "My past sounds like 8,000 walking red flags," she admits at one point.
Before she married her ex-husband, she later explained to Izzy, she was in another long-term relationship with someone who struggled with addiction. This partner later passed away of an overdose, and she refers to her relationship with her husband as a "rebound."
Her next partner, Johnie said in a Netflix interview, should be "responsible and intelligent, but also someone who has a sense of humor."