JoJo Is Manifesting Nicole Kidman Seeing Her In Moulin Rouge! The Musical
The singer, who takes on Kidman's Satine, reveals the songs she'd add to the Broadway show and the song she never wants to perform live again.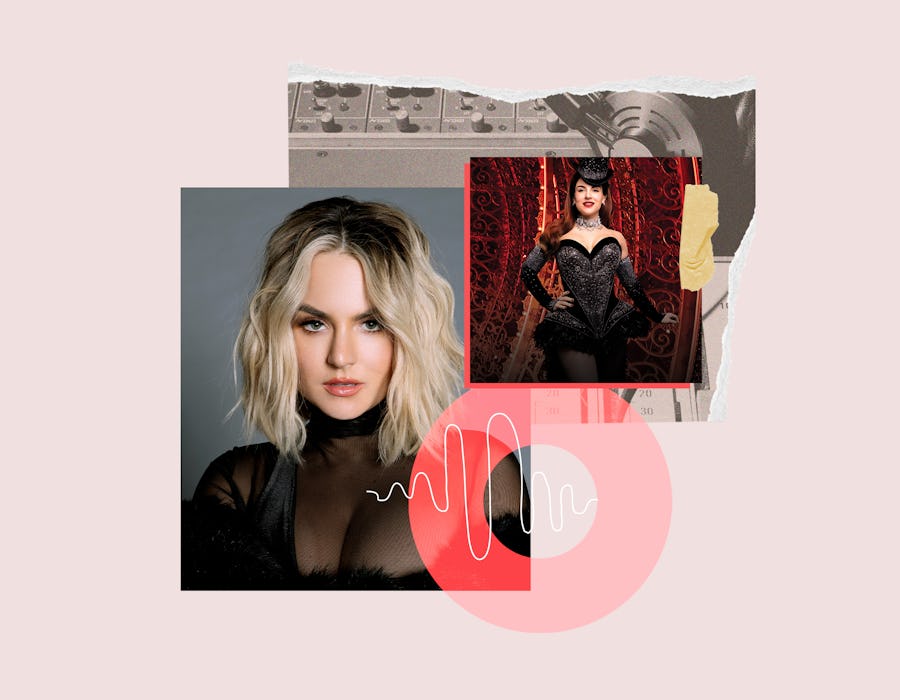 Before telling us to "Leave (Get Out)" in 2004, JoJo became enchanted by Nicole Kidman in 2001's Moulin Rouge! More than two decades later, she's playing Kidman's role of Satine in her Broadway debut. "I'm the first red-headed Satine on Broadway," the 32-year-old star tells Bustle, sitting in an empty Al Hirschfeld Theatre in New York City. "I'd love for Nicole to see my little self floating around, like a little leprechaun on the stage in a red wig."
JoJo first saw the jukebox musical in Los Angeles and hinted to a producer that she'd love to play Satine, who sings hits by Beyoncé, Marilyn Monroe, and other celebrities. A few months later, she moved across the country and stepped into the Sparkling Diamond's shoes. "She's this beautiful dazzling thing that people get to see, but there's a lot of pressure that's made that diamond," JoJo says. "I can relate to feeling like you have nothing to fall back on, and you are solely responsible for yourself and others. She's been on the streets and selling herself since she was 13 years old. And in a sense, I have been out in these streets working in my own way since I was 13 years old."
The platinum singer-songwriter rose to fame at 13 thanks to "Leave (Get Out)" and "Too Little, Too Late." JoJo identifies with Satine in her final moments as she proclaims, "You don't own me," given her years-long battle to be freed from her former record label. "I had tears in my eyes," she recalls. "That's what makes the moments like this all that much more sweet. In fighting for the rights to my own voice as I did years ago, I very much relate to that concept of no one owns me."
JoJo says her Broadway adventure will likely influence her next album; when she's not performing, she's writing her memoir. "This is not a ghostwriter type of situation," she says. "I'm telling stories that I've kept to myself my whole life, and really putting it all out there so then I can move forward and carve a next chapter, whatever I want that to be."
She thinks her teenage self would be proud of her. "13-year-old JoJo was so confident and had such a sense of self and belief in self that she would've been like, 'Yeah, sounds like it's right on time,'" she says. "She would've been really excited to be able to sing all these smashes on stage."
Below, JoJo reveals the songs she'd add to Moulin Rouge!, the legends she channels in her dressing room, and her true thoughts on The Masked Singer.
On The Masked Singer & The Songs She'd Add To Moulin Rouge!
Which song has been your favorite to perform so far?
I love doing "Crazy Rolling," which is a mashup of "Crazy" by Gnarls Barkley and Adele's "Rolling In The Deep." It's a really fun moment within the show... And then Katy Perry's "Firework" is a real moment for Satine because she's totally exposed. She's realizing that she's truly ill and that there might be something going on with her that's not just a tickle in the throat. And the way it's performed in this show brings whole new life to the lyrics that I just had never heard in that way before. I've taken it on as a personal mantra for myself.
If you had to incorporate one of your own songs into this musical, which do you think would fit in the story best?
A song from my Good to Know album, "Pedialyte," would work here because Christian gets really f*cked up on absinthe, and then the next day there's a lot of regret. I feel like the lyrics of, [sings] "Life is the occasion, party till the sun is coming up again. When I wake up, who's going to be my savior? Explain my behavior. Swear, I'm never going to drink again." I think that could work.
If you had to choose a song by a different artist to add, which one would you want to put in there?
I feel like "Unholy" by Sam Smith and Kim Petras would really work in this show. This show is just a carnal delight and its hedonism... You look at the set and it's like being inside a beating heart, being inside your body. It's just sex and romance and glamour. I think that would work real well.
Is there any music that you listen to getting yourself pumped up as part of your pre-show ritual?
I listen to my running playlist while I'm doing my makeup backstage, and that includes a bunch of dance songs that I hadn't heard before. One of my favorite ones is called "Pretty Girl Era" [by Lu Kala]... it's fire and I just feel cute. I'm getting my wig on, I'm doing my makeup. I'm turning my red mark on my face into a beauty mark, and I'm in my Pretty Girl Era.
What is your go-to karaoke song?
Michael Bolton's "How Am I Supposed to Live Without You." I also did it on The Masked Singer. That really is karaoke, just in a heavy-ass costume.
On Who Would Play JoJo In A Musical & The "Divas" In Her Dressing Room
Which songs would you want played at your wedding and funeral?
It so depends on who I end up marrying, what our song is. I'm going to be corny and say that "Your Song" [by Elton John] from this show could very well work. I also like Billy Joel's "Just the Way You Are." And then funeral? "One Sweet Day" by Mariah Carey and Boyz II Men.
Who would you want to play you in a musical of your life?
Oh my God. I don't know if I know that person yet. Not that they don't exist. I'm sure they absolutely do.
I was thinking you'd say yourself, honestly.
Actually, there it is. There's the answer. It's me.
Is there an instrument that you wish that you played?
I wish I was really good at piano to be able to accompany myself. Actually to be able to play bass would be fire too, because it just looks so cool. I just like to be a funky bitch, [doing] just deep head nods. And maybe just be a one-woman band. I want to play all things.
Who is your current musical idol?
I'm listening to a lot of Barbra Streisand right now. Her vocal placement is so extraordinary in her range and just mastery of her voice. Barbra and Celine [Dion] are my inspos right now. In my dressing room, I have pictures of my favorite divas: Mariah [Carey], Whitney [Houston], Celine, Barbra, and pictures of famous courtesans throughout the years.
Is there a song that you never want to play live again?
Some of my fans really love to keep my unreleased songs alive, and I so appreciate that. I have this song called "Limbo," which is the hardest song I've ever recorded in my life, and when people ask me to sing it, I'm like, "I'm going to die if I try to put myself through that vocally." I tried to put it in my Leaks, Covers and Mixtapes Tour, and I was like, "I can't do this live." It's not that I can't sing, it's that I stress myself out to a degree in which I cannot do it.
This interview has been edited and condensed for clarity.