Playing Willa On Succession Was Healing For Justine Lupe
And she has thoughts about Season 4's viral handbag moment.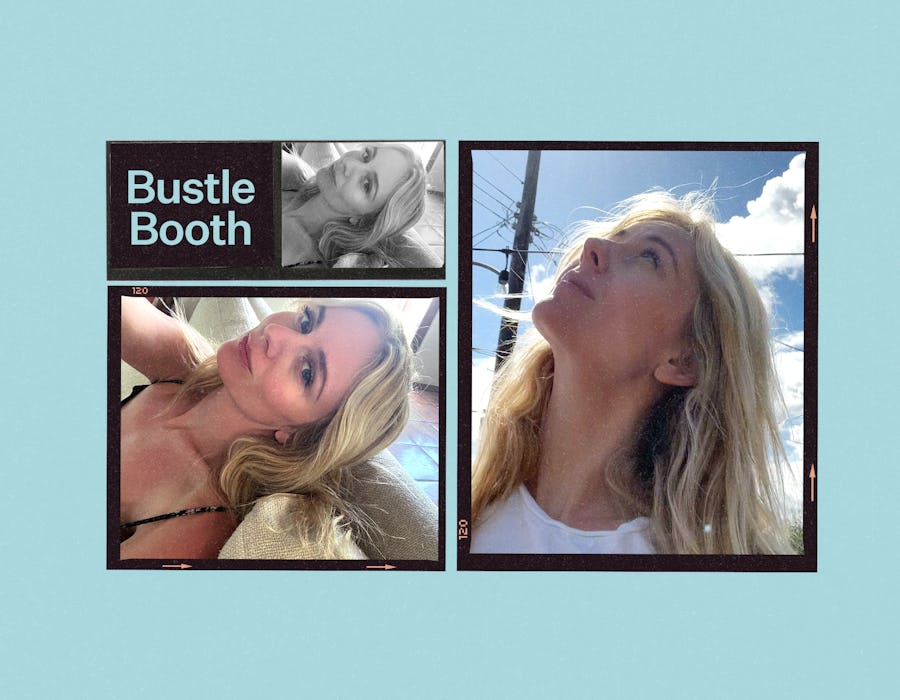 Spoilers ahead for Succession Season 4, Episode 3. The Succession cast didn't learn the show was ending until fairly late into production on Season 4, but even before that, Justine Lupe knew her character, Willa, had reached a conclusion of sorts. Her wedding to Connor Roy (Alan Ruck) marked the happy evolution of an unconventional relationship — that between the family's frequently delusional firstborn and his escort-turned-life partner. The wedding was interrupted by a family tragedy, but after filming their moment at the altar, Lupe tells Bustle, she and Ruck exchanged a hug. "I think both of us really put intention and awareness on our friendship and our companionship over these last six years," Lupe says. "And the story that Connor and Willa have. So it was really moving ... there was a weird kind of release."
It's been quite a journey for Lupe herself, too. Back in 2011, when she'd just graduated from Juilliard, she'd have died to be on any HBO show — much less one that she (and many others) would describe as "one of the best shows, maybe of all time." Now, in addition to a resume filled with roles from The Marvelous Mrs. Maisel to Mr. Mercedes and, recently, Luckiest Girl Alive, she can officially count herself a member of TV's most elite, dysfunctional family.
But even as the 33-year-old moves onto her next TV role (she's tight-lipped about it, except to say the part is heartfelt, and "one that I've never really gotten to do before"), Lupe says Succession will stay with her. "Willa was healing for me as a person," Lupe says. "I know, that's kind of a woo-woo thing to say. But I do think that her energy was one that I hadn't really lived in before. She was good for me."
And she'll stay with the show as a fan until the bitter end. Lupe has a few ideas for spinoffs — like one following the adventures of Waystar execs Karl and Frank. "They're like Tweedledee and Tweedledum," she says. "Every single time, I'm in stitches on the ground laughing at the stuff they contribute."
She's followed the conversation offscreen, too, like when Tom called out the "ludicrously capacious" Burberry bag a guest brought to Logan's birthday party in the Season 4 premiere. "I was shocked," Lupe says of the much-memed moment. "I was like, That's not a big bag." The actor holds up her own go-to tote over Zoom to underscore her point. It's perfectly practical — but, she concedes, it would get her "sent home immediately from Logan's house."
Learn more about Lupe in her Bustle Booth questionnaire below.
In The Bustle Booth
What's your coffee order?
Iced café au lait with almond milk.
What are the saved weather locations on your phone?
New York, Florence, Milan, Minneapolis, London, Oslo, Los Angeles, and Colorado.
What's your sign?
Gemini — I'm a Gemini sun, Pisces rising, Aries moon.
Favorite overused movie quote?
I'm so bad at this; I don't have one.
What was your favorite cartoon as a kid?
I loved Recess and Arthur. And every Disney movie.
What's one movie or TV show you're currently obsessed with?
I really loved Aftersun. Charlotte Wells is a friend of my friend, so I was kind of along for the ride of her making it, in terms of hearing updates and seeing what she did with that movie. It's incredible. Paul Mescal is amazing. That movie really stuck with me. And I love The Office, always.
Who is your celeb idol?
Andrea Riseborough is pretty amazing. I've loved her for years and years and years. She's such a chameleon that I missed her in certain moments — I didn't even know it was her. What she's done in To Leslie is just incredible. I have so many more, but that's the most recent one.
If you had to be on a reality TV show, what would it be?
Amazing Race or Chopped.
Go-to karaoke song?
"Vindicated" by Dashboard Confessional.
What's something that's inspiring you lately?
Falling in love. Nature's been really inspiring me lately. I'm loving hiking right now, and I'm excited to go camping.
What is something you would want people to say about you?
I would love for people to say that I really cared — I really cared about the people that I love, I really cared about my friends, I really cared about my art. And that I was generous with my time, my love, my resources.