What Is Katy Perry's Net Worth? She's The Highest Paid American Idol Judge
She reportedly makes more than fellow judges Lionel Richie and Luke Bryan combined.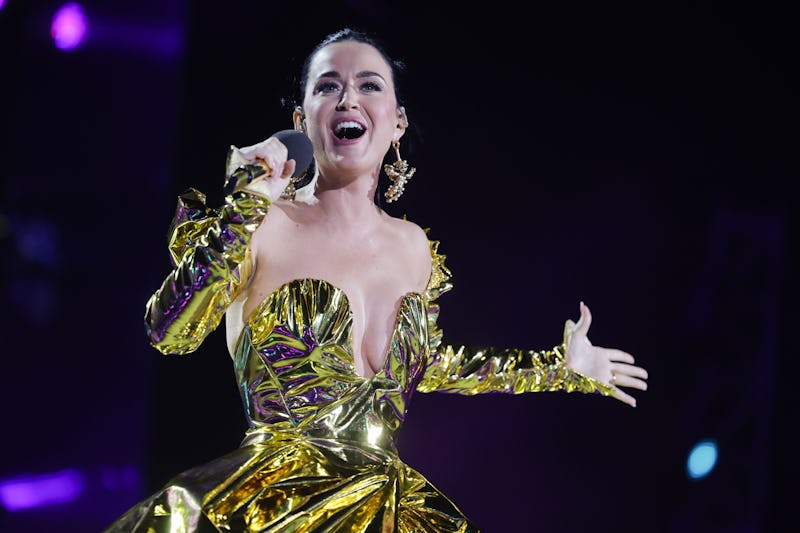 Chris Jackson/Chris Jackson Collection/Getty Images
Katy Perry's career has seen some of the highest highs and lowest lows of almost any singer in history. It took her a long, long time to get noticed as a musician, and her early Christian recordings show that she wasn't always the pop singer the world knows and loves these days. After finally hitting it big with pop-rock smashes like "I Kissed A Girl" and "Waking Up In Vegas," she reached new peaks by delving into electronic sounds with tunes like "California Gurls," "Teenage Dream" and "E.T.," to name just a few.
For half a decade, Perry was the biggest pop star in the world. She had an unbeatable track record, and it seemed like the good times would never end. While she remains a powerhouse and one of the most famous women in pop, several albums and quite a few singles in a row have underperformed.
While she isn't dominating the Billboard charts as she once did, Perry is still an astounding wealthy woman, and she continues to make tens of millions of dollars every year. She has now starred as one of the three judges on the American Idol reboot for six seasons, earning eight-digit paydays every time they begin filming. Perry reportedly rakes in $25 million per season of Idol. Meanwhile, her colleagues Luke Brian and Lionel Richie take home $12 million and $10 million, respectively.
So what is Katy Perry's net worth? It may be bigger than you think.
6 Ways Katy Perry Makes Her Millions
1. Music
Perry became a star in 2008 with her first album One of the Boys, but it was her sophomore full-length Teenage Dream that made her a historic figure—one who will be making millions from her generation-defining hits for many years to come.
Throughout her career, Perry has sent 14 songs into the top 10 on the Hot 100, with nine hitting No. 1. Three of her albums have debuted in first place on the Billboard 200, and two others came close by appearing somewhere inside the top 10.
Perry sits in seventh place on the ranking of the musicians who have moved the most singles in U.S. history, as the RIAA (Recording Industry Association of America) states she has now shifted a staggering 109.5 million songs, between pure purchases and streaming equivalents. Three of her biggest singles — "Firework," "Dark Horse" and "Roar" — have been certified diamond for racking up at least 10 million copies shifted. Perry is also now up to 17 million equivalent albums shifted in the U.S. alone.
While she may these days be largely regarded as a singer, Perry actually got her start as a songwriter, and she is credited as a co-writer on all her many, many hits. That talent is what will ensure she makes money from her singles for a long time, as she collects a royalty whenever they are played on the radio, on TV, in movies or advertisements, and also whenever anyone streams them on platforms like Spotify and Apple Music.
2. Touring
Perry has now embarked on four headlining tours of her very own, and all of them have been majorly successful at the box office. In fact, she's now grossed an estimated $389 million between them, racking up an average of nearly $100 million per trek.
In between her many concerts, Perry has played a handful of private shows for smaller crowds, ones which have been sponsored by extremely wealthy patrons. There's a report that the pop star once performed at a wedding for $1.9 million, and at one point she may have been paid as much as $5 million to sing for a group of Lularoe employees and consultants.
At the tail end of 2021, Perry became the latest superstar to headline her own residency in Las Vegas. Called Play, the run of performances takes place at Resorts World Las Vegas, and while it's not clear exactly how much she'll earn from her latest live endeavor, she will surely be bringing home the bacon every time she performs. Similar shows have seen fellow hitmakers like Britney Spears and Jennifer Lopez earn between $300,000 and $350,000 per night, while Lady Gaga is reportedly guaranteed at least $1 million for every concert, so Perry is likely earning several hundred thousand dollars in Sin City. Play initially only featured a handful of dates, but it has already been extended many times, and it is now scheduled to run through November 2023.
3. Endorsements
In the decade-plus since she first broke into the mainstream with her debut single "I Kissed A Girl," Perry hasn't been shy about using her famous name and face to help companies seem cooler, reach new audiences, and sell more of their product — whatever it may be.
Perry has touched many different industries, and clearly, brands are willing to pay for the privilege of being associated with her, as she keeps signing more and more deals. What she's been paid for any of these partnerships hasn't been made public, but it's safe to assume that when all these launches and ad campaigns are added up, she may have collected millions. Perry has now worked with companies like Popchips (which she also invested in), H&M, the firm behind The Sims, Covergirl, Eyelure, OPI, and Claire's. Some of these names launched Perry-branded lines, while others simply used her in musical ads.
4. Fashion
Through her partnerships with aforementioned brands like Claire's and Covergirl, Perry got a taste for launching products with her name attached, but in 2016, she took her business acumen one step further (pun intended) when she launched her own shoe line. The appropriately-named Katy Perry Collections features everything, including platforms, high heels, strappy sandals, and flats — all in bright colors and featuring quirky, odd designs. The singer has always been known for her over-the-top campy costumes, and she brings that energy to her own company.
5. Fragrance
At the height of her fame and success on the charts, Perry also entered the celebrity fragrance industry, and all of her scents have become bestsellers. Working with Coty, one of the leaders in the space and one with plenty of experience launching celebrity-led brands, Perry has now dropped eight different perfumes, starting with Purr.
At the time Perry's third fragrance Killer Queen launched, Coty estimated it could bring in as much as $80 million by the time its initial year wrapped. Numbers for her first two releases aren't available, but that prediction suggests her first two scents performed similarly, if not much better. What percent of those grosses make its way into her pocket is also difficult to decipher, but it could easily be in the millions per product.
6. TV & Film
Unlike some of her contemporaries, Perry hasn't invested much energy into becoming a TV actress or film star, only picking up the occasional voice-over work or cameo here and there in productions like The Smurfs, Zoolander 2, and Raising Hope.
However, a massive chunk of Perry's earnings does come from her participation in American Idol. The pop star joined the reality singing competition as it was rebooted, and she's been featured on the judging panel alongside Luke Bryan and Lionel Richie ever since. When the series first returned, it was reported that the "Daisies" powerhouse was being paid an incredible $25 million per season by FOX. If that sum is correct, and if it's remained steady, it appears Perry has now earned $150 million just by telling others if they're any good at singing or not, as she has been one of the three judges for six seasons in a row.
What Is Katy Perry's Net Worth?
With just a few albums, Perry set herself up to be one of the highest-paid musicians of all time, and her net worth is truly massive. Celebrity Net Worth pegs the sum at an incredible $330 million. Forbes reports that in 2020, Perry pulled in $38.5 million alone. For most people, that would be more than they could earn in several lifetimes, but it's actually down significantly for the star. The same publication published her 2019 earnings at $57.5 million, while she apparently took home $83 million in 2018. Between 2014 and 2015, Perry banked an incredible $125 million, so it's easy to see how all those dollars add up to an eye-popping net worth.