Love Island's Keanan Brand Has Spotted His "Perfect" Girl In The Villa
And he's not put off by the fact she's already coupled up.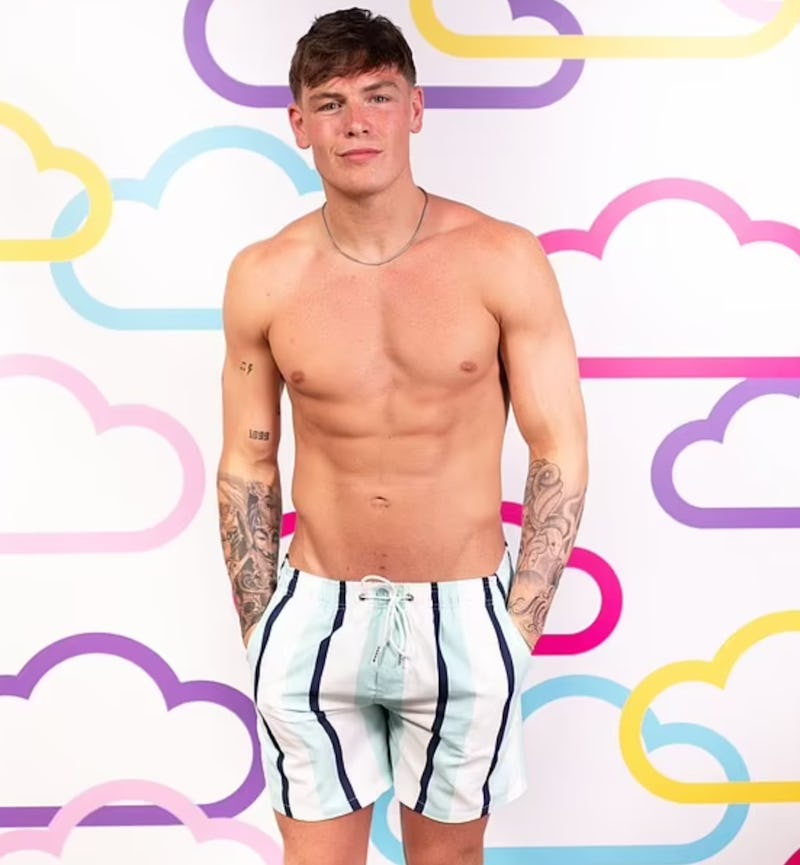 ITV2
What better way to spice our evenings up than with the sizzling hot winter edition of Love Island? Joining Islanders Tanya Manhenga, Olivia Hawkins, and the others in the South African villa is latest bombshell Keanan Brand. Describing himself as "energetic, caring, and happy-go-lucky," the Lancashire native is confident about finding love in the villa. "I can usually charm girls with my chat," he told ITV. Find out everything there is to know about Winter Love Island's Keanan Brand, below.
What Is Keanan Brand's Job?
24-year-old Keanan is a professional rugby player, positioned as a centre for the Leigh Leopards in the Betfred Super League. He started his sporting career with the Widnes Vikings academy, debuting in 2018 and making over 30 appearances before joining the Warrington Wolves.
A season-long loan from Warrington to Leigh eventually turned into a contract, and Keanan was a key player in Leigh winning the 2021 Championship, scoring 14 tries in 36 games.
Despite wanting to find love, he's keen to return to rugby after his stint on the show, telling Sky Sports: "I'm hoping sooner than I thought because I miss it, I'm going to be honest. When you love something as a kid, it doesn't go away. I want to be back."
What Is Keanan Brand's Instagram?
Keanan's current 14,800 Instagram followers get to peek into his life while training and competing on the pitch. He seems equally happy to show some of his personal life, usually posting photos from lad's nights out with friends and teammates. Keanan also shares his fails alongside his wins, happily posting snaps from the A&E when he broke his leg, or even when bleeding from a wound to the forehead. But he says, "I'm of Irish heritage so I've always got the luck of the Irish with me" — and things certainly seem to have worked out more than okay for him.
What Else Is There To Know About Keanan Brand?
It looks like Keanan will bring the party all the way to the island, as he says, "I've got the gift of the gab so I will definitely bring some fun." When it comes to prospective partners, personality is a big factor. "I want a girl who is polite and has good morals. I like someone I can bounce off, so they need to have lots of energy," he shares.
Of the current contestants, Keanan has his eye on Samie Elishi. "If I could draw my perfect girl based on looks it would be her. I think she's looking for someone that is cheeky and confident, and that's me!" Noting her current partner Tom, he said: "May the best man win."