Keke Palmer Shares The Sex Of Her & Darius Jackson's Baby
The Nope star announced her pregnancy on Saturday Night Live in December.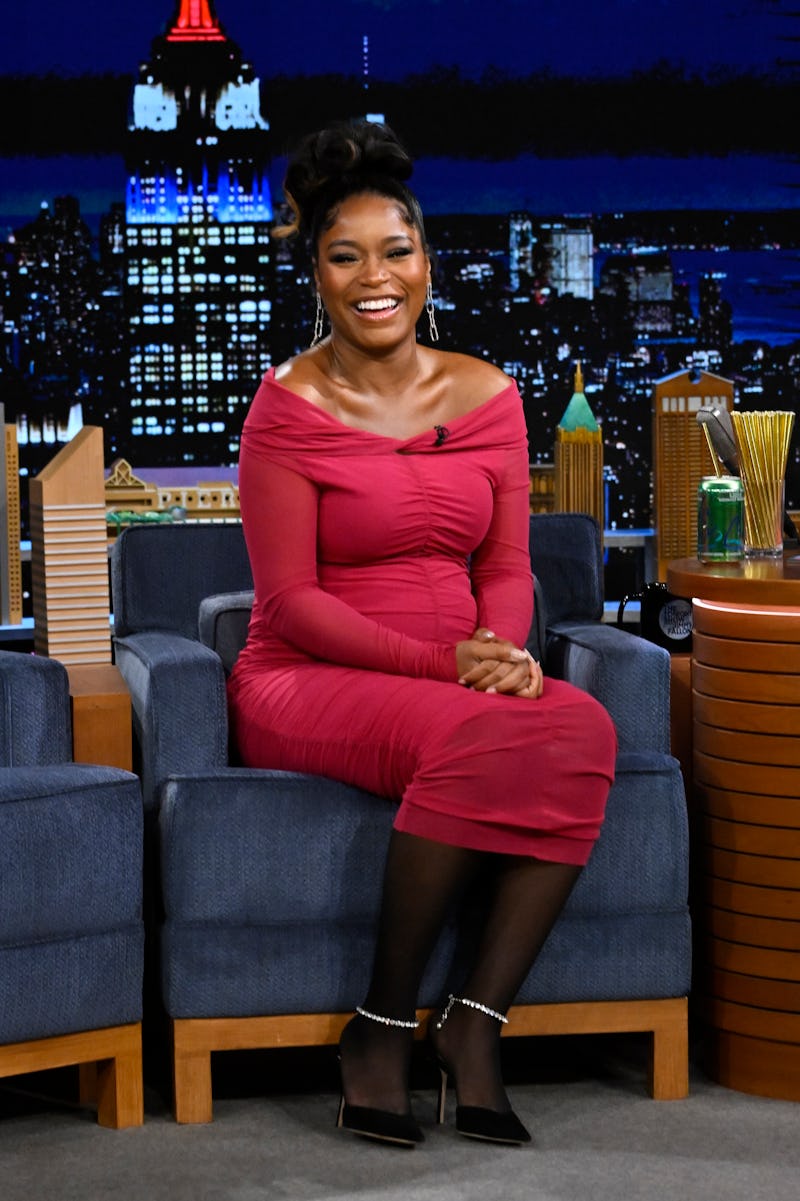 NBC/NBCUniversal/Getty Images
Keke Palmer is ready to become a mother. On Jan. 25, the Nope star revealed the sex of her first child with boyfriend Darius Jackson, casually announcing during an interview on The Tonight Show Starring Jimmy Fallon that she was expecting a baby boy. She also hinted at her baby's due date using one of her favorite subjects: astrology.
"My baby is either going to be a Pisces or Aries," she said. This means that Palmer is likely preparing to welcome her first child sometime in mid-March, given how she's not sure which astrological sign he'll fall under. However, she has some concerns if her baby turns out to be a Pisces. "Pisces are known to be very deep," she explained. "They're emotional creatures. So I just want to make sure I'm not too blunt for my baby boy."
Hilariously, the crowd didn't even notice her big reveal, as Palmer simply kept voicing her concerns about being too honest for a Pisces. "I don't want to be like, 'Look, what's up'," she joked. "Sometimes I can be too 'tell it like it is.' I need to wade in the water with a Pieces, just keep it chill, chile."
Palmer memorably announced her pregnancy during her Saturday Night Live monologue when she hosted the show on Dec. 3. "People have been in my comments saying, 'Keke's having a baby, Keke's pregnant,' and I want to set the record straight — I am!" she exclaimed, opening her jacket to reveal her baby bump.
She went on to express her dismay at rumors about her being true for once. "I was trying so hard to keep it on the down-low 'cause I got a lot of stuff going on," she said. "People kept coming up to me, 'Congratulations,' and I'm like, 'Shh, can y'all stop? I got a liquor sponsorship on the line.' But honestly, this is the biggest blessing, and I am so excited. Guys, I am going to be a mom."
After her hosting stint, the actor paid tribute to Daulton, who she's been dating since the summer of 2021, in an Instagram post. "Thank you to my other half @dvulton for giving me the things that only true unity can bring," she wrote. "Love is all we have isn't it, you do nothing in this world alone and trust me, I am not alone!" And it seems that Daulton is just as excited to become a parent as his girlfriend. To start the New Year, he shared the first ultrasound photo of his and Palmer's baby on Instagram, writing, "To 2022, thank you for giving me a family."