Keyla Monterroso Mejia Is Finally The Star Of The Show
The scene-stealing actor takes the lead in Netflix's On My Block spinoff.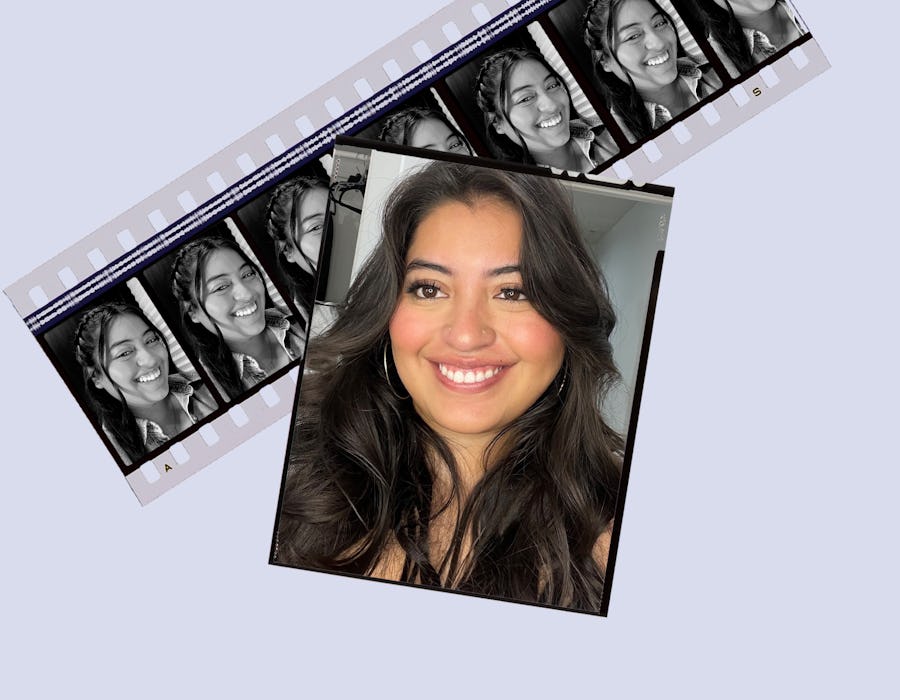 When Keyla Monterroso Mejia first auditioned for the lead role of Gloria in Netflix's Freeridge, she was afraid to let herself get too excited. Even after scene-stealing turns on Curb Your Enthusiasm and Abbott Elementary, the opportunity to play a character who resonated so deeply with her sent her into an emotional tailspin. "I remember feeling like I knew Gloria, like I was a version of Gloria," Monterroso Mejia tells Bustle. "I was like, it's going to absolutely devastate me if I don't get this."
The Southern California native wanted the role so badly that she shut off her emotions to soften the potential blow to her ego. It was only once she got the part and didn't feel anything that she realized she went too far in suppressing her feelings. "It was a big lesson," the 24-year-old says. "I would rather go through the ups and downs and be super excited and super sad. I don't ever want to turn my emotions off for an instant ever again."
As the spirited Gloria in the On My Block spin-off, Monterroso Mejia makes good use of her emotional range. She leads a new group of Los Angeles teens, who have convinced themselves that a mysterious box they bought at a neighbor's garage sale is cursed and must be responsible for the tragedies that keep befalling them. Gloria, whose father is diagnosed with cancer soon after, will go to any means necessary to break the curse and save her dad, including ordering her friends to complete various outlandish tasks — like finding a TikTok witch. When her friends fail to get the job done, she doesn't hesitate to unleash her frustration at them. "That was really, really fun because sometimes you just want to scream a little and let it all out," she says. "And obviously, I can't do that in my real life, like someone would slap me or something. But in a controlled environment, I'm like, yeah, girl, I'll let you have it."
As Gloria uses the cursed box as a coping mechanism for the uncontrollable forces in her life, she becomes determined to manifest a new and better reality for herself — something Monterroso Mejia shares in common with her character. An avid user of dream boards, Monterroso Mejia's vision of her future started to become a reality in 2021 when she earned wide critical acclaim for her performance in Curb Your Enthusiasm. She even envisioned herself in New Orleans, only to shoot the 2022 film The Estate there the following year. But now that she's starring in Freeridge, she doesn't feel the need to manifest her acting dreams anymore.
"I'm so afraid to get picky with the universe. It has given me more than I ever thought was possible for myself," she says. "Next year, I might tell you, you know what, I'm right back to manifesting and dream boards. But I think this year, I'm more open to just allowing life to happen to me and going with the flow."
Learn more about Monterroso Mejia in the Bustle Booth questionnaire below.
In the Bustle Booth
What's your coffee order?
I don't really drink coffee. I usually order an iced matcha latte.
What are the saved weather locations on your phone?
Just the city that I live in.
What's your sign?
Pisces
Favorite overused movie quote?
From Ratatouille, "A Chef makes. A thief takes." I also tend to blurt out "Gusteau!"
What was your favorite cartoon as a kid?
SpongeBob Squarepants! A classic.
What's one movie or TV show you're currently obsessed with?
I just watched Aftersun, and it left me speechless. Heartbreakingly beautiful, I couldn't stop thinking about it for days after I watched it.
Who is your celeb idol?
Jessica Marie Garcia!
If you had to be on a reality TV show, what would it be?
Jersey Shore! I live for the drama and gossip.
Go-to karaoke song?
"La Corriente" by Bad Bunny
What's something that's inspiring you lately?
Not something but someone is, Quinta Brunson.
What is something you would want people to say about you?
That I'm kind. I've been really lucky to work with only kind people, and it made a world of a difference as a newcomer. I hope to have a long career, and I want to pass on the kindness everyone has shown me.