The New 'Killing Eve' Trailer Teases A Dramatic End For Villanelle & Eve
"I killed two people last night, after I tried really hard not to."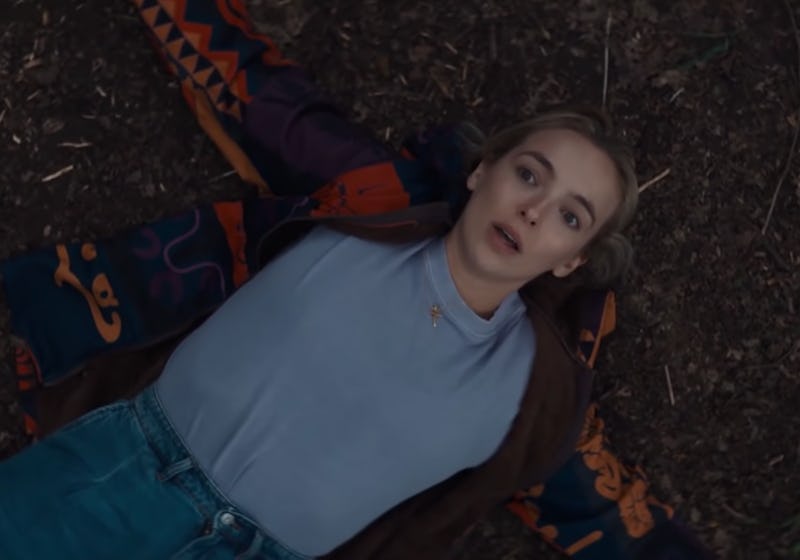 BBC
Sandra Oh and Jodie Comer are reprising their roles for a final time as Eve Polastri and Villanelle, respectively, in the critically acclaimed BBC drama Killing Eve. The thriller, which follows the beautifully twisted relationship between British agent Eve, and psychopath Villanelle.
The final season of the show has been spearheaded by a new lead female writer, Laura Neal (known for her work on a certain hit Netflix show). Phoebe Waller-Bridge, head writer of season one, has remained on as an executive producer.
So if you're waiting to find out the fallout of the dramatic season three ending, here's everything you need to know about Killing Eve season four.
Killing Eve Season 4 Plot
The scene on the bridge, where Eve and Villanelle walked their separate ways will be etched into viewer's minds. The emotional departure mixed with a gorgeously complicated chemistry between the two characters will push us into the new season.
After Villanelle's plans to join MI6 fell through and she made the decision that she was over the murdering lifestyle, where she goes from here is very much up in the air. Comer has been elusive about Villanelle's character arc in the final season. She told Harper's Bazaar "[Neal has] really pushed the boundaries with Villanelle. One of my only requests with season four was that I wanted Villanelle's fire reignited, as I felt it had fizzled out a bit. There is a particular moment that's like nothing we've ever done in Killing Eve."
In the new trailer, Eve continues her hunt for the international assassin organisation, The Twelve, at the request of her boss Carolyn (Fiona Shaw). And we see our two protagonists try to process what has come before and forge a way forward. At one point, Villanelle tells her therapist: "I killed two people last night, after I tried really hard not to."
In August this year, Comer told Bustle her hopes for the audience, "I hope people will be satisfied".
Killing Eve Season 4 Trailer
The BBC has released a new, nail-biting trailer. Check it out for yourselves, here:
Killing Eve Season 4 Cast
Of course, Jodie Comer and Sandra Oh will be returning alongside a host of familiar faces. Carolyn (Fiona Shaw), Konstantin (Kim Bodnia), Carolyn's daughter Geraldine (Gemma Whelan), and Hélène (Camille Cotin).
The Bitter Pill workers, who helped Eve investigate the death of Carolyn's son Kenny, will also be there. That includes Jamie (Danny Sapani), Bear (Turlough Convery), and Audrey (Ayoola Smart).
Aside from that, most other characters, such as Eve's ex-husband Niko (Owen McDonnell) and Dasha (Harriet Walter) have either permanently died or left (probably).
Killing Eve Season 4 Release Date
For American viewers, the season will air on BBC America on Feb. 27 with two back to back episodes - followed by weekly episodes from Feb. 28. The season will be made up of eight episodes.
Luckily, UK viewers will not be left far behind, with BBC iPlayer announcing on their Instagram that "New episodes available weekly straight after it airs on BBC America."
This article was originally published on