Twitter Had The *Best* Time Keeping Up With Kim Kardashian At Arsenal
"What kind of a fever dream is this?"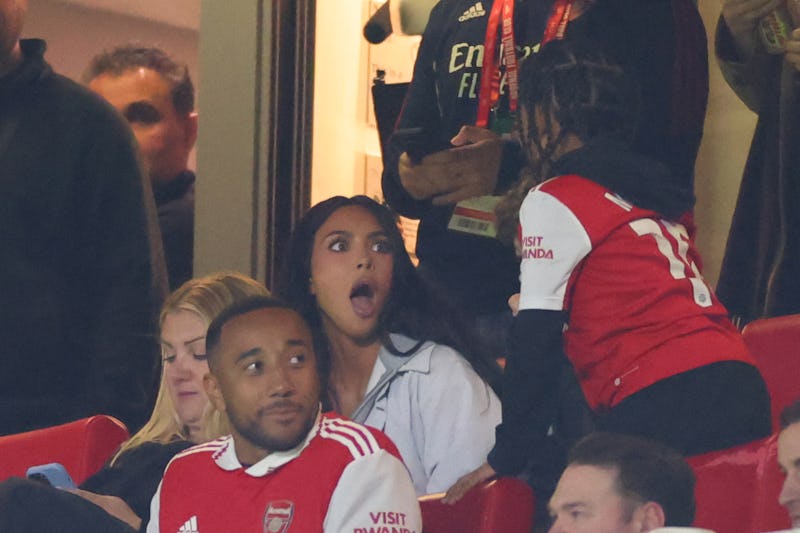 Photo by Marc Atkins/Getty Images
Kim Kardashian was at the Emirates Stadium in North London on March 16 watching a football game in the VIP box. Now that's a match we never thought we would see but the reality star is always full of surprises. The Kardashian sister was there to watch Arsenal take on Sporting Lisbon in a high stakes Europa League game. In case you're wondering when Kardashian became a football super fan and better yet, a passionate Gunner, there's a catch. The celebrity and founder of Skims was there with her seven-year-old son Saint West who is reportedly a bonafide Arsenal fan.
In 2022, when Kardashian shared photos from her daughter Chicago's birthday party, Saint was seen sporting Arsenal attire. Keeping the fandom live, the little kid was once again snapped in an Arsenal jersey whilst attending the game at the stadium. As Saint and his friends were engrossed in the match, Kardashian posted stories on her Instagram showing off some impressive Arsenal merchandise. The photograph featured a bunch of Prime drinks — as they are one of the major sponsors for the club — with brochures and the caption "send help." In another post, Kardashian shows Saint and his friends lined up to see the game in the team's VIP box while the last story had her son looking morose after Arsenal lost the game. The teams were at 1-1 with the Gunners falling back in penalty shoot outs.
Presenter Carrie Brown confirmed the celebrity's presence as part of the pre-match announcements. "The other team news that seems to be setting social media alight - yes, Kim Kardashian is here, we can confirm now from the communications officer," she said. Below, see some of the most iconic memes and tweets reacting to the reality star's appearance at the football game, warning: there are some true gems here.