Kris Jenner Gave An Honest Update About Kim Kardashian's Well-Being Amid Her Divorce
Here's how the reality star's been holding up.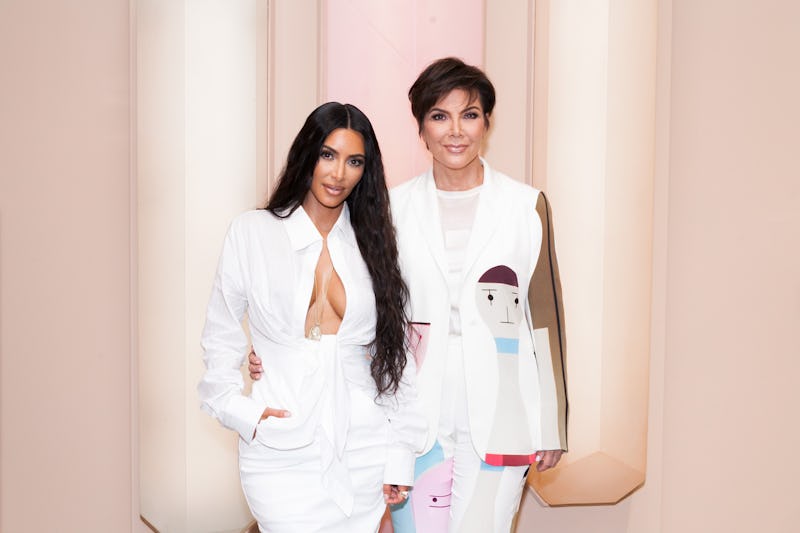 Presley Ann/Getty Images Entertainment/Getty Images
If there's something Keeping Up With the Kardashian fans should know, it's that Kim Kardashian is doing OK amid her divorce from Kanye West. On Thursday, March 25, Kris Jenner gave an honest update on the SKIMS founder's mental and emotional well-being on The Ellen Show. "Kim's good," the matriarch said when asked how her daughter's been holding up during this tough time. "She's good. She's really, really busy working on all of her different projects that she's doing and I don't know how she does it with all those grandbabies. She's got a lot of energy, that kid."
Kris is especially proud that, in addition to Kim raising her four kids and working hard on her shapewear and loungewear company, she's also extremely motivated to become a lawyer. "She's so focused and she's so, like, she's just passionate about the whole thing and everything she stands for, and I see her studying," the 65-year-old reality star said. "It's in her schedule every single day, when I get all the schedules for the kids. Her study time is all blocked out, so nothing else can get in the way. I'm so proud of her."
According to Kris, Kim's unwavering motivation stems from her love and admiration for her late father, Robert Kardashian Sr., a renowned attorney who represented O.J. Simpson during his 1995 murder trial. "I think that's a big motivation for her, you know, having her dad do what he did," the mother of six added. "She always looked up to her dad, and that was her idol."
Kim has long been vocal about her dream of becoming an attorney. In 2019, she revealed on Instagram that her first year of studying was almost behind her and that she had four years of hard work ahead. She also said that she's been heavily criticized for her decision to pursue law as a reality star. "I've seen some comments from people who are saying it's my privilege or my money that got me here, but that's not the case," she wrote at the time. "One person actually said I should 'stay in my lane.' I want people to understand that there is nothing that should limit your pursuit of your dreams, and the accomplishment of new goals. You can create your own lanes, just as I am."
Just as Kim is carving out her own path, so is her sister Khloé Kardashian. The Good American founder has been very vocal about her plans to have another child with Tristan Thompson. And despite their rocky relationship history, Kris seems to be fully on board. "I think it's so great that they want to do that again and have a sibling for True because there's nothing better than a big family and brothers and sisters, and that's just my heart," Kris told Ellen. "So I'm really happy. I just want them to be happy and True will be so excited."
Khloé opened up about her fertility journey during an appearance on the "Lady Parts" segment of The Ellen DeGeneres Show earlier this month. During the interview, she revealed that she and Tristan made three viable embryos. "I'm so grateful that I decided to make embryos," the 36-year-old said, adding that her eggs simply wouldn't be "as healthy" if she waited a few more years to do IVF after already trying it three times. On the premiere episode of the final season of KUWTK, she also told Kim the genders of those embryos. "I have one girl, and two boys," she said.
With all of these exciting baby plans ahead of them, fans are more curious now than ever about the status of Khloé and Tristan's relationship — especially after the 36-year-old posted a photo on Instagram with a giant rock on her finger. However, when Ellen asked about it, Kris wouldn't budge. "Yeah, that's a good ring. I think she just loves Jewelry and she loves a good ring," she said. "You should ask Khloé that!"