Hello Sunshine's Lauren Neustadter Swears By This Advice From Reese Witherspoon
The Daisy Jones executive producer once "idolized" the actor. Now, they work side by side.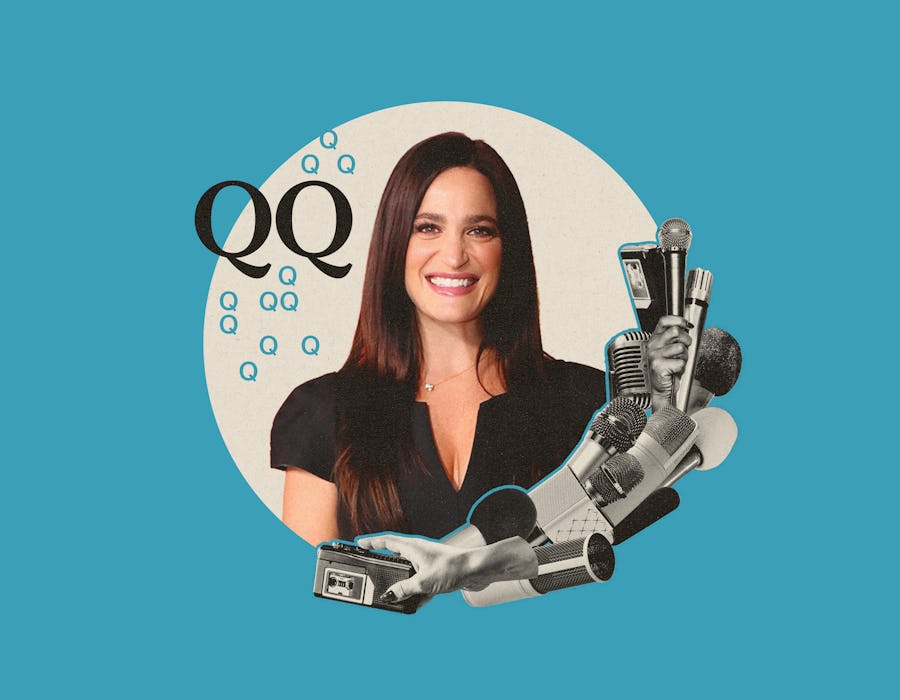 Growing up, Lauren Neustadter wanted to be an actor — one of the rom-com sweetheart variety, to be exact. "I idolized Reese Witherspoon and Julia Roberts and all of these women," she tells Bustle. "And I dreamed that maybe one day, I could be somewhat like them."
It was that dream that motivated Neustadter to move from her native New Orleans to Los Angeles for college. The problem? "There's a lot of rejection," she says. "And in truth, I was not the greatest actress."
After school, Neustadter pivoted to being an agency assistant and found her way to producing — and then to Hello Sunshine, where she works with Reese Witherspoon as the media company's president of film and television. As The Hollywood Reporter puts it, she's "the only person whose literary instincts [Witherspoon] trusts as much as her own."
This creative compatibility has led the pair to collaborate on some of the buzziest book adaptations of the last few years, from Little Fires Everywhere to Where the Crawdads Sing. But their latest Hello Sunshine project, Prime Video's Daisy Jones & The Six, is an especially personal endeavor for Neustadter. Her husband, The Fault in Our Stars co-writer Scott Neustadter, penned the script, adapting Taylor Jenkins Reid's 2019 novel with writing partner Michael H. Weber.
While the Neustadters share two children, teaming up professionally was a rare (and welcome) opportunity. "He and I are very lucky because we have very complementary jobs," Neustadter says. "But usually, he's in his swim lane, and I'm in my swim lane."
Today, Neustadter Zooms in from her hometown of New Orleans — not because she's secretly filming Daisy Jones Season 2 (the city's Tad Gormley Stadium stands in for Chicago's Soldier Field, site of the show's climactic final concert), but because she was tasked with speaking to students at her 25-year high school reunion. The occasion made her remember a piece of advice she heard there as a student from a visiting musician on career day: "People who have a fall-back plan tend to fall back," she recalls. "So bet on yourself, and believe in yourself, and do the thing you're meant to do in this world."
Below, Neustadter talks producing your favorite fictional band, working with Witherspoon, and her genius tip for making a career pivot.
What does your producer role look like when working with authors like Taylor Jenkins Reid?
There were a bunch of other writers that were interested [in Daisy Jones]. All of them saw it as a movie, and we really saw it as a television show. To Scott's great credit, he immediately dove in and broke out the shape of the season. Early the next week, I took Taylor to breakfast, [and] Scott took Taylor to lunch. When I was with Taylor, my phone rang, and of course, it was Reese. And so, Reese talked to her all about her book. Just watching Taylor's face — that was the beginning of the journey.
You and Reese have such a strong partnership. Is there a particular piece of advice she's given you that stands out?
In addition to being the best friend and the best producing partner on the planet, Reese has given me a lot of the best advice I've ever received. The thing that pops into my mind immediately: one time, there was a phone call I needed to make that was not an easy phone call. And she said, "Do the hard thing first." Whatever the thing is that you're scared to do, that you're dreading, that you keep putting off — just be brave, and do it. You'll find your way through, and you'll be better on the other side of it.
Are there any women on Daisy Jones you really resonate with — or maybe one you could see yourself in?
I really connect to each of the women. One of the things that I love in the show is that these are women who care so much about one another. They show up for each other, they do not compete with each other, they do not try to diminish each other. I feel a real soul connection to Camila — when she says to [Billy], "Do you think I came here for you? I came here with you." She has dreams, too. She takes the picture that's the cover of the album! She's able to capture the complexity and see that chemistry.
You originally wanted to be an actor but ultimately pursued storytelling in a different way. What advice would you give to someone who's feeling like they might want to make a pivot and don't know where to start?
I read a book about finding your place. One of the chapters [said] if you don't know exactly what you want to do, think about three elements of something that you've done in your life that brought you joy. So for me, it was: being a part of a team, telling a story, and making people think and feel things that they were not thinking and feeling. I called it, "changing the room." And so I was like, OK, well, I know that I'm not going to act. But what is something where I can [do these things]? And it was really being behind the camera and producing. So now, the fact that I get to sit in a chair next to Reese Witherspoon, with my little headphones on, watching the monitor, making these shows and these movies — it's beyond my wildest dreams. But it's about identifying the essential ingredients of a path that once brought you joy.
So much of your work revolves around being on top of pop culture. What do you do when you need to zone out and reconnect to yourself?
When I want to relax and be happy, I spend time with my kids and my husband. Time really flies. It's one of the great things about getting to do what we do: if we do our jobs right, we're making content that's making people think and feel and be in conversation with each other. There is such potential for co-viewing. So many people I know are watching with their teenagers. And obviously, there's mature content. [But] the fact that these kids are able to watch with their parents and talk about all these different bands and experiences and the journeys they're on — there's truly nothing better.
This interview has been edited and condensed for clarity.