How Lesli Linka Glatter Forged Her Own Path In Hollywood
The prolific TV director shares how she pushed through years of rejection.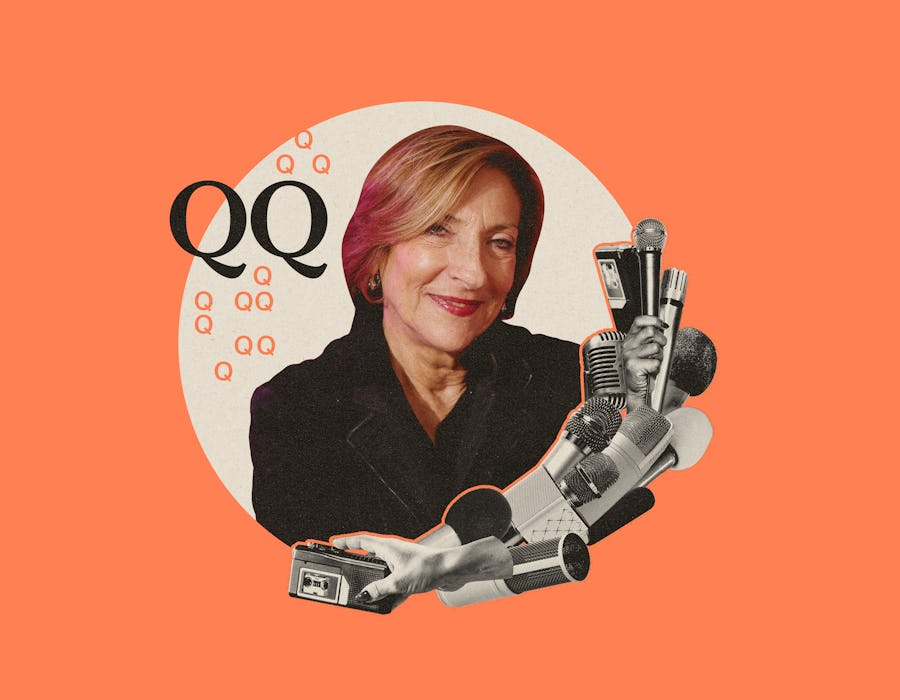 When director Lesli Linka Glatter was 25, she found herself at a seemingly inconsequential fork in the road — choosing between two coffee shops in Tokyo's busy Shibuya neighborhood. The Texas native was based in Japan as she traveled East Asia to teach and perform modern dance at a Peking opera school and Balinese dance academy. "I picked the coffee shop on the right, and it was packed, except for one seat that was [across from] an older Japanese man," she tells Bustle. The man, Yutaka Tsuji, would become a father figure for Glatter. For the next three years, he and his wife would take in the then-choreographer, and the stories of his life would kick off her directing career. She adapted them into the 1985 Oscar-nominated short film, Tales of Meeting and Parting. "If I had walked into the coffee shop on the left, I would have never directed," she says.
Since then, Glatter, 69, has become one of television's most prolific directors, helming episodes of beloved series like Gilmore Girls, The West Wing, Mad Men, Homeland, and The Morning Show. She's also an eight-time Emmy nominee and currently serves as president of the Directors Guild of America. Her latest project, Max's true-crime drama Love & Death, stars Elizabeth Olsen as Candy Montgomery, the Texas housewife accused of murdering her friend with an ax in 1980.
Glatter, who was raised in Dallas and New York City, was immediately drawn to the story and worked with the show's cast and creator, David E. Kelley, to create a nuanced portrait of the real-life tragedy.
"In many ways, it's the story of that particular time, [from] 1978 to 1980, when women, particularly, did everything right. They were 20, got married, had two kids, had the house in the suburbs, went to church, had a community, created a better life. Well, why is it that there's a hole in their hearts, psyches, and spirits that's a mile wide and can't be filled?" the director explains. "And of course, we have a character who picks absolutely the wrong way to fill that. But I am really interested in that. I feel a lot of empathy for that."
Glatter has her own experience with gendered assumptions. "Because I came out of dance, which was very female, I never looked at being a woman as being a negative, ever," Glatter says. But once she got into film, her gender felt like an obvious setback. She realized she needed to work harder, be more prepared, and ask the right questions.
Below, Glatter discusses that time period, dealing with rejection, and the TV characters she can't shake off.
You made a pivot early in your career from dance choreography to directing. What were the biggest challenges you faced during that transition?
I faced huge challenges. I applied to this program at the American Film Institute, called the Directing Workshop for Women, and immediately panicked because I did not know [anything] about film. So I worked on 10 of the other women's films, doing every job I could to learn about the craft. Then I directed Tales of Meeting and Parting. It was everything I was told not to do if I wanted a job in Hollywood: The film was three-quarters in Japanese with subtitles, it had flashbacks [and] narration, it was a period piece in World War II, and it had one Caucasian character. But I didn't really care that it wasn't a commercial film. I wanted to tell my mentor's stories.
From being on set that first day, I knew this was my next chapter. I knew that storytelling in this particular way was what I wanted to do.
You once said that it takes a lot of tenacity to succeed, because you get a lot of noes in life.
I have gotten so many rejections. I was blackballed from a network. I did a pilot, and they forced us to hire someone who was absolutely wrong for the role. But they said they wouldn't make the pilot if we didn't hire that person. And of course, it turned out it was the wrong person to cast. But they don't blame themselves for that choice. They blame the director.
I started directing when there were so few women. I can't tell you how many times somebody said to me, "We hired a woman once and it didn't work, so no more women." I mean, can you imagine saying that we hired a white guy once, and now, no more white men? It was crazy. It was hard. But you have to remember why you wanted to tell stories. If you forget that by the time you get your chance, you'll become bitter. I felt that if I allowed myself to go down that rabbit hole of darkness, it would not be a good thing. That was a constant balancing act.
You directed a lot of iconic TV shows, from Mad Men and Homeland to Gilmore Girls and The West Wing. Are there characters you really resonated with, or ones you could see yourself in?
I see myself in all of them, or parts of my psyche in all of them. I related to [Homeland's] Carrie Mathison as someone who felt she had something to give and had to be out in the world doing work that was important to her. On the other hand, directing the pilot of Gilmore Girls, I loved Lorelai and Rory and saw myself in both of them with the fast talking. [With] Mad Men, I loved all the women in that show, and I felt for them because they were put in boxes and had to find the way out of those boxes to become fully realized people. But I relate to the men, too. The struggle we humans go through in life is so universal.
Who's inspiring you these days?
There's an Iranian actress I worked with [on Homeland], Nazanin Boniadi, who's become a spokesperson for Iranian women and what's going on in Iran. I look at the women around this country who are struggling to deal with how Roe vs. Wade has affected them and are grabbing the hand of the next generation. As someone who's been directing a long time, I feel that it is essential to grab the hand of the next generation and open the door for more diverse storytelling.
In thinking of people you admire, do they have leadership styles you emulate in your work?
Early on in my career, I was lucky enough to shadow Steven Spielberg and Clint Eastwood. Then my first job on a series was Twin Peaks with David Lynch. What I observed of those three amazing directors was they all had their own way of working [that] was unique to them. Yes, there are things about leadership that cross over. But in terms of how you work, I don't think you can copy that. You have to find it deep inside of yourself.
What's the best piece of advice you've ever received?
To follow my own instincts, and to listen very carefully, because if you tell your instincts to shut up, they will and they won't talk to you anymore. You have to keep that channel open and be honest about it. [And] follow the dream you want to follow. Don't give up. Forty thousand noes will happen; it only takes one yes. And in all that tenacity that it takes to succeed, remember the joy.
This interview was edited and condensed for clarity.